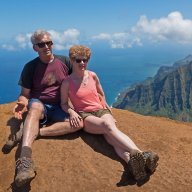 Joined

Sep 22, 2016
Messages

760
In little more than a week we will be on our way to the Utah desert for 2 weeks of hiking and camping, our 10th trip down that way. Our first week is pretty much set- revisiting a few old favourites, and exploring some new spots, between the Swell, Capitol Reef and GSENM. After that- our route could go either of two ways.
One option is to head towards Cedar Mesa. We've been there several times, but there is always more to see. Along that way- Happy Canyon beckons. Any recent reports on the condition of the black jump road? A search of BCP found a report from April 2016 I think it was, from someone with a Subaru who had no issues, but others seem to have had differing experiences, and I'm fully aware that things can change from storm to storm. FWIW, our vehicle is a Tacoma TRD Off-Road with a FourWheel popup camper, that we have done a fair bit of off pavement Utah driving in.
The other option for week 2 is to make our way eventually to the Paria area. Again,we have been around there a couple of times-Yellow Rock, Toadstools, Wire Pass-Buckskin, White Pockets, and were lucky enough to snag 2 spots at the Wave, back when the daily draw was at the Paria station. As we will likely need a resupply in Kanab anyway, and have never been to Coyote Buttes South- trying to pick up a walk in permit comes to mind. Any one have any thoughts on the odds of getting a permit for the south Coyote Buttes in mid-October?