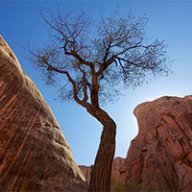 Joined

Aug 9, 2007
Messages

12,939
The anticipation of staring at a new boat in my driveway proved to be overwhelming. This past weekend @
slc_dan
and I, along with a pack of puppies made the drive down to Glen Canyon to test out the new vessel. We stopped short of Bullfrog the first night and camped out at Little Egypt. The mild weather this winter has made for some great camping and this trip was no exception.
The next morning we loaded up quickly and headed south to Bullfrog. The plan was to just get out on the water and break out the stove for coffee and breakfast while we broke in the engine, slowly cruising around the bay. I've never really launched a real boat like this before, so seeing the current state of the ramp at Bullfrog was a little intimidating.
Launching went smoothly and soon I was drifting around the docks, waiting for Dan to come back from driving the truck back up. No one to be seen anywhere.
We had to drive pretty slow for a while but that was plenty of time to get some coffee made. It was nice to finally throttle it up for the first time and see how she rides.
We decided to head south from Bullfrog toward Lake Canyon and eventually Halls Creek Bay. We noticed this nice pothole arch along the way and had to stop and take a look.
Lake Canyon
We cruised around Lake Canyon and fished a bit but the only thing we caught were a couple of trees. It was kind of exciting until we realized they just didn't want to fight back. And then I broke my pole in half.
So with that, we moved on to the sunny main channel and to our next destination: Halls Creek Bay.
Being so new to all of this, there were some interesting moments picking the right channel on the way into Halls, but we navigated well.
We saw a few boats in Halls Creek throughout the day but the water was typically smooth and glassy. That's the Waterpocket Fold there on the left.
Our first attempt at beaching.
Nikita was happy to be able to come along on this trip. She can barely make it up and down the stairs lately so this one was right up her alley.
Dan and Mya yakking around Halls.
Mya decided to leave the boat a little early.
After dinner, the sun went down on our camp, so we decided to drive across the bay and catch the last rays (and hopefully some fish). Success on the sun, no go on the fish.
Back at camp, we discovered tumbleweeds burn quite well.
I slept on the boat again that night which I really enjoyed. The next morning was nice and we took our time moving on. I was interested to see whether Sage would ride in the kayak with me and sure enough, she was happy to. She even walked down the top of the boat to hop in.
Pic taken by Dan of me and Sage paddling around camp.
After loading up, we headed back out to try our luck fishing a bit more. We found a nice little bend and stopped to cook breakfast. The water was so calm we didn't even have to think about putting down an anchor. Beautiful reflections were plentiful.
Exploring a small side canyon on our way out of Halls Creek Bay.
End of the road.
The fish simply were not cooperating, not surprising given the time of the year and our lack of experience. After trying a few more spots, we made out way back to Bullfrog. Loading the boat proved to be quite a bit more challenging than unloading. The launching area is nearly level so backing in enough to get the bunks underwater was nearly impossible.
This trip was really nice but mostly served the purpose of breaking in the engine and just making it so I can wait until better weather and longer trips. I was very pleased with how the boat handled as well as the comfort and gear/people carrying capacity. Should be perfect for some extended trips and accessing some pretty remote canyons. If only I could think of a good name for her...
Featured image for home page: