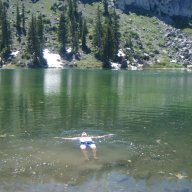 Joined

Apr 27, 2016
Messages

483
My wife and I are planning to head down to GSENM between March 6-8, 2019. Since this will be our first time in the area and it is such a short trip I have been contemplating just reserving a campsite in Esclanate Petrified Forest State Park to limit the time required to find a dispersed campsite. I would prefer dispersed camping so I figured I would come to the experts seeking advice.

1. Since that time frame is spring break for several schools how crowded should I expect it to be in the area, including dispersed campsites?

2. Is it relatively easy to locate acceptable dispersed campsites along Hole-In-The-Rock Road?

As it stands right now we plan to drive down the 6th most likely arriving in the early afternoon. I had planned to hike Lower Calf Creek and then find and set up a campsite. On the 7th we wanted to do the Peak-a-Boo / Spooky gulch loop and explore other areas along HITR road. On the 8th I still haven't decided what we would do prior to heading home. We may visit some of the state parks or look for some shorter canyons/gulches to explore. I have ordered Canyoneering 3 to help with trip planning, but I am always open to suggestions.

Thanks in advance.