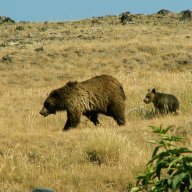 Joined

Jan 23, 2012
Messages

601
New Trail Guide up for Grizzly Lake in Yellowstone National Park. In-depth questions & comments can be posted in this thread.
View Grizzly Lake Trail Guide
[bimg=fleft|300|Grizzly Lake]http://backcountrypost.com/forum/data/attachments/8/8155-aa5e98eb57cef80d6730b6ae1f7f914b.jpg[/bimg]This short easy hike takes you through burned forest and lush meadows to a long, slender mountain lake nestled into a tight valley. The lake measures roughly 1.5 miles long by 400 yards wide. The lake is surrounded by badly scorched and new growth forest. This hike may not be the most scenic in Yellowstone, but the trail is in great shape the whole way to the lake. The lush grasses and new trees give the dead landscape some flare. The new trees can be quite intimidating though because of the reduced vision caused by the thickness and height of the trees. Because of the limited vision from the thickness of the trees it is advised that the guidelines for
hiking in bear country
are strictly followed.
Read more...
.