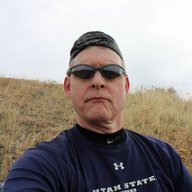 Joined

Dec 23, 2013
Messages

3,552
Well, it was that time of the year again for my hike a short distance into the backcountry, set up basecamp, and do a couple of day hikes from there. Normally this trip is with some cohorts who have backpacked with me over the years at one time or another. This time however, I decided to open up the trip to BCP members who might be interested. Our basecamp site was 1C2, which is located about one mile north of Grizzly Lake. The campsite allows for 10 people to camp there at one time, so this would allow for five more people to join our merry band on the trip.
@Pringles
and
@The Trout Whisperer
were the first two people to take advantage of my invite, with
@kwc
and
@TheMountainRabbit
not too far behind.
@Dreamer
was last on board with only a couple of days left until trip began. So ten it is. Fantastic! In the past, the highest number of people in a group that I have backpacked with is six, so it will be fun to meet up with people who's trip reports I've read on this site, and get to know them a little bit personally.
I would be remiss if I didn't mention the previous reports and pictures posted already from this trip. Thanks
@Pringles
,
@kwc
, and
@Dreamer
for your contributions. All of them were wonderful, and will probably do more justice to our trip than my write-up.
Day 1 -
Mount Holmes Trailhead to Campsite 1C2 on Straight Creek - 3.5 miles
Before we arrive at the trailhead though, a little work needs to be done for earlier in the day.
A group of four of us left Salt Lake around 5:45 am on the 7th, with our first stop being Sills Cafe in Layton, Utah. Now Sills is a greasy spoon establishment that serves up one mean breakfast. I had a ham and cheese omelet, with hash browns and some whole wheat toast. Oh, and I can't forget the blackberry jam for the toast. Not a finer meal will get one ready for the Yellowstone backcountry in my estimation.
After finishing up at Sills, our next stop was West Yellowstone, where we hoped to pick up our official permit at the Visitors Center. Meeting us at the Visitors' Center were
@kwc
and
@The Trout Whisperer
, who I understood had hooked up earlier in the day at Old Faithful. We pulled into West Yellowstone around 11:30-ish and headed to the backcountry office to get our permit. Outside waiting for us were
@kwc
and
@The Trout Whisperer
, so everyone headed in to talk to the ranger about backpacking in Yellowstone.
Without too much trouble, we received our official permit, even without having to watch the backcountry safety video.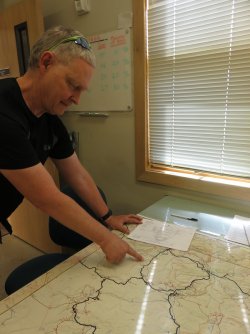 Pointing out campsite 1C2 to the uninitiated, with the official permit in hand.
Well, of course, a hearty breakfast isn't going to last the Scatman all day, so our next stop would be Ernie's in West Yellowstone for sandwiches.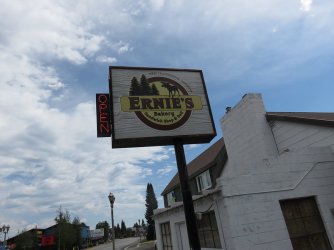 Ernie's along the main drag as you enter town.
Full up once again, it was time to head on to the Mount Holmes Trailhead. At the west entrance gate I had to purchase a new parks pass due to mine expiring in August. From there, it was just a little over and hours drive to the trailhead, which was located between Norris and Mammoth.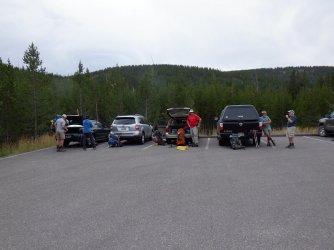 The group gathers at the Mount Holmes Trailhead.
Meeting up with us at the trailhead was
@Dreamer
(he'd be the one leaning against the black Titan, chatting with kwc). I might mention at this point that
@Pringles
had already headed of to our campsite, and that
@TheMountainRabbit
would be meeting us later at our site. I think that we might have had a sprinkle or two while getting our gear all ready - someone may have to verify that for me though. Since I had to put my knee brace on before leaving, I was the last to hit the trail, and ended up being the last person to camp, excluding TheMountainRabbit of course.
So here is our story as best as I can remember it if you'd like to follow along.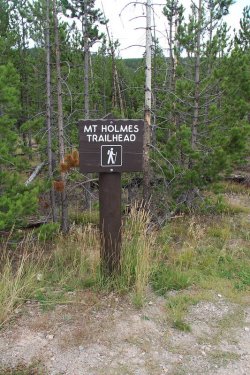 The Mount Holmes Trailhead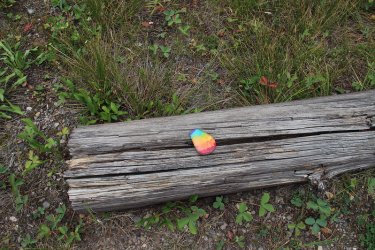 The significance of this I am unsure.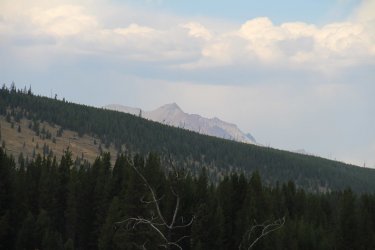 Electric Peak to the north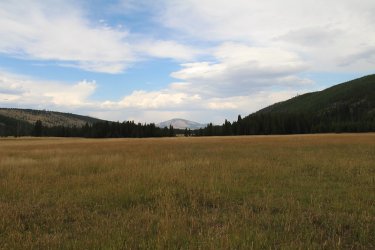 Along with Sepulcher Mountain in the distance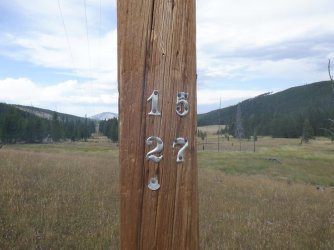 Hmmm............... Numbers on a telephone pole. What does it all mean?
I am getting a sniff of the old Howard Eaton Trail though.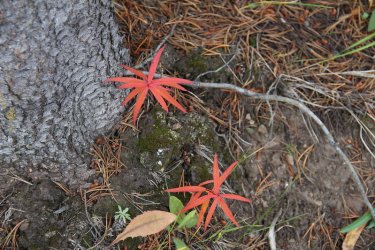 I'm a sucker for reds in the fall, even though technically, it was still summer.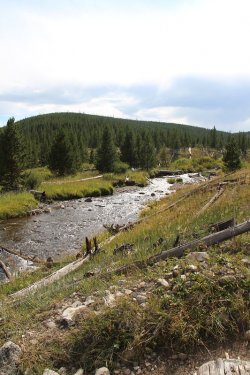 Looking down on Winter Creek after the ford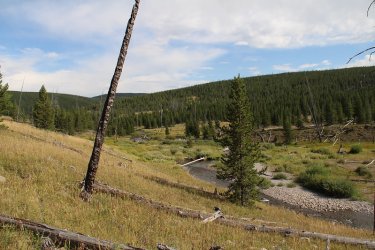 More Winter Creek for you. The trail followed the north side of the creek until the junction with the trail that goes to Mount Holmes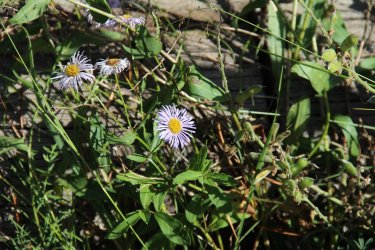 Asters still blooming in September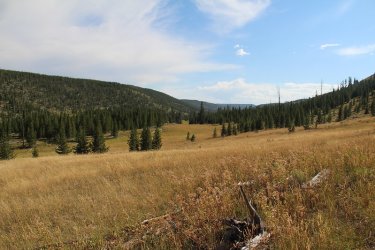 That way to camp and to Grizzly Lake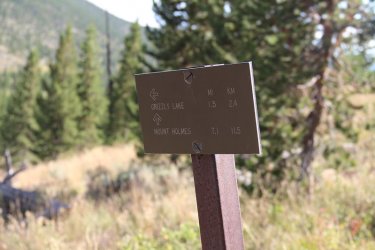 Trail junction sign with camp being about 0.5 mile to the south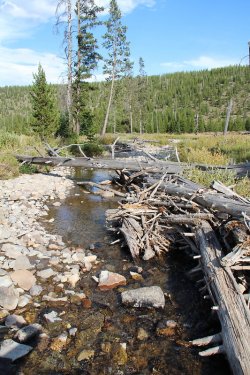 Another ford of Winter Creek before reaching our campsite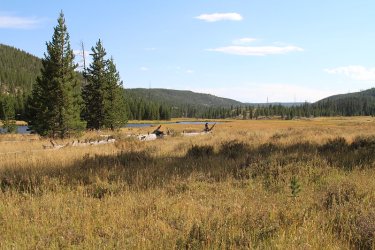 What I refer to as Straight Creek Pond is ahead, as is our campsite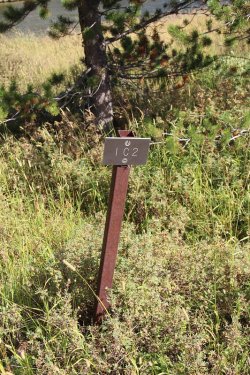 Arrived at last
After arriving at camp, we all intoduced ourselves to Pringles and then set about setting up our tents in various locations. While setting up, TheMountainRabbit arrived at camp to complete the fellowship.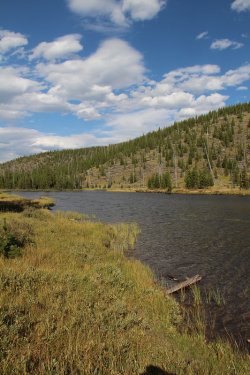 Looking north along Straight Creek from camp
And a southern view of Straight Creek too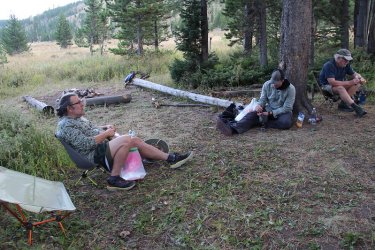 Settling in at camp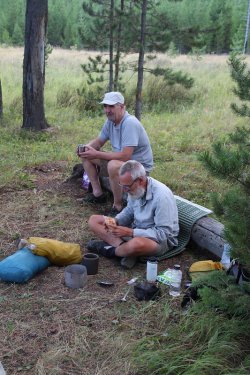 Dinner time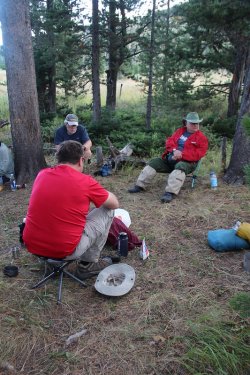 Getting to know one another while eating
Day 2 -
Day Hike around Grizzly Lake - 7.2 miles
I had always wondered about the south end of Grizzly Lake. Well today, I was going to have the opportunity to explore the whole lake, as a group of us were going to hike around the lake to see what we could see.
I think I should explain at this point that these basecamp trips in September allow each person to do as they please while in the backcountry. I was headed around Grizzly Lake for example, but others had other day hikes in mind, and some chose to just stay at camp to enjoy there wilderness experience, and that's okay. To each his/her own.
A little birdie whispered in my ear that there was only a 20% chance of precipitation on this day. Unfortunately, prediction didn't come true.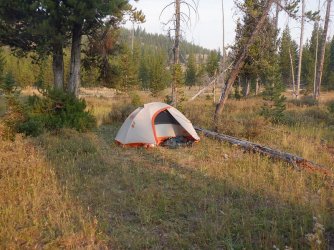 My tent before heading off on our day hike around Grizzly Lake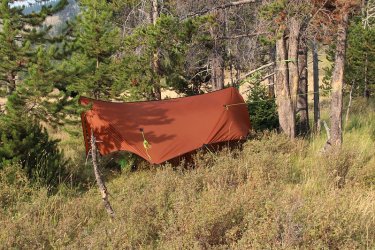 A quick snapshot of @Pringles trap and hammock setup on our way to Grizzly Lake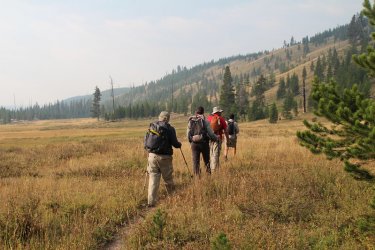 Four brave men head out!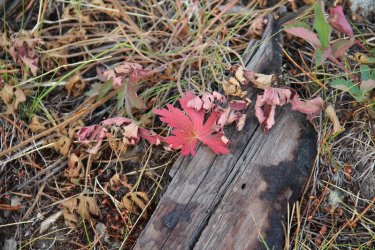 Uh-oh, there is more of that red color that lures me into picture taking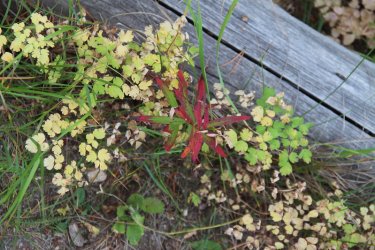 More almost fall colors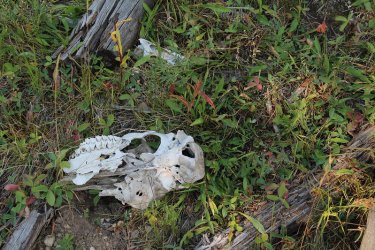 Elk skull on our way to the lake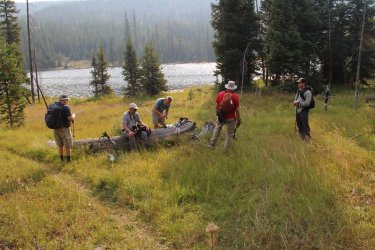 Arriving at Grizzly Lake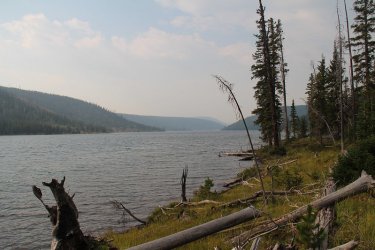 Beginning the off-trail portion of our hike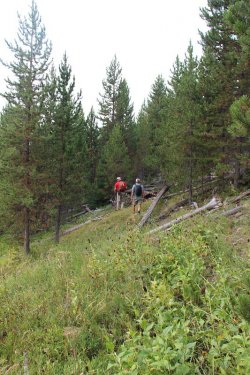 Some downfall along the way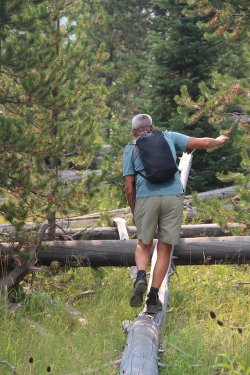 Steady.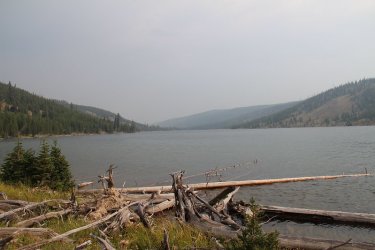 Looking back towards the northern end of the lake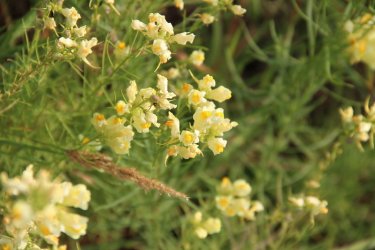 Pretty, though not sure what wildflower it is.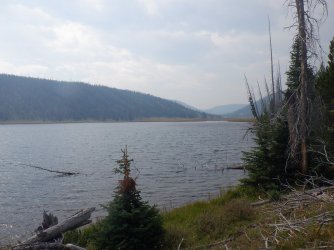 The southern end of the lake is visible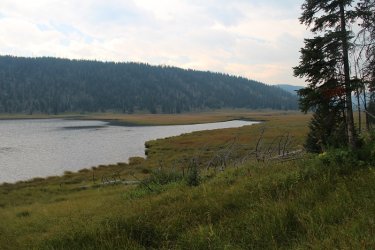 The Straight Creek inlet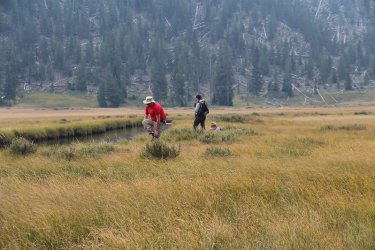 Getting ready to ford the inlet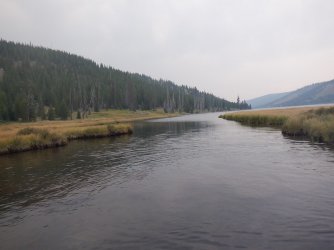 Fording the inlet. This was a very silty (deep) ford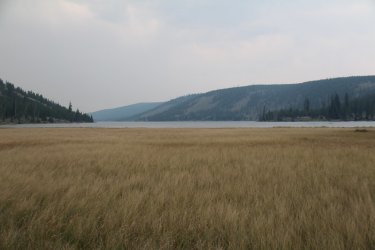 Southern end of Grizzly Lake
At this point lightning and thunder rained down upon us. It began to pour rain, and I stopped to put my rain jacket on, and my camera away. With the lightning and thunder, this meadow/marsh crossing became tense. As we approached the southeast side of the lake, the marshiness intensified. Some seeps and springs formed a small creek that ran into the lake, this creek contained silt on the bottom of it that went past TheMountainRabbits hiking pole when he probed the bottom. For the next thirty minutes or so it just poured rain on us.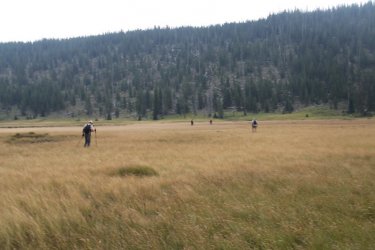 Time to get out of the open meadow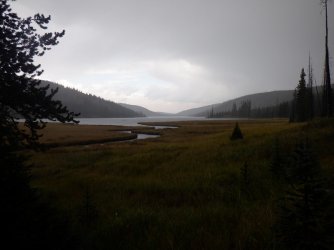 It felt like dusk as the dark clouds moved overhead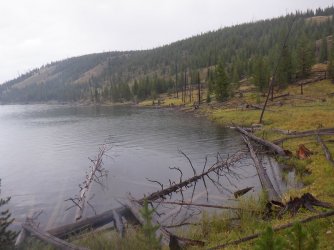 The southeast corner of Grizzly Lake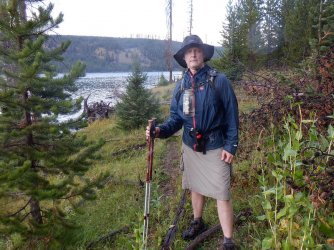 A wet kilt to say the least.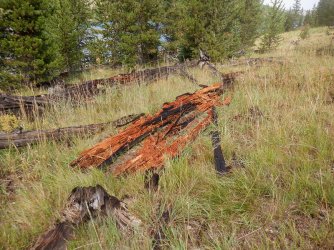 A beautiful orange to the shredded log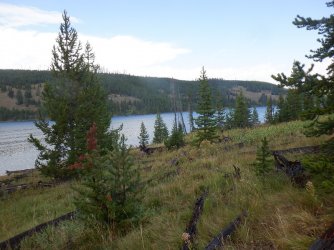 Heading up the east side of the lake as skies begin to clear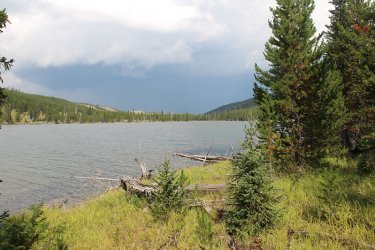 The north side of the lake is back within reach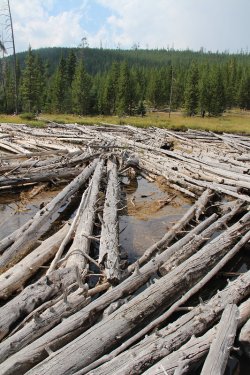 The logjam at the outlet of Grizzly Lake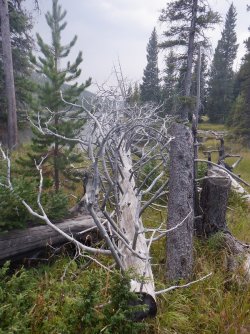 I just thought this looked neat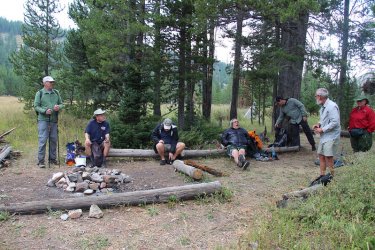 Back at camp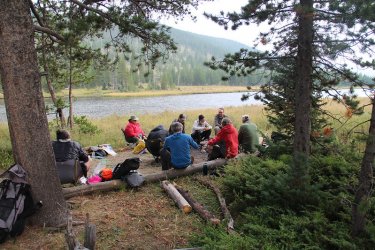 Dinner time at 1C2
Day 3 -
Day Hike to the summit of Mount Holmes - 16 miles roundtrip
Woke up to fog on day three with a touch of frost on my tent fly. After eating a quick breakfast, it was time to attempt Mount Holmes. Ryan,
@TheMountainRabbit
and
@Dreamer
were willing to give it a go. I summited Mount Holmes nine years ago, and at the time the fire lookout was still intact. I understand that in the last couple of years a lightning strike burned the lookout down to its foundation.
It will be interesting to see if I can make it to the top.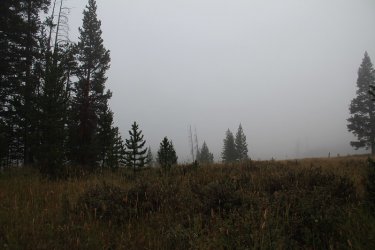 Foggy morning at 1C2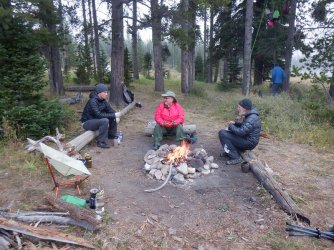 Cheerful around the campfire despite the fog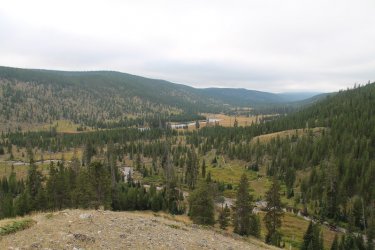 Looking back towards camp, on the first leg of the Mount Holmes hike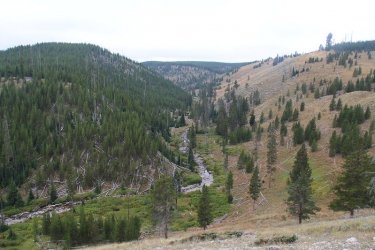 Winter Creek below. The trail essentially just follows the creek for most of the way.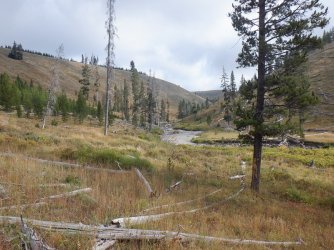 More Winter Creek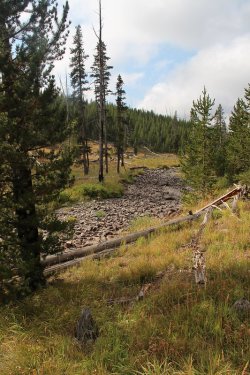 At this point, Winter Creek heads underground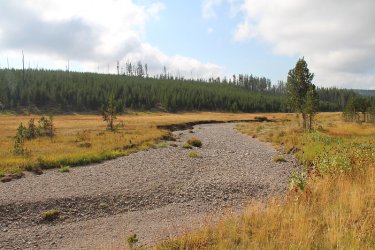 More dry Winter Creek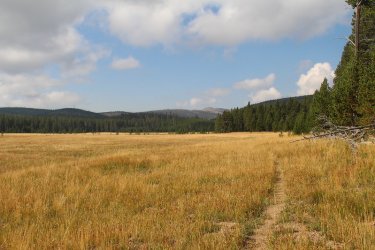 Beautiful meadow near campsite 1C4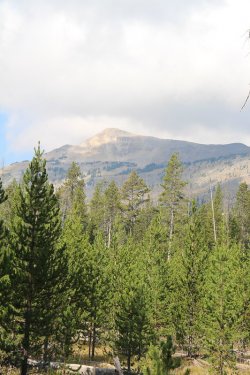 Trilobite Point above. Mount Holmes is behind it to the west.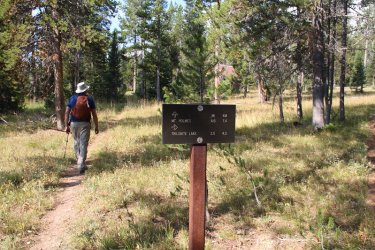 Trail junction with the Trilobite Lake Trail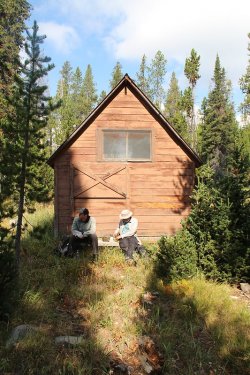 Winter Creek Patrol Cabin, along with two scallywags.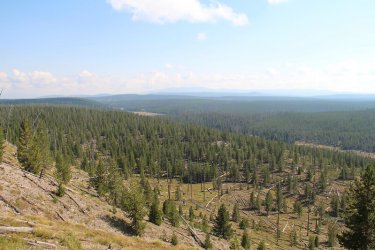 After the patrol cabin, the trail begins to climb. This shot is looking back on the way we had come.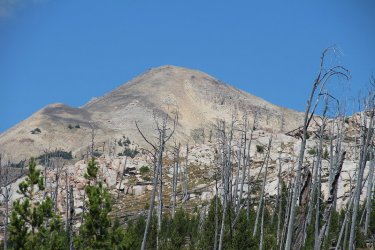 Trilobite Point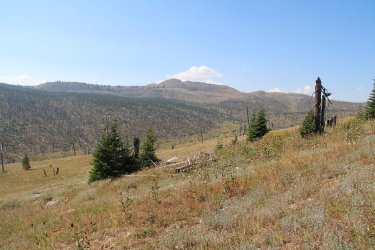 Unnamed Peak 8932 to the southwest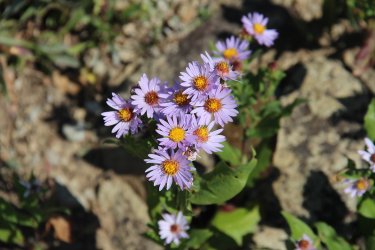 Some asters still blooming along the trail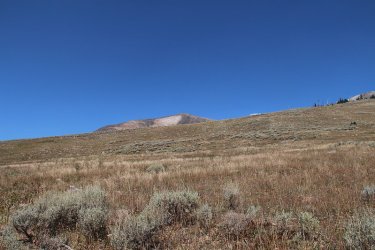 First peek at White Peaks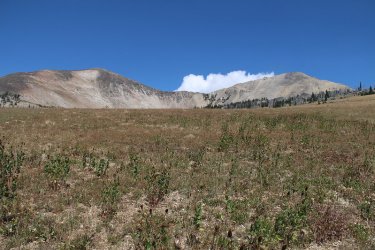 White Peaks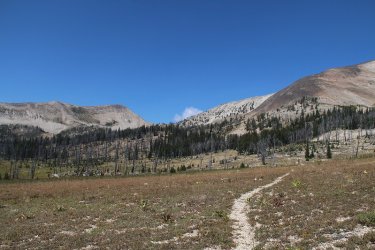 The Mount Holmes Trail - we are heading for the saddle above, located between White Peaks and Mount Holmes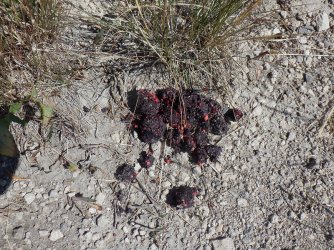 Ooh, bear scat!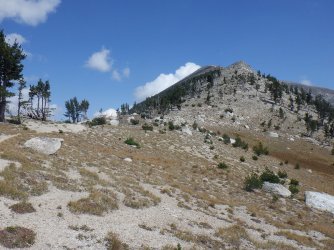 Mount Holmes above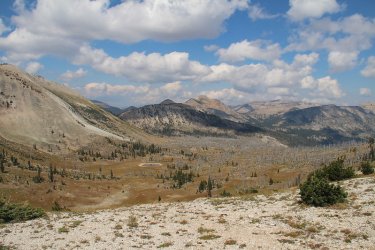 A look into the Gallatin Bear Management Area with Antler Peak in the center of the image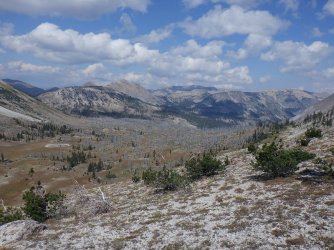 More of the BMA - notice the white bark pines on the slope of Mount Holmes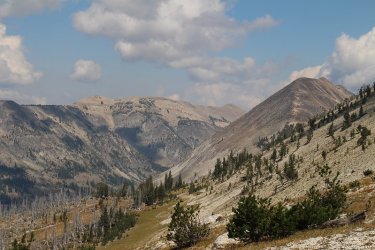 Dome Mountain at the upper right of the image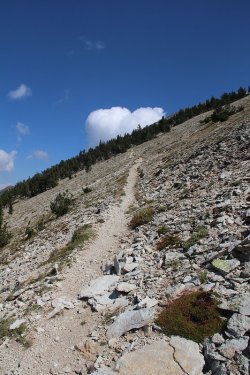 Steep going! This is the kind of horse trail that @Bob approves of.
Not soon after the above shot was taken, TheMountainRabbit passed me after finishing his lunch just above the saddle. He got about 25-30 yards ahead of me when I noticed that he had come to an abrupt stop. I could tell that he was looking intently at something, and my Scatman senses told me that it was a bear. I took my bear spray out of its holster and caught up to MountainRabbit. Sure enough there was a grizzly bear further up on the trail. It was eating white bark pine nuts next to the trail. We took a seat and watched a grizzly bear just being a grizzly bear for maybe five minutes. He turned and looked at us a few times, and didn't seem to be too concerned about our presence. It then left the trail and proceeded to climb a white bark pine tree by the trail to shake out some more pinecones. While at the top of the tree, it also broke off a branch of the tree and carried it back down to the ground. Just after this Ryan and Dreamer caught up to us. Four people must have been too much for the grizzly, because he ran off down the slope of the mountain. I was pretty stoked to have been able to watch it.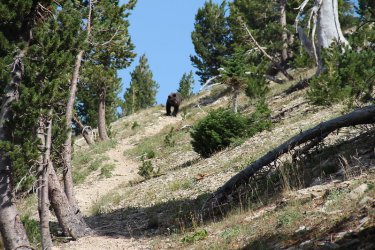 The grizzly had just been looking at TheMountainRabbit and myself.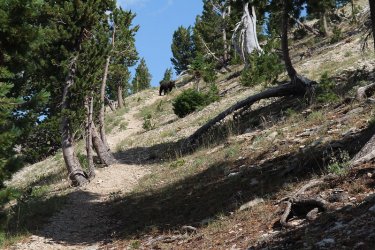 Doesn't seem to interested in us at this point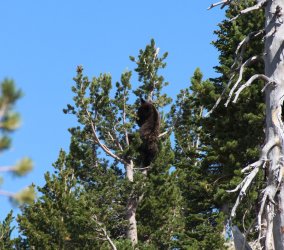 Making its way up the white bark pine tree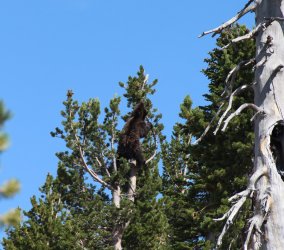 Heading to the top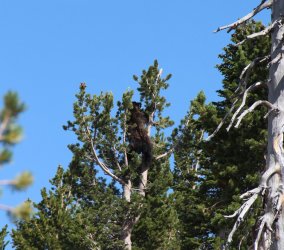 It's got pine nuts on its mind.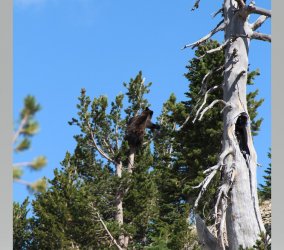 Not often that a grizzly climbs a tree.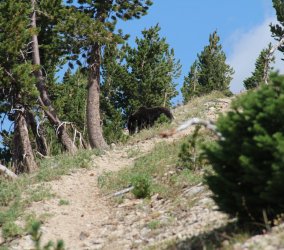 After returning to the ground and just before it took off down the mountainside
Well, the juices were flowing after seeing a grizzly. The extra adrenaline helped me get to the summit of Holmes.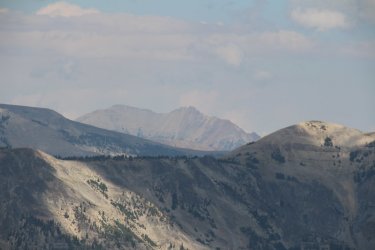 Electric Peak to our north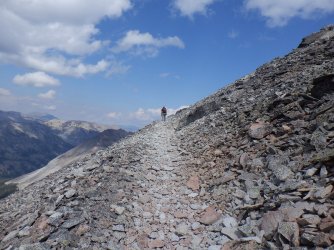 Above tree line now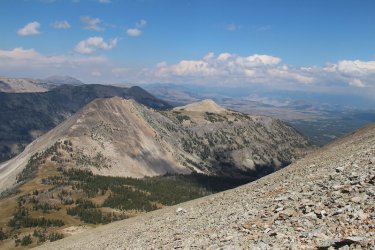 Another shot of Dome Mountain. Trilobite Lake sits at the base of this mountain, just out of view.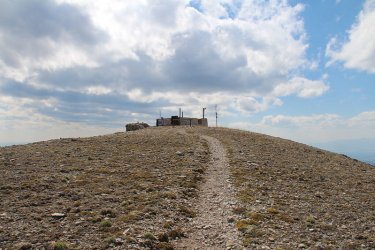 Approaching the old fire lookout at the summit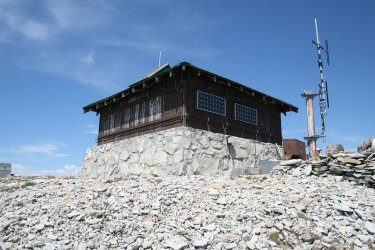 What the lookout looked like back in 2013.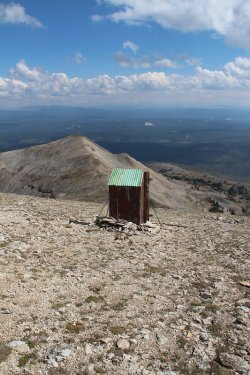 The privy, with Trilobite Point behind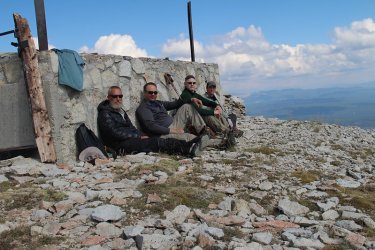 The crew on the summit
At this point TheMountainRabbit headed off trail towards Trilobite Lake, while the rest of us headed down the trail. On his way down to the lake, TheMountainRabbit saw three other bears - two grizzlies and one black bear. I'll let him fill you in on all the details of his three encounters if he so chooses.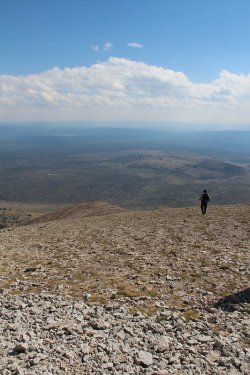 TheMountainRabbit making his way towards Trilobite Lake, off the east slope of Mount
Holmes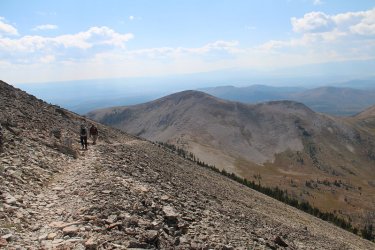 Beginning our descent back to camp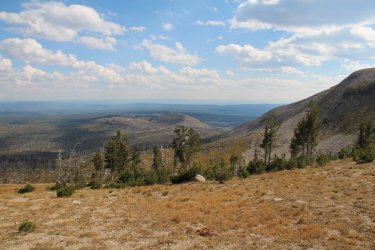 A view across Yellowstone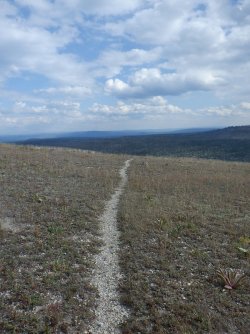 The Mount Holmes Trail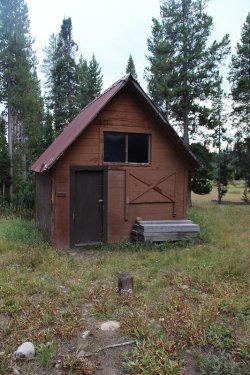 Back at the Winter Creek Patrol Cabin where we met up with TheMountainRabbit who
told us about the three bears that he had seen on his way to Trilobite Lake.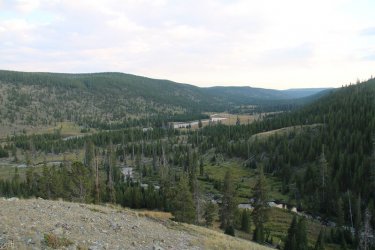 Looks familiar - almost back at camp.
Day 4 -
Campsite 1C2 to the Mount Holmes Trailhead - 3.5 miles
It was a cold morning on day four. 21 degrees for those who are counting. My twenty degree bag was a bit chilly in the wee morning hours. I had to curl up into a ball to keep warm. Not only was it cold, but we had fog again, just like the previous morning. This day would be an easy day, with all of us sans
@Pringles
returning to the trailhead.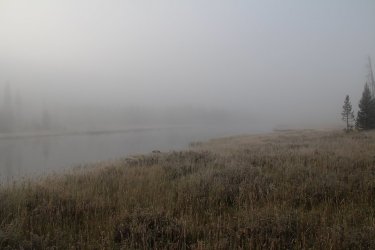 Foggy Mountain Breakdown.
Looks cold!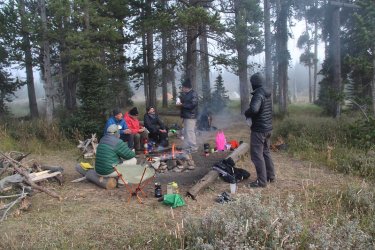 Everybody bundled up?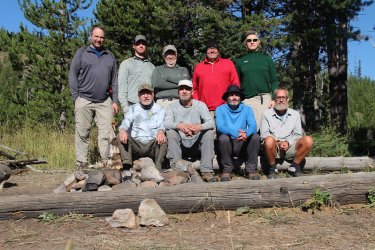 A group shot before we left camp, minus Pringles. Sorry about that Pringles.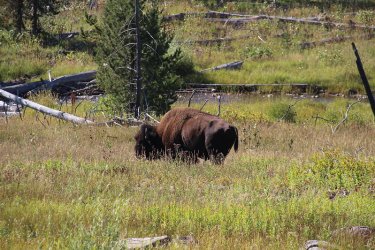 A bison on our way back to the trailhead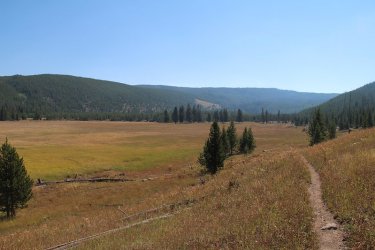 One last meadow to cross
After we arrived at the trailhead, we all drove to West Yellowstone and enjoyed a celebratory meal at the Slippery Otter.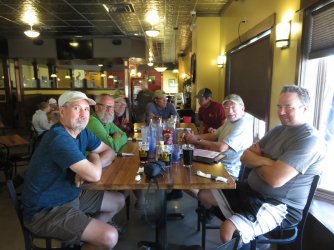 At the Slippery Otter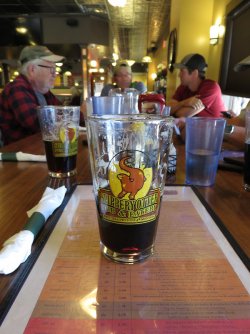 Finishing off a Ghost Stout. A fitting way to end a wonderful trip.
I wanted to thank everyone who participated on this Grizzly Lake Trip. I had a fantastic time, and I hope everyone else had a good time too. I'm already giving some thought into where I might go next year. Thanks again everybody.
The End