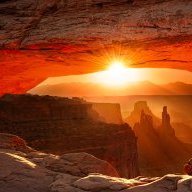 Joined

Feb 17, 2015
Messages

51
I came across Backcountry Post a while ago and have been following since then. I must compliment everyone on the trip reports and the photography, which is inspiring.

I stared traveling just 4-5 years ago when, after having not seen much, I decided to venture to Yellowstone. I hadn't been camping since I was a boy, but I invested in a new tent. sleeping bag, etc. and hit the road. I fell in love with Yellowstone and Wind Cave National Park on that trip, and it was then that the travel bug really ht me hard. Since that first trip I've been to the south, up to New England, and out west, and that's where I discovered Moab and, in particular,Canyonlands National Park. I will probably be going to Moab for years to come as it seems like there is a limitless series of adventures to be had there.

I am working to do more back country camping, and i love to hike, enjoying the solitude and peacefulness. Glad to be here, and looking forward to posting some trip reports myself later this year.