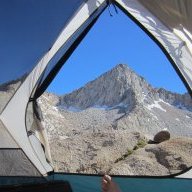 Joined

May 24, 2015
Messages

155
A canoe trip on the Green river was not on my radar until late September when it was discovered that a number of us suddenly had some available time off. Six of us converged on Moab only three weeks later to paddle down the Green in a late season canoe trip. None of us had any experience on this portion of the river. We came from the Bay area, Reno, Colorado and San Diego to see if we could pull off this trip before the end of the season.
Our team at the put in.
The Fall colors were immediately on display as we rounded some of the first bends.
For most of us it was our first experience on the waters in Utah. I barely had enough time to do all the research I wanted. Most of which involved books about the Powell expeditions. I was blown away by the scenery even before we entered any of the named canyons.
The late season water remained at a low flow for the entire 4 day trip. Less than 2500 cfs. These bathtub ring formations were interesting.
Diving board overhead.
An immature Eagle took flight as we quietly floated into the taller canyons.
More cool geo features.
A mature Eagle was also in view.
We stopped at Trin Alcove to camp and hike up the Three Canyon area. It started to get cold only when the sun was blocked.
Holly wearing her Hollyween beard at camp.
That night I played with the tripod and camera.
Camp light and stars.
Milky Way Later at night.
Moonlight before dawn.
The canyon colors were stunning as we started our hike the next morning.
It was great to have a climber with us. Rick scampered up everything within reach.
The biologists in the group were busy helping ID plants.
We went up one of the narrow canyons .
It ended in a moss covered, dry waterfall cirque.
There was a lot more to explore but we wanted to get back on the water so we headed back to camp.
We tore down camp and got back on the water under another clear sunny fall day.
Skully was our trip mascot.
He later lost one of his arms and then became John Skully Powell.
The scenery and canyon walls just kept getting better as we paddled deeper into Labyrinth Canyon.
Becky was itching to get her paddle board out, but instead started stand up canoeing. Alec followed along.
Little Blue Heron
Future arch
The river is so Green.
We had fun trying to find good echo amphitheaters.
We stopped to see some of the inscriptions along the way.
Our second camp was at Hey Joe Canyon.
After another mild night of camping we were back on the water.
This was going to be our longest paddle at 20 miles, so we started early. This day included a trip around Bowknot Bend.
Here we are at the take out to hike up the Bowknot lookout trail.
This hike was the highlight of another great day.
This geological feature is so unique. It really creates a landscape view like no other.
Rick took it all in from up high.
From up top it was easy to see the sandbars we would be encountering later in the day.
Boaters ahead of us by about 3 hours. They had very little wind. We would hit our first head wind at this point later that day.
The view in every direction was just breathtaking. Such a clear day also. Is the weather always this good?
Time for a group photo. There was no one else up there so we took another selfie.
With so much landscape we needed one from the other direction too.
That was an exhilarating hike but now we needed to get back down and paddle a lot to get to our next camp before dark.
We needed to cover a lot of river miles but we kept getting distracted by all of the echoing amphitheaters.
We also started to hit some headwind as we exited the Bowknot. We were very fortunate however because as soon as we passed the Horseshoe Canyon, the wind was behind us and started to push us down river. Horseshoe Canyon
We arrived at our final camp in a bit of a dust storm. We had to be careful when setting up camp and while serving our pomegranate guacamole. Everything got dusted including the dragonfruit burritos. We made sure the boats were well tied off. That evening we cancelled the fire plan and settled for Ricks virtual fire, his headlamp. Not very warm but we had light.
The next morning was not windy, so we had time to visit the Julien inscription on our final paddle to the take out.
Fall foliage.
Holly took this picture of her sister giving captain Alec a Nikki-back.
Becky broke out the inflatable stand up and cruised all the way to the take out.
This formation looked like a square fort.
Complete with a chess piece castle for a corner.
The colors of the willows were even more intense than when we first put in.
At the Marble bottom takeout. The only time Becky stumbled was when she finally stepped on dry ground.
We were first timers on the Green. We used the Rivermaps guide and had the GPS points loaded into a phone for navigation. The trip went off so easily I could see myself doing it more often, especially if I lived closer. It was a great relaxing trip, with great weather , scenery and a great group!
Tim V.
Last edited: