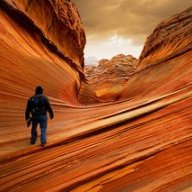 Broadcaster, formerly "ashergrey"
.
Joined

May 5, 2012
Messages

1,724
The long winter nights have my mind meandering back to warmer days, to wind rippling the surface of opalescent glacial waters.
I can't tell this story better than
@Nick
already has
, but enough time has now past that perhaps a new round of pictures won't seem too repetitive.
Bringing a boat into Wyoming means a bunch of red tape. You have to stop at the border for an STD check.
Launching on the lower lake at last after the long drive. The first of many pictures of my little red boat.
Rain threatened as we crossed the upper lake. Nick and
@Cody
led the way.
@Christian
brought up the rear.
We alternated paddling and dragging on the shallow but awesome stretch between the lakes.
I was surprised the skin-on-frame kayak had a shallow enough draft to slide over places where Nick, Cody and Christian had to drag their inflatables.
I love this bridge.
Squaretop still plenty distant.
Drawing closer to the upper lake.
Sunset lighting up the fleeing clouds on night one.
The hammock camp, day two.
Cody stayed behind as Nick, Christian and I paddled to the inlet of the upper lake.
The views were outstanding.
Christian mused aloud, wondering how such a beautiful place had escaped becoming a national park. I voiced my opinion that I'd rather it remain relatively undiscovered wilderness.
We pushed upstream.
At last the channel became too braided to continue in our boats.
I felt at once jealous of the couple we'd met at the inlet who were pack rafting downstream from well up the trail.
The swirling current of the incipient Green pushed us back toward the lakes. Mosquitoes buzzed and bit. Sage braved the bugs.
Sunlight ducked in and out of the clouds. The afternoon hours were stretching on in absolute splendor.
I could take this shot over and over. Actually, looking through my pictures in this report, it's pretty clear I did.
We reunited with Cody back at camp. Clouds scattered as the sun slouched below the skyline.
I borrowed Nick's Rokinon and gave a single-shot star trail a try. At one hour, it ended up a bit over-exposed.
Imagine my surprise when, in the darkness, I pressed the button on the back of the camera to illuminate the screen and saw this.
We stayed up for hours enjoying the warm glow of the fire.
The morning of day three dawned much too soon.
We packed up and departed. Moments later, wind started to blow and waves destroyed the reflections.