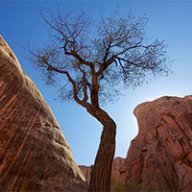 Joined

Aug 9, 2007
Messages

12,939
I love living in Utah. There's a few things I hate about it like the one-sided political system and the crippling air pollution that settles into Salt Lake this time of year, but for outdoor recreation, it's awesome.
But I've been thinking about where the perfect place to live would be away from Salt Lake. We already talked about small towns, but what about bigger ones? As much as I'd love to live in a place like Torrey, its probably not realistic if I also want to have a decent income. This is especially true for my wife who pretty much needs a major medical center or two in the area to be able to have lucrative job opportunities.
So with that said, where would you guys want to live to maximize your outdoors pursuits and still have a big economy around you?
Salt Lake?
St. George?
Las Vegas?
Denver?
As crazy as it sounds, the more I look at Las Vegas, the more promising it seems. 3 hours from Zion, 4-5 hours to the Grand Canyon, 2 hours to Death Valley, 4-5 hours to San Diego, 4-5 hours to the Sierra Nevada Range. That's some diverse landscape! But is the grime of Vegas worth the endless variety in weekend pursuits?
P.S. I don't really care that much for snow sports.