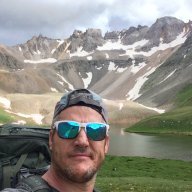 Joined

Mar 1, 2016
Messages

401
I have enjoyed reading many great trip reports on this site so thought I better share one from June of 2015. Hiked 7 miles from Mirror Lake trailhead to Pinto Lake in the Granddaddy Basin where we set up camp.
Day 2 day hiked cross country 10 miles round trip from Pinto lake to the Four Lakes Basin
view of Mt Aggasiz and Spread Eagle Peak on the way up to Four Lakes Basin
Jean Lake in the Four Lakes Basin
Dean Lake in the Four Lakes Basin
Dale Lake in the Four Lakes Basin
Daynes Lake in the Four Lakes Basin
Hiked up Cyclone pass to enjoy the beautiful views.
View of Daynes Lake from Cyclone Pass
View of the East side of Cyclone pass
Then went to Allen Lake to catch some arctic grayling
Allen Lake
Day 3 hiked 5 from Pinto Lake up to Margo Lake.
Then went cross country from Margo to beautiful Pine Island Lake.
From Pine Island hiked to Rainbow Lake, Governor Dern, and then back to camp 5 miles round trip.
View of Mt Aggasiz from Governor Dern Lake
Day 4 hiked back out to the Mirror Lake Trailhead. Another great trip in the books. Caught brook trout, cutthroat trout, and arctic grayling. Visited 11 lakes and fished 10 of them. I was able to catch fish in 8 of the lakes and one stream. Ended up hiking 29.5 miles round trip.
Love the Uintas!