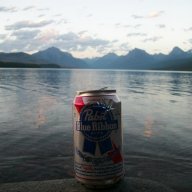 Joined

Apr 1, 2014
Messages

878
Back in 2008, a backcountry ranger in Grand Teton National Park told me about an area in the park's northern section, Moose Basin. He said the mountains, lakes, and scenery around the basin, and south to Paintbrush Canyon, was spectacular country. And there were no trails through there. He marked some places on my map, notably Glacier Peak and the lakes below it, and labeled it as his favorite area in the park. He said I would probably see grizzly bears, I wouldn't see any people, and I would be blown away by the scenery.
He was right.
On June 30th, 2013, I set out on a 5 day backpacking trip to finally explore this area. Here is my route:
http://caltopo.com/map?id=0C1G
DAY 1 ROUTE
I started from Grassy Lake road just north of the park boundary, and headed south along the Glades Creek Trail. I had pretty views as I hiked through open meadows, and made my way towards Berry Creek.
I had a late start, and didn't set up camp until after dark. There was plenty of grizzly scat the entire hike in, as well as recent diggings. I decided to set my tent up in the trees, in some downfall. Sometime during the night, I awoke to the ground vibrations of footsteps. Something walked right up to my tent. I could here it breathing. It was so dark, I couldn't see my hand in front of my face. And then it got completely quiet.
You know how when you walk past a tree or bush, sometimes a branch catches onto your clothing. It stays attached as you keep moving, until eventually releasing, bouncing back into it's normal position. It whips in the air a few times, making a
Boing, Boing, Boing
sound reel fast. Well, that's the noise that broke the silence, as something moved around outside my tent. Then more silence. A few more branches broke over the next 5 minutes, each time in a different spot. I can't say for sure what it was, but it sure made for an exciting night.
My tent the next morning, surrounded by downfall.
The meadows near where I was camped:
DAY 2 ROUTE
I packed up camp and headed on towards Berry Creek, and it's beautiful open meadows:
I dropped down to a backcountry patrol cabin, and then started hiking up the trail towards Forellen Pass.
The Forellen Trail starts off steeply in the woods, before reaching more open meadows:
I started seeing recent bear tracks, and not long after taking this next picture a bear crashed off along the other side of the meadow.
Soon I was at the pass. From the pass, I hiked off trail cross country over to Moose Basin Divide. The map doesn't show a trail, but an unmaintained trail does exist. Its easy to find in several places. The trick is to stay high as you head south, even though it looks easier at first to stay lower.
A lanky grizzly bear ran across the draw I was hiking through a few hundred feet ahead of me. I didn't get a picture, but this was the area:
I started getting into some snow, as I climbed higher. The views got better and better:
Looking up towards Moose Basin Divide:
Looking back out at the Owl Creek Drainage. There is a trail that comes up this drainage, the Owl Creek Trail. It stays to the right side of the canyon. The pass I came from is to the left side of the pictures:
Finally I reached the divide, and had my first views of Moose Basin:
When you look in this next picture, you see a snow covered ridge on the right side, it looks almost flat. Above that, a larger mountain rises up. That mountain is Glacier Peak (to the right of the bowl). That's where I head to the next day. You can also see Mt Moran to the left, and the Grand Teton peaking it's head out in the center of the picture:
There is a trail at the divide, but it goes down Webb Canyon to the east.
I was headed south. I started working my way down into Moose Basin to find a camp for the night.
Looking back where I came from, the divide is to the right:
Looking back at Elk Mountain/Owl Peak, the divide is to the far left:
Moose Basin:
I set my tent up in a strand of trees, and had some beautiful light hit the mountains:
DAY 3 ROUTE
Day 3. Wow was Moose Basin Beautiful:
Looking down the basin, and down Webb Canyon, with Jackson Lake visible in the distance:
Looking south:
I walked up a snow ramp to reach the park's boundary, and the Wyoming/Idaho state border:
Looking into the Idaho side:
Looking down on Camp Lake in Idaho:
Looking back at Moose Basin Divide:
And now back at Moose Basin and Webb Canyon:
Here is a good shot of Glacier Peak. It's the large hump higher than everything else. I'm heading through this scene, around the flat ridge, and then up to the top of the mountain:
Lots of snow along the way, but it wasn't very difficult .
My first view of the Upper Glacier Lake. It's still mostly frozen over:
Looking up at Glacier Peak:
Working my way up to the top. Nothing more than a scramble:
My first view of the Lower Glacier Lake:
As I neared the top I caught my first good view of the Grand Teton:
At the top views were spectacular:
After sitting at the top for awhile, it was time to head down to the lakes:
Looking down at the Lower Glacier Lake:
Looking over at the upper lake:
Upper Glacier Lake:
A couple of notes here. It was hard to get a good picture of the lake because the sun was shining directly into the view. Also, my camera at the time didn't work well. It was a cheap camera anyways, but the back screen was broken, so I had no way to see what I was shooting.
At the time of me writing this, my avatar is of me at this same lake, but taken on a trip in July of 2014
More to come, including Talus Lake, and views from the top of Doane and Ranger Peaks.
Part 2 can be read here:
http://backcountrypost.com/threads/...alus-lake-doane-peak-ranger-peak-part-2.4284/
Featured image for home page: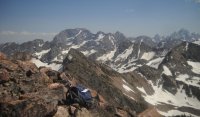 Last edited: