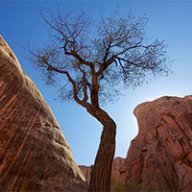 Joined

Aug 9, 2007
Messages

12,939
This is Part 1 of my recent trip to Grand Teton and Yellowstone National Parks. View the rest of the trip reports in this series at the links below:
Part 1:
Grand Teton National Park
Part 2:
Upper Geyser Basin
Part 3:
Canyon & More Geyser Goodness
Part 4:
Lamar Valley, Mammoth & Fairy Falls
For years I've been telling myself I need to get up to the Yellowstone/Teton area and check things out. The stories of crowds and a lot of the photos I'd seen didn't make it look all that appealing, but I figured there had to be something to go with all the hype. I had been there before but it was as a child and I have pretty much no recollection of it whatsoever.
So Audra and I planned a late-season getaway to visit Yellowstone in full tourist-mode. At first we just booked a few nights at a hotel in West Yellowstone, but as the trip approached, we threw on an extra night in Jackson Hole so we could check out Grant Teton National Park on our way in.
We left Salt Lake early on Thursday morning but were stopped in our tracks by a huge traffic jam heading north out of Salt Lake. I moaned and groaned a bit until we approached the cause of the accident: a fatal car crash. We passed by as they were removing the victim. A sobering start to a 5-day road trip and something I'll likely never forget.
It definitely made me think harder about driving safely for the remaining 1300 miles of our trip.
After getting north of Salt Lake we made good time the rest of the way to Jackson. The fall foliage coming through the mountains to Jackson was great but I didn't stop to take photos. We made it into Jackson around lunch time and passed straight through to Grand Teton National Park.
Our first stop was at the Visitor Center at Moose Junction, the first place you come to in the park heading north from Jackson. As planned, we went into tourist mode and went into check things out. It was actually one of the coolest visitor centers I've ever been in. I highly recommend it if you have time to kill.
After our stop at the VC, we continued into the park to make the drive along Jenny and Jackson Lakes and up to Oxbow Bend. It was a very hazy day with all the smoke in the air from the Idaho fires. I decided to get out my rental 100-400mm lens and get the hang of it. I didn't expect to see much wildlife until Yellowstone, but I figured I'd better figure it out.
Teton Glacier
Fall colors at Jenny Lake. They were good in patches but we definitely missed the peak in most places.
We were cruising down the road just south of Jackson lake and noticed two cars pulled over. Being the savvy tourists we are, we knew what that likely meant: wildlife! I pulled over immediately and saw what all the hubbub was about. A black bear!
I guess he was up a tree when the other group spotted him. After they pulled over he dropped down to the ground and just poked around in the bushes a bit, checking us out from our position along the road. By the time I walked back to the car a few minutes later, there were tons of cars up and down the road.
Next stop was Oxbow Bend. There were a ton of birds about but nothing else. And being the late afternoon the light on the tetons was less than ideal. Good time to play with the new lens though!
We took Hwy 89 back towards Jackson to get a better view of the Tetons. The smoke in the air was thick.
Audra earned the designation of 'lens llama' on this trip. If she wasn't wearing a backpack full of lenses she was packing them around one by one.
We cruised back to Jackson for a late lunch and then made our way over to Teton Village and checked into our hotel. We got a little too comfortable and didn't make it back out that evening but we did appreciate this unusual cloud during sunset from our balcony.
In the morning, I let Audra sleep in and I cruised out to Mormon Row to get the classic barn shot with the Tetons in the background. As I was almost there, I noticed the Tetons light up and had to get a couple shots. This first one was actually through my window while driving up the highway. =
And once I got off the main highway, I pulled over and swapped out for a wider lens so I could get the whole scene.
I made it to South Moulton Barn just before the sun crested the horizon. I was not alone.
The peaks were socked in the clouds on and off. I stuck around for a bit and waited until the Grand Teton poked out.
Afterwards I made my way back to Teton Village and we checked out of the hotel. I saw numerous 'wildlife tours' on the back road between Teton Village and the park, but no wildlife at all. Earlier that morning I had seen a heard of elk but it was almost completely dark so I didn't bother trying to take a photo. They were nowhere to be seen on my way back.
But lucky for us, on the same road, heading back into the park, we ran into another bear! This time it was a cinnamon black bear. He was very small and very close to the road. There were already several cars pulled over when we arrived so I hopped out and ran up to where they all were. At the closest point, I'd estimate this bear was less than 20 feet from us.
Just to give you an idea, this is an uncropped shot at 330mm. I wasn't even fully utilizing the range of my lens!
The Grand Teton rising out of the clouds
Oxbow Bend was looking a little better in the morning light.
After Oxbow Bend, we continued north into Yellowstone.
View the rest of the trip reports in this series at the links below:
Part 1:
Grand Teton National Park
Part 2:
Upper Geyser Basin
Part 3:
Canyon & More Geyser Goodness
Part 4:
Lamar Valley, Mammoth & Fairy Falls
Featured image for home page: