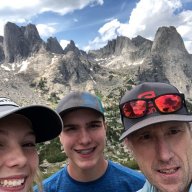 Joined

Dec 27, 2012
Messages

572
Great idea!

Start at the DC trail head and hike as far in to the zone as you can. Preferably one of the last 2 sites. Both sites offer your first look at the Cathedral group (about 8 miles). Day 2 up to Fox Creek Pass then level walking across the shelf, then down in to the Alaska Basin. I prefer to camp near Mirror Lake there. Day 3 up to Buck Mountain Pass, across to Static Peak Divide (grab the summit while you're there, then down and back to the DC trail head.
I much prefer Death Canyon over both Open and Granite Canyons! I could give you more. Hang on.......

Oh, lots of shuttle info too
Death Canyon shelf campsite is one of my all time favorite backcountry sites. It was in the back of my head when you were asking about Cascade/PB loop. I'm glad the subject came up.
Paintbrush Divide: check with the Rangers but don't get scared off. There should not be a lot of snow that would impact your trip at that time of year. There are no guarantees at that altitude but Paintbrush is famous for a reason. The pass is steep and rocky at the top (see pic) but very doable. You are wise to look at alternate routes. The map I posted has several options and others are giving you great suggestions as well. Death Canyon trail can be accessed through Phelps Lake. There is a very nice backcountry camping area there. On the north side of lake there is a famous swimming hole and rock to jump off and swim. That is a good low key option.
Rock at Phelps Lake looking into Death Canyon.
Keep in mind that Static Peak and Buck Mountain are side hikes. Your group should be in good shape if you plan to hit them.
You have a lot of very good options but plenty of time to obsess over them.