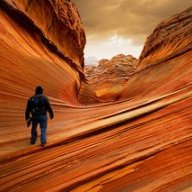 Broadcaster, formerly "ashergrey"
.
Joined

May 5, 2012
Messages

1,722
BLM asking for input. From their press release:
BLM Seeks Comment on Grazing EIS Preliminary Draft Alternatives
Kanab, Utah
— The Bureau of Land Management is seeking public comments on the preliminary draft alternatives for the Grand Staircase-Escalante National Monument's Livestock Grazing Monument Management Plan Amendment and Associated Environmental Impact Statement (MMP-A/EIS). Comments will be considered as the BLM develops the draft MMP-A/EIS that will replace existing grazing management decisions.
The public is invited to meet with GSENM staff, learn more about the preliminary draft alternatives, and provide written comments during three public open houses December 2 – 4, 2014. All meetings will run from 5 p.m. to 8 p.m. The December 2 meeting is at the Utah State Capitol Building, 350 North State Street, Salt Lake City; the December 3 meeting takes place in Kanab at the Kane County Search and Rescue Facility located beside the airport on South Highway 89A; and the December 4 meeting is being held at the Interagency Visitor Center at 755 West Main Street in Escalante, Utah.
You may submit comments on the preliminary draft alternatives in writing to the BLM at any public scoping meeting, or by any of the following methods:
· Mail: Bureau of Land Management
Grand Staircase-Escalante National Monument
669 S. HWY 89-A
Kanab, Utah 84741
· Email:
BLM_UT_GS_EIS@blm.gov
· Fax: (435) 644-1250
Please reference "GSENM Livestock Grazing Plan Amendment" when submitting comments.
The affected planning area includes all public lands within GSENM and public lands for which GSENM has livestock grazing management responsibility. This includes BLM lands within GSENM and additional lands within portions of the BLM's Kanab Field Office and the Arizona Strip Field Office as well as lands managed by the National Park Service (NPS) in Glen Canyon National Recreation Area. Small areas of additional state, municipal, and private lands also border or are contained within the planning area, but are not included in the decision area.
The preliminary draft alternatives were developed using public feedback received during the scoping process last winter, in close coordination with the state of Utah, Kane and Garfield counties, other federal agencies, and the best available science. The range of action alternatives will allow the BLM to find a decision that will enable sustained use of the land through improved land health and science-based grazing management.
To be most helpful, please submit comments by close of business on January 20, 2015. Before including your address, phone number, email address, or other personal identifying information in your comment, you should be aware that your entire comment – including your personal identifying information – may be made publicly available at any time. While you can ask us in your comment to withhold your personal identifying information from public review, we cannot guarantee that we will be able to do so. The minutes and list of attendees for each meeting will be available to the public and open for 30 days after the meeting to any participant who wished to clarify the views he or she expressed.
For further information, please contact Matt Betenson, Planning and Support Services Division Chief at (435) 644-1205. Persons who use a telecommunications device for the deaf (TDD) may call the Federal Information Relay Service (FIRS) at 1-800-877-8339 to contact the above individual during normal business hours. The FIRS is available 24 hours a day, seven days a week, to leave a message or question with the above individual. You will receive a reply during normal business hours.
The BLM manages more than 245 million acres of public land, the most of any Federal agency. This land, known as the National System of Public Lands, is primarily located in 12 Western states, including Alaska. The BLM also administers 700 million acres of sub-surface mineral estate throughout the nation. The BLM's mission is to manage and conserve the public lands for the use and enjoyment of present and future generations under our mandate of multiple-use and sustained yield. In Fiscal Year 2013, the BLM generated $4.7 billion in receipts from public lands.
– BLM –