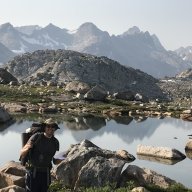 Joined

Mar 1, 2015
Messages

493
I'm taking my son out for a four-day trip this weekend and we were originally planning on heading to the Maze but it's looking too hot for the trip we had in mind. So I'm thinking of changing plans at the last minute to do part of Grand Gulch instead; when we did Kane-to-Bullet a handful of years ago, I remember it being relatively cool in Grand Gulch itself even in the high temps because we would walk in the stream off and on throughout the day. So I'm considering the next section (Bullet to Government), and had a few last-minute questions:
Is there consistently water in Grand Gulch from the Bullet junction to the Government TH? (to walk in and cool off in, not necessarily to drink)
I'm assuming the springs in the side canyons should be good this year? In my quick internet search, it seems like there's likely good water to drink near the Polly's junction and in Green House Canyon, Step Canyon, and Dripping Canyon? (although for some of these, you may have to go a little upcanyon from GG to find the water) Any other tips on reliable water sources are appreciated.
Is there good campsite availability in the vicinity of Step Canyon or Dripping Canyon (near Grand Gulch)? If so, we'll plan on camping there the 2nd night (1st night will be near Bullet/GG junction or near Perfect Kiva/Jailhouse; 3rd night near Polly's junction).
Should I expect bugs to be bad down there right now? If they may be bad, I'll probably bring the full tent; otherwise, I'll stick with the more minimalist (but more flexible and light) bivies/tarp.
Any other tips or must-see sites down there are also greatly appreciated!
Thanks
Ryan
Last edited: