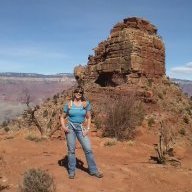 Joined

Oct 1, 2012
Messages

961
I just got back from the Grand Canyon and as usual, I'm still not sure, 2 days later, if I got any good photos. I hadn't planned to post anything or make a report but I just read @
Nick
's post to @
Miss Buffalo
, saying all that was needed was a photo and a paragraph, so I said what the hell. I said what the hell a lot on this trip. The adventurers among you will be bored to tears by this report, but I'd really appreciate any and all feedback on the photos. Photography trips leave me feeling like I've had an affair-I wind up emotionally spent, wondering what the hell I just did and if anything good came out of it. *ahem* not that I have affairs or anything….
The trip started, like they all do, with a wild hair. I saw on the Photographer's Ephemeris that the full moon would be setting over the Colorado River from Lipan Point on February 14, so I had to be there. I was hoping for snow, and for the third year in a row I got record high temperatures. Geez, do I have bad luck or what? This time I planned for it and brought hiking stuff as well. I also decided to stay at the Grand Canyon for 5 days. Usually on photography trips I jump around from place to place, which is the last thing you should do, and I decided to try scouting the various locations to see check out the light, comps, etc. and see what I get.
I started with 2 days in Zion, hoping for storms but they didn't come. The light was nice so I stopped by the side of the road whenever I felt like it.
Reeds blowing by the side of the road, Hwy 89
Buffalo fight at the ranch near Zion
I'm watching the weather and the forecast for the Grand Canyon just keeps getting hotter-geez, I left San Diego for this? When I get there I don't even see any clouds! I take a few lackluster shots, and plan on hiking. A LOT. I've never hiked in the canyon so this will be a first. I spend the next sunset and sunrise scouting and get nothing, but at least I'm not moving on to the next location so now I can predict where the good light might be. I did catch a shot of a man meditating by the canyon. He came with 2 companions, and when he looked out he sat down and meditated for about 15 minutes, seeming completely at peace. I discreetly took shots with a telephoto lens so I wouldn't disturb him. For some reason I felt privileged to witness his connection with the Universe, and appreciated his respect for the mystical landscape:
The next morning I wake up with a terrible headache, from an old triathlon injury that gets aggravated by carrying a backpack. The sunrise sucks and I wonder why I'm here. I decide to skip photography and hike the South Kaibab trail, hoping I get something out of this trip. I leave my heavy camera in the car, drag my @$$ to the shuttle, and start down the trail, my headache so bad I'm nauseated. Someone on here has a quote from Edward Abbey about how we need wild places, and at this point I lived that quote *cue heaven rays coming down*. The cold air on my head eased my headache, and I descended into the canyon for the first time. I'd planned on just getting to Ooh Aah Point and seeing how I felt, but as I went deeper and deeper I just became overwhelmed with how beautiful it was. I felt more alive than I ever had in my life. The wind was blowing and I just wanted to go farther and farther, so I did. My headache was gone, and I was part of an ancient landscape miles from where I usually reside. I went a few more miles, loving each one more than the next. I really wanted to go to the river but there are signs all over warning you not to do this in one day, and how hard the hike out is, how people die every year doing this, blah blah blah so I decided not to overestimate myself. Mistake! I actually hiked out faster than I hiked in, the weather was about 60 degrees, and I had water. Even though I didn't get to the river, I was completely invigorated. I am coming back and I am going to go all the way next time!
I decided to check out Lipan Point in preparation for my moonshot and see where the light fell. Got my first decent shot (I think):
Under a Pink Sky
The next morning I wake at 4:00 a.m. to check out dawn at Lipan Point and observe the light. There weren't many clouds and the canyon was hazy, but the textures of the canyon were fantastic:
Dawn on the Plateau
Dawn Textures
I really wasn't happy with anything I got, so I went hiking again, resolving to come back later. I'd noticed some amazing pink light from the east each night, so I decided to look for a viewpoint that faced east-maybe that would capture it. The day was overcast with flat light, and I was really discouraged for the sunset. I decided to try Grandview Point. I sat in my car, totally unmotivated. After 45 minutes a little bit of light came through on the peaks, so a got out and set up my gear, waiting in the flat light and cold wind. I almost left, but something told me to stay. I've seen flat light explode in color before, so I might as well stay. The sun set, a little light started to glow on the horizon, and I had a hunch the big gray cloud overhead might light up. Sure enough, all of a sudden the sky turned pink and orange, and the canyon was bathed in the most heavenly light I've ever seen. I took photo after photo, trying to do it justice but knowing I never could. There were times when I stopped shooting and just stood there in awe of the beauty. Here's where I need feedback everyone. For the next 5 shots, I'm posting them
in the order they were shot so you can see the progression of light, but I really can't tell which ones work and which don't. I'm still too close to the experience to judge. The hardest thing is trying to balance the color in the sky and get enough of the canyon without splitting the shot (which I did a few times). The problem with Grand Canyon sunset shots is you're looking down into the canyon while the sunset is up. In retrospect, I probably should have gone farther down the icy trail to get more of an upward viewpoint, but here's what I got:
Early Sunset, the color explosion
A longer view
Closer view with the river, losing some sky
More Canyon, Less Sky
Fading light, longer view
Just a note, there is almost no processing on these photos. I lightened the foreground on a few to bring out the textures, but the sky is straight out of the camera.
As the color faded the pink light lingered on the peaks, so I took some long exposure shots.
The Afterglow
And on that note, I decided to leave early. The next day was the start of the holiday weekend and I just couldn't face the crowds. I was on such a high after witnessing that sunset that I knew nothing would compare anyway.
Oh yes, none of the moonlight shots turned out that well, too much contrast. But I did get one I kind of like:
Lipan Point by Moonlight
Thanks for hanging with me, I'm looking forward to your feedback. Be honest, I can take it!
Featured image for home page: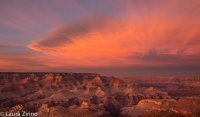 Last edited by a moderator: