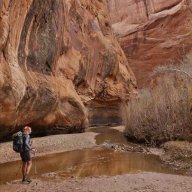 Joined

Jan 4, 2015
Messages

1,867
I did hear back from the Avenza folks. They made a suggestion of changing a setting in the GPS configuration. We will see if that helps!

I am curious about Gaia. If I download a map for offline usage, will I be able to check my location on that map while on the trail? Is it possible to leave waypoints on that map? The suggestions I read in an article about using your iPhone for a GPS suggested using Gaia and downloading maps. The article seemed to imply that you could save a lot of battery life by occasionally checking your location, instead of marking a trail continuously. That might work for me if I could drop waypoints onto that map. I usually do like to mark the entire route so I can then see miles traveled, and rate of speed (average moving speed and highest rate of speed). But, for purely not getting lost, or getting back to the truck, having a map and the ability to drop waypoints and then check my location on demand would work.
Yeah you can definitely do all that with Gaia.
Another app I might recommend is Backcountry Navigator Pro. It's cheaper than Gaia and a one-time cost, not a subscription service, and does everything you outlined above. Used it for years and very happy with it.