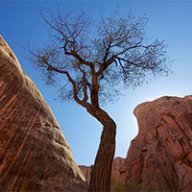 Joined

Aug 9, 2007
Messages

12,939
I'm wondering what everyone things of the accuracy of measured distances, particularly using a GPS. I've noticed over the years that many trail descriptions are short of what a GPS records the mileage. Granted, sometimes the track bounces around a bit, like in narrow canyons, but generally the tracks look quite accurate. I've kind of chalked it up to the possibility that people writing guides 10 or 20 years ago were likely just measuring distance on a paper map and not getting all the small bends in the trail, hence the inaccuracy.

So now I'm in a situation where I really need to make sure the data I'm presenting is accurate. Think of it like I'm writing a book, but I'm not. I basically have a job where I'm providing trail guides to a local business that plans to publish them to a very large audience.

So with that said, take a trail like Lake Blanche. The huge official sign at the trailhead says 2.8 miles one way. Other places around the web say it's 3 or 3.1. My GPS tracks on the other hand show at least 3.2 one way. And that is if I get into the software and make sure to only count from parking lot to the edge of the lake. Other people's GPS tracks tell a similar story. I'm of the opinion that a good GPS track should be the gold standard. What do you all think? Do I stand by my data even though the government-issued information at the trailhead says otherwise? This is not just a Lake Blanche issue either. It seems to be pretty a widespread problem, but usually the gov resource is overestimating mileage.