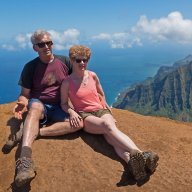 Joined

Sep 22, 2016
Messages

797
It sounds like winter has hit hard for many of our neighbours to the south. Here in southern Alberta, it's been up and down with the weather since returning from the desert in mid-October. Snow one week that started melting away as it turned warm and dry the next- a pattern that has continued. Our local volunteer ski groomers have been out packing down the xc ski trails at every opportunity, and by early November there was enough of a base to make for some really good skiing after each subsequent snowfall.
First tracks of the new season, November 5
The groomers jumped onto the new snow in full force, making for great conditions afterwork the next day! But then the chinook rolled into town...
But not to worry- a full refresh on November 10.
November 11 will be the day that the rest of our xc ski season will be judged by!
November 11. Friends Philip and Rod, with my wife Jo.
Amazing conditions for early November! But again- the warm winds descended after a few days of stellar skiing, putting the season on hold for a week.
The next storm brought enough wintery goodness to think about backcountry turns further in the mountains, on the underlying firm crust left behind by the warm spell.
We were not disappointed.
Some fall larch colors still hanging on. And then, yet another chinook bringing the strong warm dry westerly winds known as the "snow eater" to some of the native tribes.
On a stormy Sunday last weekend, we toured up to a fire lookout.
But only tagged the top for the views, and took a few quick pix before descending into the trees for shelter.
A major winter storm rolled in on Tuesday, making travel tedious at best. I took advantage and did a 2 hour urban ski tour starting at our back gate in Calgary.
To be continued....
Last edited: