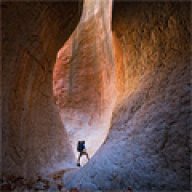 Joined

Feb 24, 2012
Messages

454
GoPro just posted on it's facebook it's announcing a new Hero tonight, the Hero3. Official release is at midnight PST.
First glance and it looks SICK.
Hey, GoPro fans — and by that I mean everyone who reads this site

— prepare to be blown away. A couple months ago I had lunch with some friends at GoPro and when I asked them what cool stuff was in the pipeline, they wouldn't say a peep…but they smirked like the cat that ate the canary. And now I know why: The leading hand's-free camera maker just announced the HERO3 Black, which is 30 percent smaller, 25 percent lighter, and twice as powerful as the current state of the art model.

Resolutions are whoppingly higher, too: 2.7 at 30 frames per second, 1080p at 60 fps, 1440p at 48, and 720p at 120. How sick is that?

We'll provide the full story after GoPro lifts the curtain at midnight PST.
http://www.adventure-journal.com/2012/10/fresh-goods-gopro-hero3-black-camera/