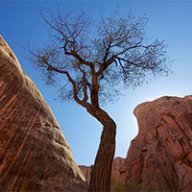 Joined

Aug 9, 2007
Messages

12,939
GoLite Poncho Tarp
Retail: $120
Price: $59.95 direct from
GoLite
My Rating: 4 out of 5 Stars
For years my solution to rain in the backcountry was simply a rain jacket. That usually meant hiding under a tree or pitching a tent when it became more than a few drops, otherwise my backpack and pants would be wet in no time. I tried pack covers and rain pants but it was a lot of dead weight to carry and I never ended up using them. I also didn't end up breaking them out as often as they were needed because it was such a pain to put rain pants on in the middle of a storm with boots in the way. I suppose if I were backpacking through the rainforest or through solid days of rain, the pants and pack cover would still be a good way to go, but for the typical monsoonal rain storms we get in the rockies, it just didn't work for me.
A couple years ago my wife gave me a GoLite Poncho Tarp for Christmas. I'd always thought of ponchos as cheap, flimsy emergency solutions to rain that probably wouldn't really work very well. I guess I was thinking of the little disposable ones that you see amongst the emergency supplies and first aid kits in the outdoors stores. Or perhaps it's memories of being a boy scout trying to use a trash bag as a poncho. The GoLite Poncho totally changed my way of thinking. At 7.4 ounces, the Poncho Tarp weighs a fraction of what my rain coat weighs but goes the extra mile and covers my pack and much of my legs too! And it packs down to practically nothing - maybe the size of a thick pair of socks in my pack. I was pretty much sold the moment I held it in my hands.
For mountain trips the GoLite Poncho is a staple in my pack. The unpredictable nature of monsoonal summertime thunderstorms in the Wind Rivers and Uintas is a perfect match for this piece of gear. Sunny one moment, pounding rain and hail the next. I keep my poncho at the top of my pack, ready to deploy in a moments notice. If the rain is substantial I like to wear it in conjunction with a rain jacket. This makes it so that I can use my trekking poles without getting my arms wet. I also prefer the hood on my rain jacket more than the one on the GoLite Poncho. I have a larger than average head and it can be a tight fit getting my head through the hole. Once it's through it's very comfortable and I like the fact that I don't have to adjust it much, but I prefer the overall flexibility of a regular rain jacket hood more.
The GoLite Poncho is not only unique in it's extraordinary low weight and durability but also in the fact that it doubles as a shelter. I've met folks who use it as their primary shelter but that is not how I use it. I love the fact that the option is there if I need it but I have yet to actually set it up as a shelter. The closest I get is when I just crawl up under a tree and use it as a tarp to cover my legs and pack while I wait out a storm, at which it excels. There is plenty of room for my 6'4" frame and backpack to stay dry underneath it while waiting out a storm.
The GoLite Poncho is not without it's faults though. Aside from the head hole being a bit small, it lacks a sufficient method to secure the bottoms of the tarp together to keep the wind from blowing it up. One side has nylon loops that I use to halfway remedy this by pulling the other corners through the loops. This method works pretty good but eventually works loose and the ends must be pulled through. There are already a handful of snaps on the tarp to adjust it's length for taller/shorter people and use with or without a pack. It would be really nice if they could just put on a couple more so that the front could be attached to the back of the poncho so that it wouldn't blow up in high winds.
Pros:
Crazy light at 7.4 ounces
Very durable
Packs down super small - think a large pair of socks
Large enough to cover most of your body, even with a pack on
Cons:
No great way to attach the front to the back to keep it from blowing up in strong wind gusts
Much more expensive than a 'grocery store poncho' but totally worth it. You get what you pay for!
The head hole is a bit snug for those with larger than average craniums but it's nice once you squeeze through
Here are some photos of the GoLite Poncho Tarp in use:
Full coverage over the backpack that extends to the legs. You can see in this shot the method we used to attach the front to back by pulling ends through the nylon loops. This worked okay but wasn't ideal.
Pack and packer - nice and dry!
Hiking through a massive storm in the Wind Rivers. Dan (left) was wearing the poncho tarp in combination with the
GoLite Malpais Rain Jacket
and stayed completely dry. We walked through at least 40 minutes of solid rain, at times it felt like a wall of water coming down and he was completely dry when we finally crawled into the tent.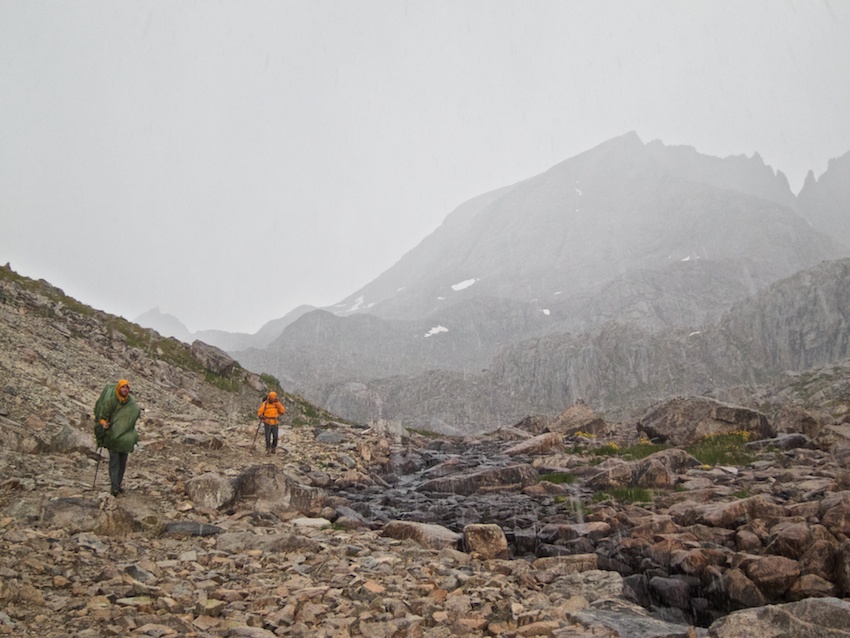 Another shot from a storm a couple hours earlier. You can see Nate wearing a cheap poncho that didn't even come close to covering his pack. He had to use a pack cover in addition to the poncho and the tops were always blowing off. I was following behind in my GoLite Poncho.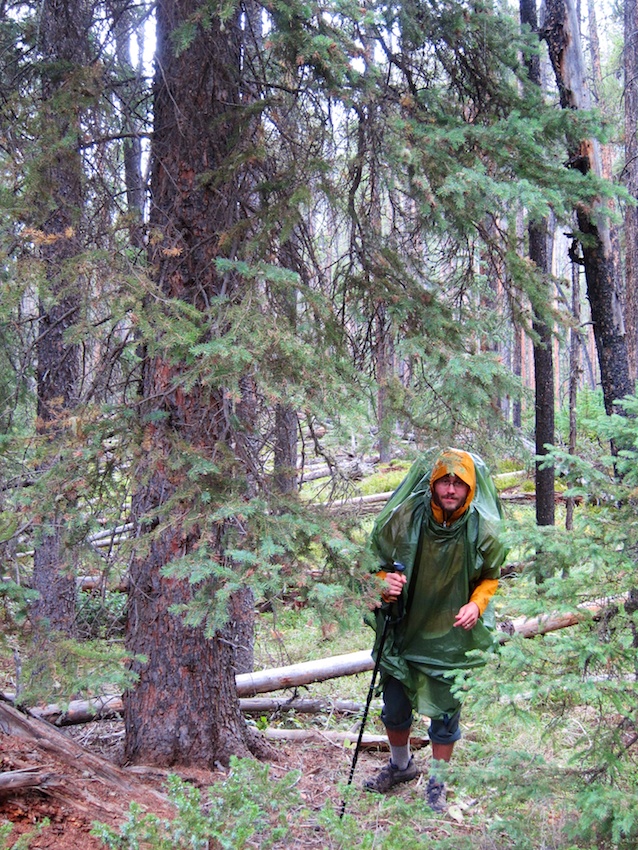 Ultimately, the GoLite Poncho Tarp is one of my favorite pieces of gear. The only thing that knocks it down from being a 5-star product is the issue with wind blowing it up at times and not having a great way to fix it. But even that hasn't been a huge problem and I would recommend this to anyone in a heartbeat, especially now that
GoLite is selling them direct
at a fraction of the cost I paid. It's a no brainer and anyone hiking in turbulent weather should carry one.