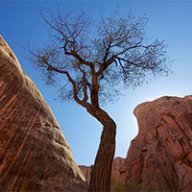 Joined

Aug 9, 2007
Messages

12,939
I'm heading out on a 5-day, 84-mile river trip through Desolation and Grey Canyons on the Green River next week. There have been numerous reports of bear issues out there this year, some of which have resulted in bears being killed or relocated. One first-hand report I read stated that one curious bear was caught looking into a tent at night. Oh, and another person actually had a bear bite them on the head. Not the same head bite that happened in Colorado, this one happened almost the same time.

With that all said, I really hate sleeping in a tent. I much prefer just sleeping on the ground with nothing around me. But this has me thinking a bit. Does that stupid nylon and mesh contraption actually do me any good if Yogi comes sniffing around one night? Or is it purely mental? I don't love the idea of getting bit on the head, or waking up to bear breath, but I also don't love the idea of a hot, muggy tent every night.

And if any of you have done Deso, is there enough of a problem with mice that I'll want the tent anyway? The campsites on the Yampa in June were pretty much mousapalooza so I ended up tenting a few nights for that reason alone. They don't usually wake me up but there's something about getting out of bed and looking down to see an imprint of your body surrounded by mouse prints that isn't so great.