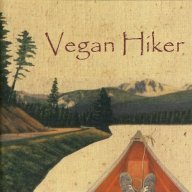 Joined

Jul 5, 2014
Messages

2,094
I thought about resurrecting Nick's old thread from 2012 on this topic...
old thread
But I was hoping to find a convo on cold soaking in particular not just going stoveless in general. It's the off-season here in the northeast and I have a sprained ankle so i'm tinkering with my setup and have considered going cold for a while.
I recently ordered a bunch of Outdoor Herbivore cold meals and a bunch of other stuff on Amazon that i've read worked out for thru-hikers who cold soak (some different ramen noodles, dehydrated refried beans, etc.) so i'll be doing a lot of testing and sampling. I can post up my findings here if anyone is interested in the topic.
I know this isn't for everyone, especially coffee drinkers, but I really don't think i'd miss the hot food much. As far as actual weight savings, my jetboil Ti Sol and a 100g fuel canister weigh in at about 12.5oz whereas an empty peanut butter jar for soaking weighs in at a little over an oz. It's not just the weight savings though i'm interested In. I really like the no fuss simplicity.
If anyone else has tried this i'd be interested in hearing what worked and didn't work for you.