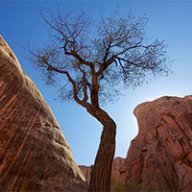 Joined

Aug 9, 2007
Messages

12,939
I spent a few nights out on Lake Powell last week. The focus of this trip was fishing, so after car camping a night in Stanton Creek, we launched the boat headed north toward Good Hope Bay where fishing reports were pretty good. We stopped in Crystal Springs Canyon and caught a few stripers before continuing north to Good Hope.
@
wes242
with the first fish of the trip.
And me with the second.
The weather was kind of overcast and windy so not a lot of good photos after that. Once up into Good Hope, we made it past The Horn and stopped for a break in Fourmile Canyon. The fishing wasn't great and the campsites up there aren't that pretty, so we decided to head back south and look for a site in one of the canyons between there and the Knowles/Cedar area. Again, not great light for photos, but there was this crazy rainbow thing in the sky for quite some time. There was an actual sun dog at times, but this was different.
After searching at least a half dozen canyons for a campsite, we finally found this one in Hansen Creek. It was cool to camp here because it was the first time I tried camping with the boat right on the rock rather than on soft sand. I brought thick rubber mats to protect the pontoons from the sandstone. It worked great, opening a huge number of campsite possibilities on future trips.
The weather wasn't great but it was still warm enough to soak in the pool.
The next day we decided to pick up camp and head south. We stopped at Halls Crossing for gas and then raced down to the Escalante area.
We were looking for campsites around Hole-in-the-Rock and decided to go check out Llewellyn Gulch. It was good to see the bottom of this canyon (what I could see) after backpacking the top of it last year. The recent floods had turned the top of the canyon a neat green color.
We eventually settled on a spot just off the main channel, a little south of Llewellyn. It had great views and good protection from the wind which was howling out on the main channel.
Wes practicing his backup propulsion method in case the boat breaks down.
We caught a few catfish off the back of the boat, but it wasn't as hot as it was in our last campsite.
Later that night, after our camp was in the shade, we took the boat out for a leisurely cruise down past the San Juan and into Reflection Canyon - one that I've wanted to visit for a long time. Navajo Mountain loomed on the horizon.
My pretty wife pulling off an excellent Captain Morgan pose.
Most of Reflection was in the shade, but it was still nice to cruise through. It's hard to capture the experience, and lord knows I wish there was no water in any of these canyons, but it really is nice to float through them. Certainly better than just not seeing them at all.
The next morning at camp.
The next day, we decided to head even further south. A stop at Dangling Rope Marina and then a hike to Rainbow Bridge was in the plan. And of course, fishing, swimming and relaxing in between.
Hidden Passage Canyon
Wes getting into some Smallmouth Bass in Anasazi Canyon
Audra and I did the 1.25 mile hike to Rainbow Bridge while Wes and Markai kept an eye on the dogs in the boat. It was cool to finally see this place and we had it all to ourselves while we were there.
Some etchings a little off the main trail, near the arch.
The floating part of the 'trail'.
After fishing and exploring many of the canyons between Dangling Rope and Rainbow Bridge, we headed north again for a nice swim session in the lower San Juan. We improved on our new rubber ducky drink holders by adding leashes to them. Damn things are always trying to swim away with my beer!
Before heading back to camp, we took a cruise further into the San Juan to the end of the water-filled part of Nasja Canyon. I am really looking forward to exploring more of this area.
The San Juan
Back at camp, we were once again visited by a Great Blue Heron that had come the night before. He liked to sit up on this dead cottonwood and show off.
The next morning, the light and clouds were great for photos at camp.
Nikita is totally obsessed with finding fish. Fun to see her so happy in her old age.
After packing up camp, we headed north, chasing Striper boils here and there and admiring the views.
Hole-in-the-Rock.
I decided to take a quick side trip to Cathedral in the Desert to see what the increased water level had done to it since I was last there in April and May. The water was not right to the top of the waterfall. Sad to see that, but it made it easy to hop off the boat and explore up canyon to the next waterfall.
You can see Markai walking in the canyon in the distance in this photo for scale.
One last stop near Bullfrog to cool down before heading home. We ended up covering about 300 miles on this trip. We didn't plan it that way, it just happened. The new boat performed admirably covering all of that distance quickly.
Full set of photos here:
http://bcpost.me/1lfn77n
Featured image for home page: