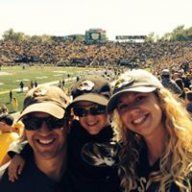 Joined

Oct 7, 2014
Messages

98
Last week, a group of four grubby dudes completed a 58-ish mile trek (+ side trips) from the Loop area of Glacier National Park to Lake Kintla, a quasi-Northern Traverse. I had never been to Glacier before, and the North Fork area looked to be a prime introduction to one of our country's most beautiful regions. Glacier did not disappoint, and I'm already anxious to return to explore other areas of the park. Thanks to
@Joey
for the advice, which definitely helped our planning. We were fortunate enough to score a primo itinerary, with four of the most sought-after campsites in the park. The trip started rocky, but it was an incredible adventure.
Day 1: Logistics - Battling for a Campsite; Shuttling to Kintla; SLEEP!
Originally, we were due to arrive in Kalispell at midnight on Thursday, sleep at a crappy hotel, and then take care of logistics on Friday morning (permits, shuttling cars, etc.). Unfortunately, we were on the tail end of the Delta computer system debacle, and our flight was delayed...and delayed...and delayed. We finally arrived at 5:30 AM on Thursday after a long night in airports with no sleep. Should make for an interesting day.
We all decided to forgo sleeping and jump right into our adventure. The first order of business was permits, and we were going to try to score a permit for either Granite Park (fat chance) or Flattop Mountain (hopeful) so that we had a place to stay the first night. Despite arriving at the permit office in Apgar at 6:15 AM, I was the 12th person in line. As suspected, I struck out on permits the first night, so we were homeless. We were advised that the main park campgrounds were filling as early as 9:00 AM, so we bee-lined it to Avalanche Creek and stalked folks breaking camp to score a site. Fortunately, Avalanche would prove to be the only disappointing campground of the trip (and, boy, did it suck). After staking our turf with a couple of tents, we headed up to Polebridge for coffee and huckleberry-infused sweets. Next stop was Kintla...since we were all in zombie mode, there are virtually no photos of the first day. We dropped the second car at Apgar and took a shuttle to Avalanche Creek. This coffee-fueled day ended with a couple of beers around a modest campfire, and we all crashed before the sunset.
Lake Kintla, where we dropped a car to pick up in 6 days...those blue skies would follow us for nearly the entire trip.
Day 2: Loop to Fifty Mountain...13.4 HOT Miles with a Happy Ending
After all of us slept like babies for 10+ hours, we were ready to dominate this trail...Flattop Mountain in the full, blazing sun quickly eroded our energy, but the day crescendo'd into 50 Mountain, the first of our amazing campgrounds.
Four grubby dudes, setting out from the Loop.
Are we f'in lost already? Note the lack of shade as far as the eye can see.
Just 45 minutes into our trek, a black bear popped out from the brush and stopped on the trail just 30 yards in front of us, but we were too spooked to get our cameras in time. Dan was quick on the draw on the bear spray, but the bear disappeared before any photography or macing.
The trail up Flattop Mountain was a butt-kicker. 3500 ft or so elevation gain on steep switchbacks, in the blazing sun, with absolutely no trees remaining from previous forest fires to provide respite. The creeks were dried up at Flattop for about a mile, and we nearly ran out of water in a supposedly very wet park. "Flattop" is a complete misnomer. Except for a few parts, we simply kept going up. Fortunately, toward the end of the trek, the vistas really opened up, and we entered into the Fifty Mountain area, where we would camp that night.
Sleeping in a field of wild flowers with that backdrop? There are worse places to rest your bones.
Day 3: Fifty Mountain to Lake Frances...An exhausting 17 Miler.
This was our long mileage day of the trip, and my feet are still recovering. The day took us from the open vistas of 50 Mountain, down to the Waterton valley through Katoni Lakes, to Waterton Lake for a refreshing swim, and then a muddy/swampy slog through a thunderstorm to Lake Frances.
Leaving 50 Mountain
Starting our descent into the Waterton Valley. Dropped about 2500 feet in just a couple of miles. The trail was completely overgrown in most of this area, so we were hiking through waist-high brush for some time.
Finally, flat ground and the Waterton Valley...now a 10-mile trek to Goat Haunt / Waterton Lake.
Meadows near Katooni Lakes. We struck out on the moose sightings in this area. Waterton Valley opened up in a few beautiful spots, but it was mostly a walk in the woods. It was beautiful, in its own right, but would not compare to the rest of the day.
Finally, Waterton Lake...after trudging through waist-high brush for many miles, it was time to let our clothes air out and take a dip in a refreshing, glacial-melt filled lake. When we arrived at Waterton, it was just us and two customs agents manning the lonely outpost. After about 45 minutes of solitude, two ferries arrived, and the place was filled with daytrippers of every nationality imaginable. They were there for about 15 minutes, and then hopped on a boat just as fast as they arrived...back to peacefulness!
The marauding day trippers commeth. Note the foreboding clouds in the background...
After resting at Waterton for about an hour, it was time to hike the final 6.5 miles to Lake Frances for the night. Unfortunately, the skies opened up on us and we got hit with a pretty heavy thunderstorm for a solid hour, followed by intermittent rain and sun for another couple hours. A park ranger with a mule train just so happened to be coming from Frances to Waterton, so the trail was very rutted, sloppy, and downright swampy in a lot of areas. My feet were soaked, and for the first time in years, I got some nasty blisters.
Glacier and waterfall approaching Lake Janet:
Lake Janet, with the sun finally peeking out.
The 2.5 mile trek from Lake Janet to Frances took FOREVER due to the sloppy conditions, but wow was Frances beautiful. Yet another amazing campsite awaited us.
Yup...good spot. There are only two campsites in the whole area, and a really nice local couple occupied the other one.
Dan approved of Lake Frances
Same view, unobstructed by Dan's big head:
Sun setting on Frances
That sky...We stayed down at the lake until almost 11 PM, waiting for the last faint bit of daylight to fade away. It was too gorgeous to leave.
Day 4: Frances to Hole in the Wall. 4.6 Short Miles!
This was our rest day after the 17-miler the day before. We slept in, leisurely ate breakfast, and took our coffee down to the lake and chilled until almost 10 AM before setting out on a truly scenic day heading toward Thunderbird Pond, up to Brown Pass, and ultimately to Hole in the Wall.
Trudging through the brush toward Thunderbird Falls in the background.
Getting closer to Thunderbird Falls
And look who is chilling out, enjoying this beautiful view!
A quintessential Glacier shot...is this even real? We watched this big bull moose for nearly 30 minutes. He was lazily eating and swimming in Thunderbird Pond. We probably have 50 shots/videos of him.
After the moose excitement, we were left with this view of Thunderbird Pond as we started the climb up to Browns Pass:
View from Browns Pass
The 2 miles or so from Browns Pass to Hole in the Wall were amongst the best of the whole trip.
The mid-day heat was surprising at 6500 feet, but there were glacial melt streams and waterfalls everywhere to cool off.
Heading around the bend, leaving Browns Pass toward Hole in the Wall
Bowman Lake is far in the background
Approaching Hole in the Wall
We rolled into the Hole in the Wall campground about 2:30 after taking our time on the trail. This was a relatively "crowded" campground with four full sites, but it was so spread out that you still felt like you had the place to yourself.
Yet another primo campsite
The moon that night...wow. The photos just didn't do this justice.
Even the view from the pit toilet was phenomenal!
Day 5: Hole in the Wall to Upper Kintla with a Boulder Peak detour. 12ish miles
We got an early start on the day and headed up to Boulder Pass to drop our gear and climb Boulder Peak. This was another day full of impressive vistas.
Climbing out of Hole in the Wall
Heading into Boulder Pass
The wildflowers were exploding at the higher elevations:
We hung our bags on the bear line at Boulder Pass campground and headed up Boulder Peak. The views were, of course, jaw dropping.
Looking into Hole in the Wall. It was a 5.5 mile trek from the campground in that basin to Boulder Pass.
Whiskey? Whiskey.
...Aaaaand whiskey.
Contemplating life on Boulder Peak.
After enjoying our time on Boulder Peak, we made our way back to our bags for a quick lunch at Boulder Pass, followed by a gorgeous trek to Upper Kintla.
The descent to Kintla:
Those wildflowers. Cannot get enough.
View into Kintla Valley
Glacier above Upper Kintla - the white line in the trees on the right side is the very large Kintla falls
Upper Kintla Lake, and the prettiest skies you can hope for:
Sun starting to set, creating an amazing mirror on Upper Kintla
We decided to hike the shore at Upper Kintla and head away from camp to wash up. During our trek, we discovered a message/graffiti someone had left in the rocks. Frankly, after a few days hiking, I'll pass...
Day 6: Upper Kintla to Kintla Lake TH...to Polebridge for more huckleberry goodness and then to Moose Pizza in Kalispell for much-deserved pizza and beers.
"Pizza and beer, beer and pizza." We knew we had a relatively boring 12 mile trek out to the trailhead, so we broke camp at 5:45 AM, stopped at the halfway point to wolf down breakfast and then busted our butts out of there, with coffee and all sorts of baked goods calling our name at Polebridge Mercantile. My feet were absolutely trashed at this point, with infection starting on one foot. I barely took any photos this day, as it would have taken up time that would be better spent swilling beer and eating my weight in Moose pizza.
Early morning clouds rolling off of Kintla Lake:
DONE!
Last view of Kintla...back to reality.
As the photos demonstrate, this was a great trek and taste of GNP. The North Fork area is remote and logistically challenging, but worth the effort. We all agreed that we're going to return to GNP to check out the eastern side of the park (Highline, Stoney Indian, Many Glacier areas).