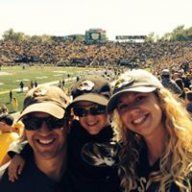 Joined

Oct 7, 2014
Messages

98
@Joey
is probably off wandering, but hopefully someone can help with some route decisions in GNP.
Here is my current campsites for an early September trip. This wasn't my requested itinerary, but I'll take what I can get.
Many Glacier > Elizabeth Lake Foot
ELF > Cosley Lake — This is a weird short mileage day. May need ideas for exploring around this area. Bear Mountain overlook?
Cosley > Stoney Indian
Stoney Indian > Glenns Lake Foot
Glenns Lake Foot > Many Glacier
Here are options we're weighing:
Option 1: We're debating trying to switch Glenns Lake on the last night for 50 Mountain if we can get it. Long slog uphill to 50 Mountain from Stoney, but loved that campsite. We'd then do a 19.5 mile day from 50 Mountain to Many Glacier via the Highline and Swiftcurrent Pass trails. Long day, but seems doable.
Option 2: If we stick to the assigned campsites, thinking that we head up the Sherbourn Cutoff and take Redgap Pass to ELF, and then Ptarmigan on the way back.
Would love input on which option folks recommend or any alternates. Thanks in advance.