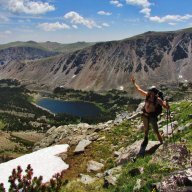 Joined

Mar 24, 2016
Messages

26
Last month Erin and I went on a nice vacation to Glacier because, 1. I got laid off from my temp winter job, and 2. Its only a 2 1/2 hour drive from home. We decided to make a day out of snow shoeing to the top of the Mount Brown Lookout. Well the day we did it, we lucked out and had a window of very sunny and gorgeous weather. We camped out at Lake Mcdonald for 2 nights and we had a lovely time enjoying each others compny and great views. The hike was quite difficult due to it being very snowy and snow shoes on powder is not easy, i dont care who you are!
Enjoy the fun Pictures

Enjoyin a moose drool at camp yum

This campsite aint bad, would you not say?
sunset on Lake Mcdonald
THis after about 2 hours of hiking out of treeline! Amazing wintry views
Great bear wilderness to the south and Lake mcdonald
still climbing
Ice capsuled Trees!!
The Great Bear Wilderness canyons to the south, Ousel peak is right there
really white. almost there!
on top of the ridge headin to the lookout!
View east from lookout
View West lookin down at mcdonald

North View into heart of the Park
the main summit of Mount Brown... Not today thank you
Stanton Mountain, Mount Vaught, Mcpartland Mountain, and Heaven's Peak! Sweet Skyline.
Erin gazing into the world of mountains and Ice
looking down at Snyder Creek and edwards mountain.
This was a Great little excursion! Glacier NP is limited in the winter unless you have intentions of snow play