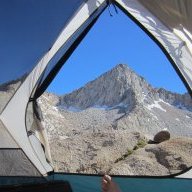 Joined

May 24, 2015
Messages

124
This is the second part of a two part post about a trip to Glacier National Park by Holly and Tim V.
We were camped for a couple of days at St Mary campground on the East side of Glacier. Our particular loop appeared to have been cleared out by a fire at sometime in the past because there was almost no cover for privacy and no shade relief from the heat. There was however an ample supply of Huckleberries still available on the perimeter of the campground. We had already seen plenty of bear scat to know that this fruit was keeping a lot of the park animals nourished but the berries were becoming harder to find. We picked quite a few and sprinkled them on just about everything we ate.
The days activities once again took us into Many Glacier where we planned on hiking up to the Ptarmigan Tunnel. We again got a good early start this time seeing no bears on the drive in.
This hike took us North through some shaded forest where we ran into some Ptarmigans ( or are they grouse?) A hen
Some big chicks crossed the trail
A Grey Jay flew out of the trees.
Once the trail breaks away from the Iceberg lake trail junction it gets a bit steeper. Ptarmigan Lake comes into view and the remaining gently sloped switchbacks lead up to the headwall. It was another great day with little smoke to be seen in the northerly direction.
At the head of the Lake there were these fascinating large gold rocks. they looked like large gold brick pieces.
On the steep bare slope to the headwall we found our first Bighorn Sheep ewes and lambs.
There were still some flowers blooming also.
After hiking thru the tunnel that was bored through the rock headwall we had great views of Elizabeth lake to the
North
The red hues in the soil were amazing.
We hiked back down to the trail junction and decided to go to Iceberg lake while we were already up that far.
Holly went swimming in water that I could barely keep my toes in.
This had been our longest hiking day of the trip at 15 miles. We still had some good daylight left. I had spotted a beaver dam from a bridge near our campground so we picked up some cold beverages on the way to our camp and watched the sunset from the bridge hoping to see the beaver working on his dam. We never did see the active beaver but lots of birds were in the area entertaining us.
Relaxing after a long hiking day. I found some Huckleberry Wheat Beer to enjoy as the sun went down.
Ospreys were making passes
A Kingfisher worked nearby
Cedar Waxwings had lots of berries to eat near the campground
The Beavers had a major destruction project going on with this 15 inch trunk.
The next morning we awoke to an eerie sunrise tinged from the ash and smoke.
This day we were scheduled to hike again in Many Glacier, then drive back at the end of the day to the Avalanche camp ground for more hiking on the West side. On a lark we stopped into the St Mary Visitor Center to ask about the fire situation. While we were there we learned that a popular overnight hike had just been reopened to hikers. We moved quickly and scored a backcountry permit for the Gunsight Pass trail that would take us 20 miles through the heart of the park. That did not affect the plan of spending another day in many Glacier. We celebrated with a stop for a slice of Huckleberry pie.
Back at Many we did the short hike to Grinnell lake.
Hidden waterfall on the hike
We saw our first Loon in the park
This log was taken over by a big family of Mergansers
They could only sit still for so long
So we left the Many Glacier area having seen four bears on our first drive thru but none on the two days there after.
We realized again how special that day was. On the drive back to Avalanche we spotted an eagle in the trees.
At avalanche we spent a lot of time preparing our backpacks and dividing up the loads for the hike the next day. It rained a considerable amount that night with an ongoing thunderstorm waking us up a few different times. In the morning there was no need to rush to the trailhead since it was still raining . Thankfully everything we needed to pack stayed dry. We parked the car at the exit point of the hike at Lake MacDonald and then hopped on the shuttle with our packs. The trailhead was a couple of stops beyond the Logan Pass stop, just before the smoldering ruins of the Reynolds creek fire. It was only drizzling lightly when we hit the trail.
Another Cedar Waxwing on the way to the trail.
As we hopped off the shuttle there was one other backpacker also getting off. She had to be going to the same trail we were so we introduced ourselves and decided to team up since this was grizzly country and hiking solo was a lot riskier than hiking as a threesome.
Sarah and Holly at a little falls as the weather starts to clear.
I spotted my first Three Toed woodpeckers. I didn't know it until I looked them up at home
At first I thought we were doing Sarah a favor. This was her first trip to the park and her first hike in the park. She was going to hike alone if she had not met us at the trailhead. My parental instincts kicked in as soon as I saw her since she was not much older than Holly. It only took a few miles of trail talking to find out that she grew up in Alaska and was very experienced on the trail. She did not really need any help from us at all. We had a shared enthusiasm for everything in the outdoors and our hiking pace was similar. We made a good team of three. In no time we had arrived at Holly and my assigned campsite but we all felt really strong and decided to push over Gunsight pass to Sarah's more desirable campsite at lake Ellen ( I kept calling it Owen) Wilson.
Shelter at Gunsight Pass
A major waterfall obstacle below the Pass. We had to take turns using my hiking poles to get safely across the rushing water with full packs on.
As we arrived at our campsite this goat and his family became the official greeters. They noticed when we arrived and then walked right through our camp and watched us set up
The camps are very well organized with each one having a foot trail that leads to this enormous leaning rock food preparation area. The food hanging pole is behind. I still can't figure out why the bears out here have not figured out how to bring down food sacks tied to a pole. I was surprised that the park backcountry sites had not yet been equipped with bear lockers.
Some of the campers and hikers we spoke with had been hammered by the storms from the night before. Some even had to hike out because of wet equipment. We were fortunate that a warming trend was starting up with no further precipitation in the forecast.
The next day on our hike to Sperry Chalet we were accosted again by a friendly family of goats. They posed for us but what they really wanted was a chance to lick anything salty like packstraps or perspiration rings on our clothes.
The skies were murky that day but we had a memorable hike over Lincoln Pass and on to Sperry Chalet. Sarah had a ride deadline to meet so we said our goodbyes and she hiked on ahead. A solo day hiker passed us going the opposite way as we went up Lincoln pass. We saw her again at the Chalet an hour later. She had turned around and come back after coming across a grizzly on the trail and also a large black bear. We must have just missed both of them. Probably too preoccupied with the circle of goats that we had around us most of the time.
Near the Chalet these Hoary Marmots put on quite a show.
I think they were doing Shakespeare in the park.
More goats were resident near the Chalet
We said goodbye to the goats and hiked the remaining miles to Lake MacDonald.
The next morning we only had a few hours available before we were to meet some friends for a river float trip.
We made the most of it by returning to Logan pass very early. This time the skies were crystal clear. We hiked up to the Hidden lake overlook again. Did not see many animals but it sure was clear out!
That ended our hiking trip in the park. It was great to go out with clear blue skies and memorable vistas as we drove down the GTTS road one last time. It was like a postcard for us. On our way back to drop Holly off in Seattle we stopped by Norther Cascades National Park for a quick day hike. That report is posted on the Hiking forum if you want to see it.
Thanks for hiking along with us.
Tim and Holly V.
Featured image for home page: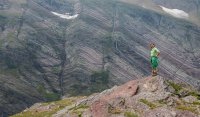 Last edited: