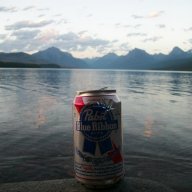 Joined

Apr 1, 2014
Messages

878
Here is a short report of a 5 day backpacking loop I did in Glacier National Park. Joining me was my youngest brother Andrew, who is exactly 11 years younger than me (we share the same birthday), and his best friend Sterling, who is pretty much like another brother to us. After years of talking about it, they finally came out for a backpacking trip. We spent several days sight seeing around the park, before starting our trip.
Here is the route:
http://caltopo.com/map?id=2E2K
DAY 1 MAP
We started from the Going To The Sun Road, and headed up over Piegan Pass. My brother Andrew is to the left, Sterling is to the right.
In this view, you can see Piegan Pass, where we are headed. The saddle right of the snowfields.
In this view, Piegan Glacier is in the center
Me, hiking up towards the pass
Here you can see the road we came up from. Blackfoot and Jackson Glaciers are visible in far distance, Jackson Peak is on the right.
Are first look down into the Many Glacier Valley, the Grinnell Lake drainage. The Garden Wall, aka Continental Divide, is to the left.
Me at the pass
Looking back up at the pass, after dropping down.
The boys hiking down from the pass:
Waterfalls are everywhere in Glacier
Looking back at Lake Josephine
Our first night's camp was at the Many Glacier Campground. It's a car campground, but it has backpacker sites. We got in to camp rather late, so I'm going to cheat and show a few pictures from another trip. These are taken at the Many Glacier Hotel, on Swiftcurrent Lake. Probably my favorite non backcountry site in America.
DAY 2 AND 3 MAP
Day 2. Mutiny! So I thought these 22 year old college boys would be in shape for this. They had been "training", or so they said. To my dismay, they began to ask about bailing out and taking a shuttle bus back to the car. I lied and told them no shuttles were available, and that they had no choice but to continue on. I offered to carry some of there stuff ( I was already carrying the 3 man tent we were all sharing). I was surprised at what I found in their packs, which included extra pairs of shoes, Abercrombie Style dress clothes, and best of all, tanning lotion. Coconut scented tanning lotion.

I loaded up my pack with as much of their gear as I could (it took a while, but I finally convinced them to throw away the tanning lotion), and we headed off towards the Ptarmigan Tunnel.
Here is my pack, you can see the tanning lotion on the picnic table.
Weather was moving in. We were warned that a large, slow moving rain storm was coming in. We hiked on anyways.
Soon we reached Ptarmigan Lake
Finally we made it to the tunnel
Looking down on Elizabeth Lake from the tunnel
We began our march down into the Belly River
Looking out towards Helen Lake, with Ahern Pass above it
Crossing the Belly River
Dawn Mist Falls
We continued hiking to the Gable Creek backcountry site. We set up our tent as rain began to come down.
And it rained. From late in the afternoon of day 2, to the morning of ay 4. It didn't stop. 36 hours of straight rain. And it was cold. No pictures were taken on day 3 as we hiked up to Stoney Indian Pass, and down to the lake. However, I'm going to cheat again, and show a few pictures of what it normally looks like, when it doesn't rain. Just a few:
For some reason, Sterling wouldn't put rain pants on. Much of the valley floor trail is over grown with brush, and was soaking wet. This got us soaking wet. Eventually, it caught up to him as we climbed up to Stoney Indian Pass. He began to stumble and mumble, and was lethargic. He was shivering pretty bad. We made him put on some layers, and I ran ahead down to Stoney Indian Lake to set up the tent. I was pretty nervous about this, but he warmed up fine once we got him out of his wet clothes and into the warm tent. The campsite was over full with campers at the lake, due to the weather. Instead of camping in a site, we set up right on the lake.
DAY 4 AND 5 MAP
The morning of day 4, the weather started clearing up. We headed down to the Waterton Valley
I have collected quite a few cans of bears spray over years, including several cans that are expired. I always make rookie hikers in grizzly country test fire old cans, so they can get a feeling of how the spray works. On this trip, I had the boys fire it off in the Waterton Valley. I took a video of my brother spraying the can. You have to click on the video for it to play. If it doesn't work, click on the facebook link under the video.
www.facebook.com/video.php?v=10151830488249766&set=vb.672719765&type=3&theater
Next, we headed up to Fifty Mountain.
We camped night 4 at Fifty Mountain. The next day, the boys were worn out and done. We were suppose to spend another night out along the high line trail, but they had overheard other campers talking about a short cut across Flat Top Mountain. So we bailed. Most of Flat Top Mountain got burned in a fire years ago, but the views along the trail are wonderful.
By the time we reached the road, the main park shuttles were done running for the evening. It only took us about 10 minutes to hitch a ride back to our car. The end.
Featured image for home page: