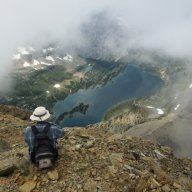 Joined

Feb 7, 2015
Messages

530
With
@Jeffrey Chandler
going off to college and the uncertainty of his future, and the affect this transition will have on my life, we have been looking at this trip as possibly being the last arrow in the quiver. We wanted to make it a GRAND adventure. Our preliminary plans were so exhausting on paper that they became laughable. But neither one of us wanted to give into the reality that we physically were not up to it. Funny, but my perception was that Jeff who has been pushing me the past few years, was the one interjecting sensibility into our expectations. Being "dad" and feeling my age more, I was running on sentimentality more than this youngster. So we set off not knowing what the week would hold for us but both of us knew that we were going to give it our all.
"We will do Dawson-Pitamaken! Anything beyond that will be gravy". This was Jeff's declaration from the outset. This is an epic 18 mile loop in the Two Medicine area. Our plans were to be at the trailhead at 7:00 AM so I set the alarm for 5:30. I woke up at 3:30 and no way could I get back to sleep. Then I had the thought. "Have I seen the sunrise at Two Medicine Lake?" Up I sprang. Hearing me in the kitchen Jeff comes out ready to go only to discover how early it was. We animatedly made the hour drive to Two Med. Excited to get the adventure started.
At 6:40 we hit the trail!
In 1985 I did this hike clockwise going to Dawson Pass then traversed to Pitamaken Pass. But since then, Jake Bramante did his Hike734 thing and stressed/advised doing the trail counter clockwise. By the end of the day I was singing his praises, but this loop can never be called Pitamaken-Dawson. It just doesn't feel as epic.
We hiked up Dry Fork Creek which is a nice steady climb through ever changing forests and meadows. Would have been more pleasant if there hadn't been a persistent strong headwind. Possibly foreshadowing a gale once we got to the top.
You know me!....you are going to see a few wildflower photos.
Flinsch Peak on the left. Before the day is done we will be on the back side of it. Pitamaken Pass is to the right of the basin.
I wish I knew more about trees. This forest approaching the basin was spotted with dead trees. I assume that a specific type of tree died off at some point in time. Lack of knowledge doesn't suppress the wonderment of it all.
Oldman Lake with a looming Flinsch Peak.
Our first sighting of Pitamaken Pass. "That's not a pass......it's a Wall!!" But our hike up it could not have been more engaging.
While hiking to the pass we were serenaded by a pack of ...........? I am sure most of you will say they were coyotes but we choose to be romantic and call them wolves. It was a large pack!! It went on for 40 minutes or so. The sound was everywhere!!! We would just sit and scan the basin trying to locate the source. I have tried to attach a video but I am having no luck. Maybe if you click on the this link it will get you to it???
https://www.facebook.com/harry.chandler.104/videos/vb.1788580280/10211613601654128/?type=3
The wildflowers were tremendous going up to the pass. Blue Gentian and a guest Indian Paintbrush.
Lupine with Oldman Lake and Flinsch Peak
Looking north from the pass. Pitamaken Lake up into the Cut Bank valley. Thankfully the gust force winds became sporadic.
Oldman Lake and Flinsch Peak
Lake of the Seven Winds and Pitamaken Lake. I swear it was straight down to the lake.
I love the miniature alpine world
I cannot explain how geeked out I became in this one small area. I was seeing alpine versions of flowers that usually grow in the valley and our feet tall. After awhile I heard Jeff audibly gasp as I took another photo.
Larkspur
Forget Me Nots
Freakin' Bluebells
Looking back down to Pitamaken Pass. Also back down the Dry Fork Valley.
We finally got to the ridgeline and were hit in the face with a sustained gale. But who the heck cared!!!!!
View from right to left (North to West) into the backcountry of southwestern Glacier.
Pumpelly Glacier on the right. Mt. Stimson (10,142 ft) left of center. This area was burnt in 2015
They say the traverse between the passes is 3 miles. I say it is longer.
When you round this corner...........................
.........you are hit with a slap you in the face / holy crap view of the Upper Nyack drainage. No trails, middle of nowhere stuff! You possibly can see a yellow tint to the forest floor? Wildflowers growing in the revitalizing forest!
Hey look. Flinsch Peak.
View north
Looking back the traverse route. Toward Cut Bank Pass
Martha's Basin way over yonder. You can just make out Buffalo Woman Lake
Mt. Phillips with the remnants of Lupifer Glacier. Into the headwaters of the Nyack
Oldman Lake and Pitamaken Pass. You can make out the trail?
Oldman Lake and Rising Wolf Mountain....which we circled on this loop trail
Jeff protecting my hat with Rising Wolf
Two adorable Marmots.
I am always looking to capture an EPIC Marmot shot
View north from what I am going to call the Dawson Shoulder, as the pass is far below us. For what it is worth....see that pyramid peaking over the ridge about 2 inches in from right? That is Mt. Reynold's, lord knows how many miles away, that Jeff and I climbed in 2017
Mt. St. Nicholas (Matterhorn-like) and the Upper Nyack
Pumpelly Glacier sitting on Blackfoot Mtn
Looking down the valley to Two Medicine Lake. All downhill from here. And it was relentless!!! No soothing switchbacks. The hike UP this would have been horrible. Thanks Jake for saying "go counter clockwise." That is No Name Lake in the foreground
The loop ended with 3 miles, through the forest, along the shoreline of Two Medicine. We completed the 18 miles in 12 hours. I'm good with that!!!
We took the next day off. Chilling out at the cabin. Suffered through the hardship of a swimming pool that was on the cold side of comfortable. Poor souls. We were invited over to dinner by two friends of
@Scott Chandler
's that he knew from Katmai. Whitney was to join us on our next adventure. At least 10 other Rangers came through that night for burgers. After awhile Jeff and I were deemed "harbingers of fires" and should be kept under close watch by the Park Service. The past two years fires have started the day, or so, of our leaving the park. Whitney asked when we wanted to start in the morning. Jeff said he wanted to be at the trailhead at 6:00 AM. Which meant we had to meet her at the Lake McDonald Lodge at 4:30 AM. "I have to get to bed" was her response."
At 4:30 we headed up and over Logan Pass to get to the Gunsight Trailhead. They are working on the Going To The Sun Road at night so we had to sit, in the dark, by the flagman for a few minutes. We headed out in the encroaching daylight at 5:45 AM. It was to be a 20 mile day. We call the hike the Gunsight Pass thru hike. Goes from the trailhead on the east side of the divide over to Lake McDonald Lodge on the west side.
Reynold's Creek
Early light on Mt. Jackson (10,052 ft) on the left. Gunsight Pass is in the middle
Back in the day (100 years ago?) this basin was buried under glaciers!! Now there only remnants of these ice sheets left.
I never saw Harebells like I did this morning. Millions
Mt. Jackson
Blackfoot Mtn (remember Pumpelly Glacier sits on its other side....from the 1st days hike?). Blackfoot Glacier is on the left and Jackson Glacier is on the right.
Gunsight Lake
The initial climb was on a great trail through a jungle of brush and wildflowers. Absolutely giddy way to spend a morning.
Yellow Columbine
The geology and strata of Gunsight Mountain was crazy and....it speaks for itself. Sperry Glacier sits on the other side of the mountain.
Back toward the foot of Gunsight Lake with Going To The Sun Mtn in the distance.
The underwater ledges along the shoreline
The "creek" starts out straight then hits an incline and sidles along the mountain.
Forget Me Nots
Alpine Fireweed
Yellow Columbine and Indian Paintbrush
Hanging garden of the headwall
A couple had passed us on the trail and she was grousing about "Not having seen a mountain goat." She came across as actually angry. I miraculously spotted this fellow waaaay up on the slope. My initial thought was "suck it lady" figuring she would have stormed by it without seeing it. I am zoomed in so he was up there quite a ways. It was a proud catch.
Yellow Monkey Flowers
I believe this is in the Heather/Heath family. I like how I saw it in a phase with the brown stems rising above the green.
View from Gunsight Pass toward Gunsight Lake
The view I as happy to see one more time in my life. Lake Ellen Wilson. (Oh I forgot to tell a backstory. In 1985 I got off work at 7:00 AM. Piled in vehicles, at Lake McDonald Lodge, with a half a dozen others, and drove to the trailhead. The others camped at Lake Ellen Wilson. Me, having to work that night, walked the 20 miles to the lodge. That is how the summer of 1985 went. On a work day you did things like hike 20 miles.)
Jeff thinks this is a remnant of an unnamed glacier sitting on the flank of Mt. Jackson.
Being the old fart I had been given the responsibility of setting the pace. So that I would be comfortable......ha. So dropping from the pass I took the opportunity to drop behind and doop deedo down the trail.
My lagging behind ended up costing me a few moments of grizzly bear time. I saw Jeff below me on a switchback pointing. I followed his arm and saw the bear.
Jeff says I missed out on a few moments of it bouncing around chasing ground squirrels. We watched this bear for quite awhile as it walked around the slopes.
This waterfall has a reputation of being a pain to get past early in the season (only weeks before). Above the falls the trail switchbacks at the creek bed. It was bone dry but we could hear the roar below us and the water poured out of the ground. Very cool!
Now the long slug up to Lincoln Pass. It started out pleasant but then the heat kicked in then the pitch doubled in intensity. Ugh.
The crossing below the falls
Most of the Beargrass was past its prime but we had a few nice stands.
Looking back to Gunsight Pass
The foot of Lake Ellen Wilson with Lincoln Lake 1,400 feet below.
A last look at Lake Ellen Wilson and Mt. Jackson
A look into the Lincoln Lake drainage that is still closed due to the 2017 fire......that we DID NOT start as we were on our cabin's porch.....wondering if the wind was going to blow all the trees onto our cabin.
Beaver Chief Falls which falls the 1,400 feet from Ellen Wilson to Lincoln Lake.
View looking west from Lincoln Pass. See the Sperry Chalet construction, as it was destroyed in the 2017 fire.
Lake McDonald.....a long 7 miles hike through a hot burn zone.....at least it is downhill.
While in the area there were numerous helicopter trips bringing in construction supplies.
In 2017 I had walked through this area the day before the fire started. The burn is horrifying yet marvelous
I do have a story to tell on myself. I am out front....trying to make a decent pace. "Where is that damn waterfall?" I started thinking. After quite awhile I stop in a bit of shade and ask them "did we go by the waterfall...please say we did." They both found it amusing that I had missed the waterfall. Personally I was relieved that it was behind us and not still ahead of us. To my credit the falls is sort of off to the left (paralleling the trail) and behind us as we walk down the trail.
After driving over Logan Pass to get Whitney's car then back over Logan Pass to get back to the cabin we had a 17 hour day -ish
Having hiked 38 miles on our first two trips we didn't have much planned for the next day. Physically we both seemed to be holding up quite well except for Jeff''s blisters. But as we say "days accumulate." Jeff added to that "and long days accumulate faster." We decided to have lunch at Stanton Lake, a nice 4 mile round trip.
Mt. Stimson
Access to the southwest section of Glacier National Park is quite problematic due to the Middle Fork of the Flathead River. There are fords but you are only able to do them on foot late in the season. August/Sept/Oct. Having noticed in the parks Trail Status reports that they mentioned "orange blazes" we decide to recon a couple crossing. The Nyack Creek crossing still looked plenty sketchy to me. But this Harrison Lake crossing looked doable. So in low water years it is definitely something that I can do.
A major part of our 5th day is about what we, did not, do. I will wait a few picture to start that tale.
The shot of to Swiftcurrent Pass which we have taken numerous times but.......I just can't, not take it.
It was wildflower paradise. Cow Parsnip
An interesting phase of Beargrass as the stalks still had little blossoms along them.
Buckwheat
Ptarmigan Lake. The fish were active getting the morning bugs. Saw a couple jump completely out of the water. The Ptarmigan Tunnel is high in the cliffs.
Back toward Ptarmigan Lake. Mt. Wilbur
We reach the tunnel and catch up with this man who we had talked to along the trail. We had presented ourselves as regulars in the park so he greeted us with "tell me about the tunnel." All I could think to say was "you walk through it." After uncomfortable laughter I felt "ooooh" and proceeded to give him the abridged history. A century ago the only way to get from Many Glacier to Belly River was Redgap Pass which was a two day horse ride. The park/railroad/concessionaires decided to put in this tunnel to shorten it to only one day. I apologized to the man, unnecessarily, only so I could tell a story of why I was flip. In 1987 I was hiking with a novice to Snyder Lake. We rounded a bend and in the trail was a huge moose. This guy turned around to me with huge eyes and said "what do I do!?" I replied "get out of my way so I can take a picture!"
Northern tunnel door
Elizabeth Lake and the Belly River drainage
With the tunnel and the trail system, Redgap Pass is quite isolated. Only a few backpackers bother with going to it. It is not possible to naturally day hike to it so I have never been there. Wellllll there is this thing called the Ptarmigan Tunnel-Redgap Loop. It is approximately 22 miles. We had this on the list of possible things to do. To make this loop doable you have to shortcut over a ridge between the Tunnel and the Pass. The main route is a high route through the cliffs and across the ridgeline then a drop through the cliffs to the pass. Then there is a lower route that reaches the ridgeline lower and farther to the north but the only beta I have on the route beyond the ridgeline is "take a sweet goat ledge to the pass." Having already put in over 40 miles we knew we were not going to do the loop but taking a recon trip to the ridgeline seemed reasonable. After going on Caltopo and using their viewspread function I found that you could not see Helen Lake from the higher route, but from photos I knew you could see the lake from the lower route so I wanted to see what Jake calls a "sweet goat ledge."
Just left of center, in this shot, you can see there is a group of trees on the trail. A "goat trail" angles up from there to the ridgeline at that rounded cliff with the large shade area. We could sort of gleam a trail from the tunnel so off we went.
Sure enough we get there and "see" the "trail" and go maybe 30 feet. This is small scree that is constantly sliding out from under you. And we had who knows how many hundreds of feet of this to sidle up and across. The sight of the "trail" vanished at this 30 feet mark. Jeff is behind me telling me that this will not be the adventure that I think/want it to be. "If we did get up it we have to come back down!!" So we retraced back to the trail. Since a goal of mine was to see Helen Lake AND I knew that it was visible from the maintained trail we headed down the trail farther. We got to the switchback that you can see in the above picture.
The "goat trail". Just imagine what his "sweet goat Ledge" looked like.
Views from our turn around point from right to left.
Elizabeth Lake
Mt. Merritt and Old Sun Glacier on the right. Ahern Glacier on the high shelf on the left.
Helen Lake and Ahern Pass. Headwaters of the Belly River
Helen Lake and Ahern Glacier
Mt. Merritt and Old Sun Glacier
Starting are steady climb back to Ptarmigan Tunnel
Spreading Dogbane
The tunnel comes into sight
The current lighting made the recon of the higher route to Redgap Pass easier to see. We stared at it long enough to get a sense that we could do this is we wanted to. (But it leads to a 22 mile day!!! Ugh)
You leave the trail were the red rock turns green. (Which is obvious when you are standing there.) Then you make your way up and along the base of the cliffs to the first notch. Then you hike "on a goat trail" below the ridgeline to the notch at the left edge of the ridge, which you then drop down a 60 degree slope on the other side to eventually Redgap pass and a boatload of trail miles back to your car.
Forget Me Nots
Wild Bergamot / Horse Mint
The 6th and final day. Our 60 mile goal was easily in reach. Off to Firebrand Pass we go....with maybe a climb of Red Crow Mountain?
Magical aspen forest
Red Crow Mountain
Firebrand Pass
A unique feature of the trail is this area of dead, bleached out, trees. A tree cemetery
Looking back from Firebrand Pass
Looking beyond the pass into the Ole Creek drainage.
Summit Mountain
@chandlerwest
on Firebrand Pass. We didn't climb Red Crow. After 60 miles, slopes are steeper looking and appear unnecessary. "Days accumulate!"
Orange Agoseris
Fleabane
Hollyhock
I know that this will not be my last trip to Glacier but with the transition of Jeff going off to college I feel retrospective. Over the pass few year BCP has allowed me to share my time at Glacier with them. I am quite grateful for your time. I rag on myself about being out of shape but I still manage to get the miles under me. For no other reason than ego I want to share my Caltopo map with you. The red lines are hikes I have done with the boys or by myself since I purchased my two timeshare weeks in 2006. The purple lines are trails I hiked in the mid '80's that I have yet to repeat. The blue lines are a couple trips my boys did without me.
We ended up with 65 miles for the week. Over the last 7 years the chandlerwest clan has made two trips a summer to Glacier. In that time
@Scott Chandler
has become a park ranger and
@Jeffrey Chandler
is starting out on a path in Natural Resources. This gives humbling satisfaction to the decisions that made these 7 years feasible. Until next time, happy trails to you all.