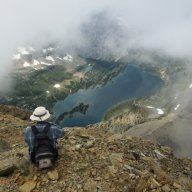 Joined

Feb 7, 2015
Messages

530
For the first time since 2011 the three members of
@chandlerwest
spent the week in Glacier together. We had
@Scott Chandler
for a bit over a day in 2014 but that was just a tease of the fun we could have if the band got back together. Especially now that
@Jeffrey Chandler
is a card carrying member. At the end of the week Scott mentioned how, since we have opened up going off-trail, we have sure changed the character of our week. We didn't make time to get to the swimming pool until the final day!
On the first day we summited Mt. Oberlin. A beginner mountain, for sure, but it has fun cliffs to get through. The heavily used hikers trail (it starts at Logan Pass, one of the hives for the horde of tourist) goes through beautiful meadows and crosses a cascading stream.
A group of Mountain Sheep along the stream.
It never gets old seeing nature choosing a place to call home.
Looking down into the basin above Bird Woman Falls.
Working our way through the cliffs.
Mt. Oberlin summit views
I think the most satisfying thing about being a parent who drug his boys out into nature at an early age, is seeing them develop an appreciation for the small things.
A view down on Logan Pass and its full parking lot. Get here by 8:30 AM or forget it.
This is one well groomed Cousin It (otherwise known as Western Pasque Flower)
On day two I drove the boys up to Logan Pass to meet up with two ranger friends, that Scott worked with in Katmai and currently work in Glacier. They were going to do the Floral Park Traverse. In 1985 I had completed the initial phase of that trek. Doing this trek was an ALL day adventure over Unforgiving terrain. Knowing myself I knew I could do it but.........damn.........at some point discretion aught to kick in. I was concerned for Jeff (because I know how he spends his days) but he young. His big brother will look out for him. That night Scott said "we broke Jeff".
Saying goodbye to them at sunrise I headed out the Highline Trail toward Haystack Butte. Which I plan to climb! The Highline Trail is the most used high country trail in the park but I had it pretty much to myself that early in the morning.
Haystack Butte 7,486 ft. There are two routes up this thing and you can probably guess which one I took. No, it wasn't the steep face. I was ready to climb the cliffs on the side behind the face but I inexplicably left the climbing book in the cabin to provide support. I thought I could see the route to take but in the end I said. "I am by myself.....and I don't need to go that way." I walked along the cliff band to the left and trudged up the grass slope.
Heading across to get to the slope.
The slope. I was following what I called ground squirrel terraces. The open patios outside their holes or the occasional bear digging spots.
Summit views - Heaven's Peak
Looking back to Logan Pass. Mt. Oberlin is the nearest high point, right center.
I was surprised that I could see over a ridge to the Blackfoot Glacier.
You can make out the high point of the Highline Trail.
Looking to the north. That is upper McDonald Creek on the left and the Going-To-Sun Road with the "loop" on the right half.
This gives another look of the slope I climbed on Haystack. When I was coming down I was weary of the cliffs I needed to turn left to avoid.
Heading out the Highline Trail back to Logan Pass.
Some photographs are just Fun to take.
Some proper perspective and context for Haystack Butte. It's dwarfed by its neighbors but it stands out.
The previous day the only Gentians I saw hadn't bloomed yet so I was thrill to run across these...........then dozens more the remainder of the week
Day three began to look like a rest day. Jeff was "broken". Scott wasn't exactly bouncy. But we finally packed up lunch and headed for McDonald Lodge and a hike up McDonald Creek. It is a trail where the upper half doesn't get much love but I have drug the boys up there a few times. As I type this there is a lightning fire that I am certain is going to ravage the trail that I am sharing with you here. This is the 2nd year in a row that a fire has started the day after we left and threatened a trail we had just hiked. The fire has already taken historical structures and probably private in-holdings that have been grandfathered in by the families of the early settlers over the past century. For the fire not to get to this wonderful forest, which is right across the road, isn't worth a wasted prayer. I will be shocked if this entire day does not look different next year. Having worked at McDonald Lodge I have a deep attachment to this forest. (Heh Jeff, maybe we'll be able to find that blasted spur trail that Hike734 hunted for and we have never found.)
Indian Pipe
The trail ends near this gorge. The other side of the gorge is usually quite the tourist spot, along the road, but due to construction of the pull offs it was uniquely peaceful this day. I always got a kick out of people looking over to me and wondering "how did he get over there?" It is earned by walking a trail that so few people seem to know about.....which is just fine by me. Water by its design is "clear" but it still amazes me in its natural habitat.
Farewell grand forest! (thinking the worse so I can be pleasantly surprised)
On day four we got back on schedule. Jeff felt that spending the day on a "trail" was okay. Half of the Many Glacier valley had been closed because of bear activity. It was huckleberry season after all and.....a bears got to eat! This left the Grinnell Glacier Trail as the happening of the valley. It was a crowded day on the trail but this is one of the best trails in the park so lets sally forth.
Looking across Swiftcurrent Lake to the Many Glacier Hotel.
Lake Josephine with Mt. Gould. For all you guys Google Mapping in your head......Haystack Butte is on the other side of Gould.
Grinnell Lake and looking up the valley toward Piegan Pass. (Jumping ahead in my story. That saddle at the head of the drainage is talked about on my final day.)
Grinnell Glacier sits up on that bench.
Grinnell Glacier and Upper Grinnell Lake: (This Grinnell guy was pretty important to the designation of this park. Almost reminds me of that Fremont guy and his peaks.) The guys enjoyed the basin as much as I hoped they would. The geological detail and the random floral. Listening to them talk in geologic terms was easy to ignore and I just took pictures of the oooh's and aaaah's.
That waterfall is coming from Salamander Glacier in the upper upper bench.
We spent quite a bit of time at the outlet of the lake. None of us felt the need to figure out how to get across and closer to the glacier. That water seemed to be running pretty fast. But others made it.
I am not even going to try to explain the red tarns. But they sure make an interesting contrast against the glacier blue lake and tarns.
Looking down the valley toward the trailhead.
Day five was a day at the top of Scott's list of places he wanted us to take him to see. Snow Moon Basin. Jeff having been there two years ago and being "broken" decided that he would spend a relaxing day at the cabin. Watching TV, practicing his pool (as in table), soaking in the hot tub, and swimming in the pool (as in wet). The only concession Scott made was that we didn't need to get to the top of the ridge. This was a relief to me because that is a bitch of a memory!
Once again it is back to the Many Glacier valley. (This is a two hour drive from the cabin.) To be honest this was a very cool day. I found myself leading Scott through the forest, up the talus slope and across the face of a mountain on a hikers trail. I was taking him on an adventure.
Loved the morning light on this Eriogonum Ovalifolium......Silver-plant......Buckwheat
Scott pointed out that we could have walked below this cliff obstruction. What would have been the fun in that!
Falling Leaf Lake
I had pointed out some wildflowers along the shore and we both started looking around for a safe way down the slope. We were as happy as pigs in slop.
Snow Moon Lake
I love the infinity pool aspect of Falling Leaf Lake.
We decided to hike around Snow Moon. You can see Falling Leaf in the background of the first shot.
I owe a finders fee to Scott for pointing this shot out to me. He didn't take it....so I did. It is a tiny pencil thin stream flowing across the moss.
The outlet of Falling Leaf Lake
This perspective of the Many Glacier Hotel and our car is epic.
A joy of getting to visit Glacier as much as I have is the opportunity to appreciate the conditions given. It was hazy/smoky for the week. But I found the 2D appearance almost comical. It was a cartoon take on the park.
Sixth and final day. Scott and Jeff had the opportunity to frequent a ranger talk being given on amphibians, their threatening disease and it was connected to beavers in some way. Plus it was an opportunity to spend a bit more time with the Katmai friends. So I went off on my own. Mt. Pollock and Piegan Mtn. have been on Jeff and my radar for a few years now. To go up Lunch Creek to the saddle, do both mountains, then down the Piegan Pass Trail to the road. But when you are standing there looking up at it, it has been overwhelming. So this day I went on a recon mission up Lunch Creek having been given passive advice from Jeff not to go up to the saddle.
As previously mentioned Logan Pass is quite literally a "parking lot" after 8:30AM. But Lunch Creek is a mile or so beyond Logan so I wasn't overly worried about getting up there in the 10's. Well......people determined to get out of their cars at Logan Pass have taken to parking in the nearest pull offs, then walk the road. Lunch Creek was full. The a couple more pull offs were full. I ended up having the pleasure of walking through the east tunnel.
The first shot is a bit of the air quality we contended with.
Lunch Creek with Mt. Pollock at its head. Piegan Mtn and its glacier is off to the right. With the mysterious climb up to the saddle between. We know others do it because we have seen the videos and talked to some but it.....is a long way up there over questionable terrain that looks plenty steep from the road.
The recon mission kind of instantly fell apart because I was enjoying the mosey up the creek so much. Doop-doop-de-do! Finding that when you step away from the road it is easy feeling like I am entirely alone.
"We will need to get above this waterfall".....check. (read this in a Mission Impossible voice)
Doop-doop-de-do..................we are above the waterfall.......check.
Encountered unknown waterfall.......must get above it.......check "oh look the wall.....what's that over there.....doop-"
Nothing between me and the trudge to the saddle but a talus slope. There was nothing to gain by tackling that. Mission complete! I am confident that we can find our way up that 700 foot slope, one step at a time.
On the way out I got practically to the brink of that first large waterfall. Yes there were wildflowers!!!
I heard this beautiful Ptarmigan.
Lets get through this tunnel and down to that swimming pool!
Thank you for your time!
Having Ranger Scott with us was wonderful. We reminisced about early days when our week was in November and Scott was hardly in grade school. Throwing rocks in Lake McDonald was the highlight of our memories. Now....I took him to Snow Moon Basin and he and his brother did the frickin' Floral Park Traverse!
Good times