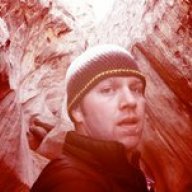 ^^^^^^^^^^^^^^^^^^^^^^^^^^^^^^^^^^^^
Joined

Jan 18, 2012
Messages

464
The purpose of this trip was 3-fold. First, Alene's brother was graduating from the University of Montana so her family was meeting up in Missoula to attend the graduation. Second, Alene grew up in Missoula so it was an opportunity for her to show me where she grew up. Three, we were going to be close to one of the most beautiful national parks around so we wanted to spend time there too.
We left Salt Lake City early and planned to meet up with Bill and April around Idaho Falls. After meeting up and getting lunch, we continued on north into Montana and over to Missoula where we checked into a hotel for the night.
The next day we made the drive north to Glacier National Park. The drive north was so beautiful. We were able to see some amazing (and cold looking) lakes. Alene would point out ones that she grew up water skiing on (without a wet suit).
Flathead lake
On the drive up Caiden's front tooth became really loose. We knew it would fall out soon (he was trying to look scary)
And eventually it did
As we pulled into the park we were reminded of where we were
The park was pretty much empty. All the lodges were closed and the campgrounds were empty (except for a few stragglers). We realized that this was not exactly the "busy season" and that most things would be shut down.
Before checking into our campsite, we first did a hike up to Lake Avalanche. This trail is about 6 miles round trip from the trailhead. It's a beautiful hike where you're walking on a nice wide path through a very lush forest and you're also walking along an awesome creek that during this month was flowing pretty fast.
On the trail
The mountains were amazing in the area
The path on the way up. I think this is where Lanik unloaded vomit onto Bill's back
We made it up to the lake
We hung out at the lake and RIGHT as we arrived we witnessed an actual avalanche happen on the far side of the lake. The sound of it was awesome (loud cracking sound) and I just happened to have grabbed my video camera and record part of it, but by the time we got home I had accidentally recorded over it.
On the way down we encountered a large deer on the trail who refused to move, so we had to work our way around it. (no pictures)
There was a lot of moss along the creek. Very beautiful.
Caiden found a hideout inside this tree
After getting back to the cars we did a short drive over to a lodge off Lake McDonald (lodge was closed) and checked out the lake
Caiden blocking my sunlight
Alene hanging out on the dock
That evening we checked into our campsite and Bill and April opted to check into a little one room cabin to hopefully help them all feel better (they all started to get sick). We enjoyed the peace and quiet at our campsite (literally nobody in the campground other than the host).
The next day we had stupidly hoped that the "Going to the sun road" would be possibly be cleared so we could see the awesome views and get to the other side of the park, but it was closed. We opted to do the LONG drive around to the other side of the park and our first stop was the Saint Mary area to check out Saint Mary lake. After parking I had stepped into the brush to relieve myself and I ran across this doe, who also refused to move
This lake was beautiful. Again, we did not see a soul here
We hiked down to the the lake to check out the beautiful shore. It was filled with the most colorful and smooth rocks I've ever seen. Lots of blue, red, gray, and torquois colored flat rocks.
April down at the shore
We drove down to sunrift gorge and snapped a couple of pictures there
This kid is destined for greatness
Bridge going over Sunrift gorge
After hanging out at Saint Marys we headed north up to Many Glacier. On our way in we saw these mountain goats hanging out along the road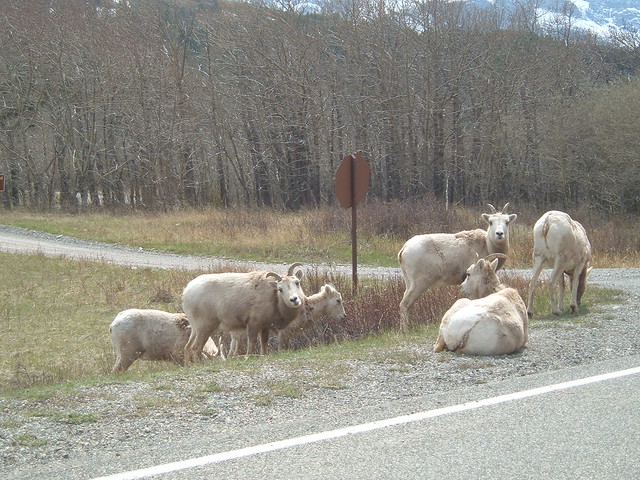 At Many Glacier area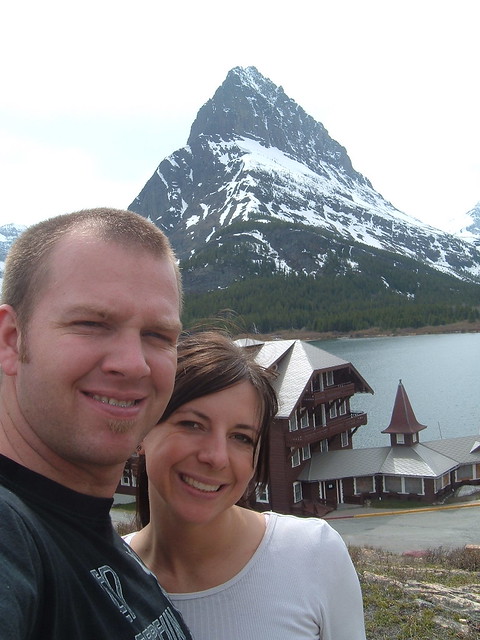 The lodge was open, but we couldn't find a soul. It was kind of creepy
So I decided to take over
More of Many Glacier
On our LONG drive back to our campsite at Lake Mcdonald area we stopped and topped off our water bottles with this waterfall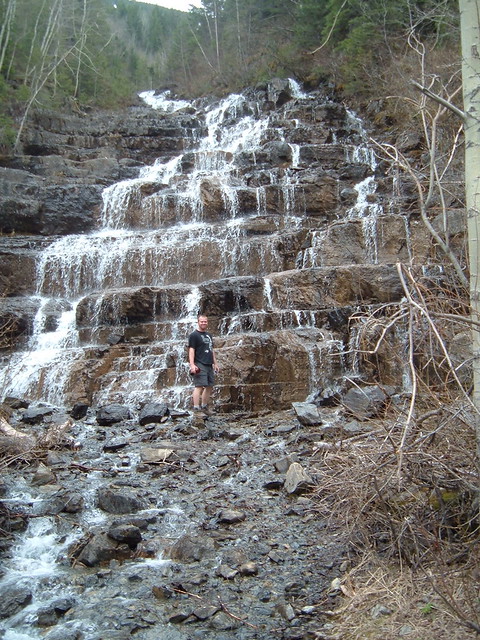 Back at camp it started to get a bit overcast and eventually started to rain. Caiden practiced his skills with our dull hatchet.
It started to come down pretty hard however the tall, thick trees around our campground kept most of it out and we were able to maintain a warm fire through the rain. We all draped ourselves in our rain parkas. I was reading the book "Undaunted Courage" by Stephen Ambrose on this trip, which is about Lewis and Clark's journey across American to the pacific. I happened to be right around the part as they came through Montana so it was kind of cool.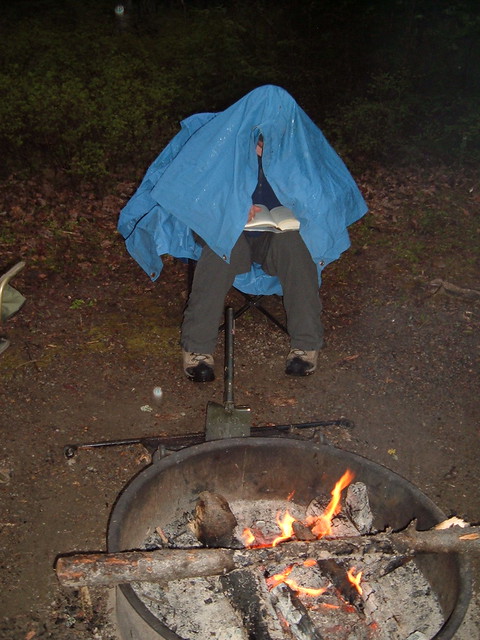 Caiden looked like a little Jawa from star wars
The next day we headed into Missoula to meet up with the rest of our family. Missoula was a cool little college town and nice to visit. I had fun seeing Alene's old house, checking out the UofM, going to some cool local eateries and doing a bit of fishing on the Clark River.
We first met up with the cousins and went to a nice park that had a castle feel too it much like a park near our hose at West Jordan. After that we all went to eat and took a picture of the kids and cousins.
Alene and April at their old high school. Go Spartans! (LOL)
We then visited this sandwich place that Alene had been talking about pretty much since the day I met her and it definitely lived up to the expectation. They make their bread out of tin cans (bake it in the tin can), then they hollow it out and fill it up with your sandwich items that you choose. I got a turkey sandwich and it was tasty.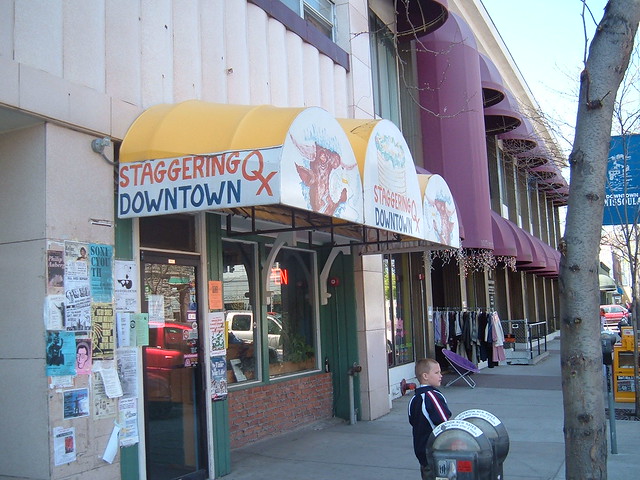 Bill with his sandwich
How the sandwich is filled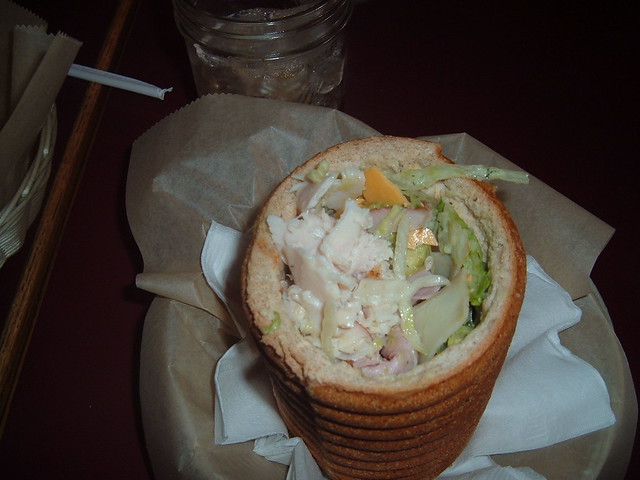 It would be AWESOME if this franchise could grow into our neck of the woods. They would have my business for sure.
We went over to Alene's brother's graduation at UofM and being a guy that loves college football I had to stop by and check out their stadium. UofM is traditionally a very strong football team at the level they play (Div 1AA). They had a really nice stadium.
We then went to watch Brian's graduation ceremony for his Masters program, which was held in a classroom setting. My particular desk had a nice touch to it. Seems appropriate considering this was Missoula
Our last day was spent hanging out at a park along the Clark fork river. We did a little fishing, then said our goodbyes and headed on home early the next day.
I had a lot of fun on this trip and I'm looking forward to the day I can head on up to Glacier in warmer weather and more access. From what little we were able to do though, I'm grateful for that experience alone.