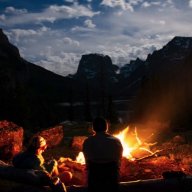 Joined

May 3, 2018
Messages

283
FULL TRIP REPORT (LONG)
HIGHLIGHTS (SHORT)
Hello all,
On labor day weekend the wife and I went to Mt. Adams wilderness for a overnight trip to Glacier Lake on Mount Adams in Washington's Mt. Adams Wilderness. Glacier Lake is an easy off trail route from the High Divide Camp Trail.
We got to the TH at 11:00pm on Saturday, decided to star gaze for a bit then just sleep in the car as there was no room to throw the tent up anywhere. We got started 7am the next morning following Killen Creek trail to the PCT train junction, stable elevation gain for the 2-3 miles to the junction. From just across the PCT the High Divide Camp TH started, this is where we continued the last couple miles - the elevation gain shoots up with some sections requiring either major steps or pulling yourself up boulders from the hands and knees. When we got to the meadows camping area just at 6800 feet we went off trail along boulders to Glacier Lake with our Volcano Pass (required to camp above 7000ft on Volcanoes in the PNW). We found the lake between 7600-7800ft with some great camping spots along it despite the rocky terrain.
We were greeted with great views such as Rainier, St. Helens, Goat Rocks, Dark Divide, Marmot Wilderness, Mt. Adams and one of the bluest lakes ever.
Saw some Mountain goats with 2 kids who didn't seem to keen on being near us (thankfully) and watched an amazing sunset as either haze (or fire smoke?) rolled back in. Star gazing up on mt. adams was wicked beautiful. It was briefly interrupted as we kept looking back toward adams watching a climber or late night hiker working his way down the North Cleaver with his headlamp on.
Saw around 10-14 people the whole trip, no one camped at the lake so we had it to ourselves. Loved it and would do it again. Beautiful area, great stargazing.
6.6 Miles, 3500ft Gain one way.
At Killen Creek TH
First unobstructed view of Mt. Rianier
Approaching Adams
Closer to boulder field
Glacier Lake!
Camp!
Goats & Goat Rock Mountains in distance
Heading back to camp. Haze/Fog/Smoke (didn't smell smoke though, prolly fog) rolling in near St. Helens.
Haze created "God rays" over the Marmot Wilderness near St. Helens
I love WA.
Stopped by another one of our favorite lakes (Front country) on the way back on Monday.[/MEDIA]