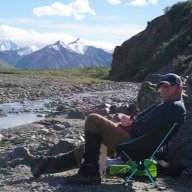 Formally known as "kcwins"
Joined

Aug 20, 2014
Messages

456
Greetings backpackers. Last year I made my first trip to Glacier and did a 73 mile figure 8 loop that started at Chief Mt. Customs, up (then back down) to Slide Lake. Then across the plateau and down to the Belly River. Past Cosley and Glenn Lakes. Up Stoney Indian Pass then back down to Waterton Valley trail. Up to 50 Mountain. Then across the Highline trail to Granite Park. Down to Many Glacier, (this is where the trip ended for everyone except
@Joey
). Through the ptarmigan tunnel. Down to Elizabeth Lake. Back through the Belly River area and back to the Lee Ridge TH.
This year my son has a job there for the summer. So, it was easy for me to convince my wife that we should "go visit him". She doesn't mind camping and enjoys day hiking. But won't backpack with me in GYE or Glacier because of her fear of brown bears. So we will plan to camp at Swift Current or down at Lake McDonald.
While we are there we hope to do some day hiking. What are some "must do" hikes? What are some of your favorites there? I'm thinking about trying to get a spot at the chalet in Granite Park and hike up to Swift Current pass, but being able to stay for the night would be awesome so we could take our time. I'd also like to do something around Two Medicine.
Thanks in advance for your input.
Side note: I still call the Tetons my home away from home.
Last edited: