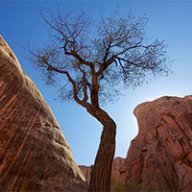 Joined

Aug 9, 2007
Messages

12,737
It seems like every river trip I go on starts with a story about how hard it was, or how lucky we were, to get a permit. Gates of Lodore was no different. After failing to win anything in the permit lottery, I woke up on March 1, 2018 ready to put my internetting kung fu to the test. Each year the low season launches as well as the unclaimed permit win launches get released around this date. The problem is, you have to be phenomenally fast. Or lucky. Probably just really lucky. After clicking refresh more times than I care to admit, the days on the calendar became populated with the letter "A", indicating an available launch. There were 4 of us in different locations all trying for our target of late April or early May. I immediately clicked the date I wanted only to find it's gone within the first second. I go back and 90% of the dates are already gone just seconds in. I click another. Gone. Back again. All gone. My mind is blown that all of those launches can get snapped up faster than you can really click a link.
The disappointment soaks in as I sip on my tea. All hope is not lost though. If people don't checkout and pay for their permit in 15 minutes, back to the calendar it goes. We all keep trying, occasionally seeing a date pop up only to see it disappear faster than we can click "Book it". I get a message from Taylor that he got one in his cart but the date is just a couple weeks away in March. Not ideal. I tell him to not checkout yet while we keep trying. Refresh, refresh, refresh. And there it was. I had the exact date we were originally hoping for in my cart. April 26th, 2018, a Thursday. Perfect for a 4-day trip down the 45-mile stretch of class IV whitewater on the Green River. 19 miles through Lodore Canyon, then on through Whirlpool Canyon and Split Mountain, ending near the Dinosaur National Monument Visitor Center. I quickly checked out and informed everyone else. We're doing Gates of Lodore!!!
Flows for this stretch are regulated by Flaming Gorge Dam so we weren't quite sure what to expect. At the same time the previous year it was running high with full releases of over 8k CFS from the dam. That level of water would make the rapids in Lodore interesting to say the least. We got lucky and ended up with a very reasonable flow in the low-to-mid 2000's during the day while we were on the water. As you can see by the hydrograph for our trip, it fluctuates a lot throughout the day.
The night before our launch we drove out through Wyoming and down dirt roads through Browns Park to the ranger station and campground at the Gates of Lodore. Aside from the ranger, we were the only group there. The next morning we took our time rigging and loading the boats. The launch ramp at Lodore was interesting. A sandbar had been deposited right in front of it making it so the concrete ramp just goes down to a huge, sandy beach. Too sandy for vehicles to drive on. As a result, the park service has a huge cart that looks almost like something you'd see on a Nasa mission to Mars with six wheels. It still took some work getting it over the sand. We'd load a boat onto it and then all push like crazy. Unfortunately, I forgot to take any pictures.
Soon enough we were floating down the green toward the Gates of Lodore. As is the case with the nearby Yampa, the scenery starts out fairly tame before entering the canyon.
@CJonesey
and
@Dave
take the lead.
But it gets better, and better.
We would travel 9 miles on the river this first day. A handful of rapids would be encountered, most of them minor unnamed rapids, the notable and named ones were Winnie's and Upper and Lower Disaster Falls. Winnie's is an easy rapid but a good teaser of what is to come.
We eddied out just below Winnie's Rapid and did the short hike to Winnie's Grotto.
There's one spot hiking up to the grotto that is a little tricky. I ended up squeezing through the worm hole under Taylor's feet in this photo. Something I couldn't have fit through when I was packing around more weight just months earlier.
Bryce takes the other way.
Heading into this trip, I was thinking we'd be lucky to have any leaves on the trees so early in the year. We hit it perfectly.
The crew in Winnie's Grotto.
Back on the river, heading for Disaster... Falls.
Disaster Falls was... ummm... interesting. Out of our group of 7, only Collin had done Lodore before. It's always nice to have someone who has done it. They usually know where to stop and scout and what's worth scouting. Unfortunately, Collin's memory failed him on this day. We stopped a little early to scout Upper Disaster. As we walked the shoreline, we just kept thinking "what's the big deal?". Upper Disaster is not a minor rapid. In fact, it claimed a life just a year earlier when a woman fell out of a boat on a commercial raft trip. We walked the shore and read through the description in our book. It mentioned staying out of the right channel. In the distance, we saw where the river split around an island. A smaller channel went around the left and the main current went down the right in a fury of splashing whitewater. Our plan then, would be to go left there.
Walking back to the boats from the Upper Disaster Scout.
So it turns out what we scouted wasn't really Upper Disaster Falls. I mean, I guess we saw some of it, but we had read it all wrong and most of it was futher down. The channel where we should have stayed left was further down and well out of sight. The left channel we took would turn out to be somewhat of a disaster. We got stuck a lot. Ropes were thrown. Watch the mayhem unfold for yourself:
Lower Disaster Falls was uneventful and soon we were pulling into our campsite at Pot Creek 1.
It was Taylor and his crew's night to cook.
A number of bighorn sheep hopped around on the cliff walls opposite from camp through the evening. Too far away for a good photo, but delightful to watch.
The next day was our big day for rapids. Harp Falls, Triplet Falls and Hell's Half Mile. The last being a significant class IV rapid and the meanest I'd rowed to date in my time behind the oars.
Collin at the scout for Harp Falls. It looked meaner from the shore than it actually was.
My run through Harp Falls:
Then Triplet Falls. Dave checking out the crux. The idea is not to go through those big rocks on the right.
My run through Triplet:
And finally, Hell's Half Mile. The biggest rapid in Dinosaur National Monument. I remember standing on the bank of this thinking "holy shit, that's huge". I'd run a class IV on the Yampa (Warm Springs), but this looked a lot harder. Photos and video do not come close to conveying the power of rapids like this.
My run through Hell's Half Mile:
After everyone made it through Hell's, it was time for victory shots and a leisurely float to our next camp at Rippling Brook 2.
Vegas Costco for the win.
It was Collin and Dave's night to cook us dinner. They did not disappoint.
Like most nights, we sat around the fire and looked at the sky. Bryce got an early start on sleeping.
The next day would have no major rapids. I let Nilauro take the oars for much of the day as we meandered through some of the most amazing geology I've ever seen.
Approaching Echo Park and the confluence with the Yampa.
Unlike the Green, the Yampa is free flowing and not regulated by dams. The difference in color between the two is dramatic, more so than when I was here the previous year on our Yampa trip. From here down this would be familiar territory for me, Dave and Collin.
The flows would now be significantly higher with the added water from the Yampa. This gauge shows the combined flows from near our take out. We'd be riding around 7,000 cubic feet per second for the rest of the trip.
Floating through Mitten Park.
And on into Whirlpool Canyon. This is roughly the site of the proposed dam that would have flooded all of Lodore and Yampa Canyons. As a compromise, Glen Canyon was flooded instead. Hard to imagine losing this place but hard to believe we lost Glen as well. Damn dams.
Our last campsite was at a beautiful beach called Sea Cliff. This used to just be a small beach that was good for a lunch stop but the eradication of tamarisk has turned it into a fantastic campsite. It would make for a long 22 mile last day, but after passing by it last year, Dave and I were particularly excited to call it home for a night.
F'ing photographers...
Nilauro and I cooked the last dinner of the trip. Big ribeye steaks cooked on the firepan grill.
Some storms whipped through camp that afternoon and evening. I deployed my raft tent for the first time. It worked great! Most of us hid in here for one of the storms. This is just the fly to my REI Base Camp 4 thrown over the top of my bimini.
The next day we were up and at it fairly early. We had a long float, lots of rapids, and a long drive home.
I didn't take anymore photos, but here are a few of the last rapids.
Greasy Pliers is just a class II in Whirlpool Canyon, but I think it gave us the biggest splash of the trip.
The rapids in Split Mountain were awesome as usual. My previous run through here was at over 11k CFS. I swear they felt bigger at 7k though. Unfortunately the wind went crazy part way through the canyon making life very difficult at times. Better than if it had happened on the flat water of Island or Rainbow Park though.
Moonshine Rapid was first, and also the biggest in Split Mountain:
Then SOB Rapid:
And Schoolboy:
The wind was blowing so hard when we went through Inglesby that I pretty much bounced along the left shore through the entire rapid. The video is not worth posting. And soon after we were at the takeout at Split Mountain. This trip was fantastic. Hopefully just the first of many trips I take through the Gates of Lodore.