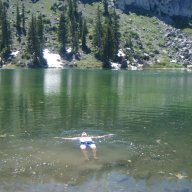 Joined

Apr 27, 2016
Messages

480
So with the new GoPro 5 being released and the Garmin Virb Ultra 30 having been out for a few weeks I thought I would give a review.
First a bit of background. I owned a GoPro Hero3+ black edition and really enjoyed it, but then out of nowhere it stopped consistently turning on. I contacted GoPro and was less than satisfied with their customer service. In the end they don't offer a repair service or really any service is you are at all past the warranty period. They did offer to give me a 20% off coupon for a new camera purchased through there website if I returned the non-functional camera to them. I have since decided I'm just going to order a 3rd party mother board and try to do the repairs myself.
We decided to purchase a new camera and just eventually fix the other one so I purchased a Hero 4 Silver edition. I played with it for about a week and did really enjoy it, but then I realized that GoPro was coming out with a new camera and discovered the garmin put out a new version of the virb. I was not a big fan of the old virbs but decided to return the Hero 4 and research the Hero5 and the Virb Ultra 30. Based on my research I decided to go with the garmin.
So here are some of the cool features and my thoughts.
Built in GPS
G-Metrix (Records a lot of metrics like speed, elevation, pace, etc.)
Travel Lapse in addition to time lapse (YOu can set the camera to take a picture of video every so many feet or miles)
Separate button/lever for photos and video
Those are a few of the unique features. I have been using it for a few weeks now and I have to say it is pretty fun to play around with. You can sync it with ant+ devices which opens up even more options for when you edit. You can control the camera with buttons or the lcd screen which is still functional in the waterproof case. You can also use the virb app on a smart phone. For those that like to stream live to YouTube there is also a function to do this if you pair it up with the app on iOS. The real fun starts when you pull the clips into the virb edit software. The camera records up to 4k 30fps. Once you have the clips you can overlay g-metrix either from the camera or from a .fit or .gpx file from another device. So for example say you recorded a bike ride. You can show the route on a little line map and it highlights where on that you are, you can show, incline, temperature, heart rate, speed, cadence, the list goes on. There are various templates and gauges you can add to the video.
The price is the same as the new GoPro Hero5 and to be honest I think it depends on what you want to do on which one is better. I like the data and the ability to add an overlay that shows elevation and maps on a part of a hike are pretty cool. For me the deciding factor came down to the g-metrix overlays and also that I have always had good luck with garmin's customer service compared with gopro's.