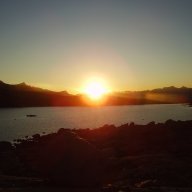 Joined

Jan 23, 2015
Messages

56
A few years ago, in October, I undertook a long weekend getaway to dayhike Funeral Slot Canyon in Death Valley National Park. My kids had a three day weekend off from school and their Grandmother- a full time RV'r- was parked at a casino in Amaragosa, so it was a perfect opportunity to both let the girls spend some time with their Grandma and let Daddy spend some time hiking and camping. Mommy got to stay home and work.
Funeral Slot Canyon (aka Furnace Slot Canyon) is not in any printed guidebook that I am aware of, though there is some beta to be had via the internet- which is how I came to know of it- so it is not so well known. It is not a destination likely to be congested with tourists as so many others in DVNP, yet it is easy to get to. A really nice benefit is that it can be hiked directly out of the Texas Springs campground, near Furnace Creek.
Texas Spring campground has decent tent sites at its lower end, which also enjoy a little vegetation though only 3 or 4 sites have what could be considered shade, and more RV oriented sites at the top end, closer to the springs, and in more like an open parking lot type arrangement. When I had arrived in the evening, the lower campground was mostly occupied and congested with tent campers, and noisy, mainly due to one party who was the sort that thinks of camping as requiring blasting a boombox at full volume. The upper RV area was more sparsely occupied and quiet, so I encamped there.
The trail starts out in a wash, easily accessed from a short distance west (downhill) of the entrance to the campground. I didn't return this way, but its probably easier to start from this point.
A clear use trail eventually emerges, but this eventually heads north away from the canyon approach.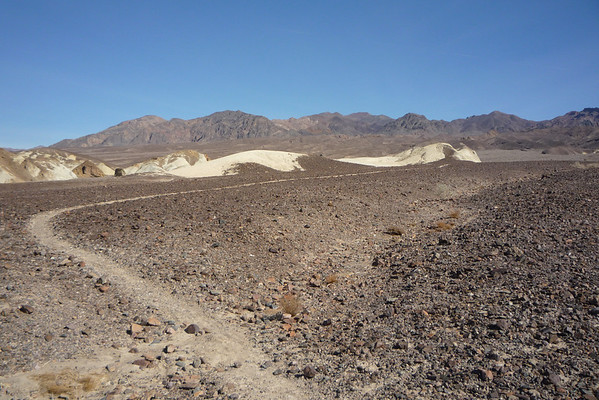 I initially took a side canyon that wasn't the right canyon. It was interesting, but crapped out after a bit.
This is the proper entrance to Funeral Slot Canynon:
I imagine this particular slot canyon is pretty tame in comparison the more renowned canyons in Utah and there are a few even in DVNP that are deeper and more spectacular, but this hike made an impression on me, my first slot canyon hike and I had it all to myself.
Looking back downhill, towards Furnace Creek.
There was water flowing here.
The mudhill formations around the campground are kind of interesting.
Normally I don't roll with the big family size Springbar tent when I'm solo but since I was base camping for a couple of days and knew I'd have some time for just lounging around, reading, etc. I thought I'd give myself the luxury. It was quite nice.