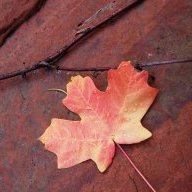 Life really is better Here
.
Joined

Apr 20, 2013
Messages

766
It has been a winter of endless new snow, some of it I have missed. Yet, some of it has been glorious.
Having President's day off opened a possibility, and with light snow flurrying around we disembarked where the cleared road ended.
The forecast, well, I had lived in Quebec and my friend is Swedish, so what was a forecast for a little more snow and -4d... Fahrenheit?
The only hope was that the clouds might clear by morning.
Being late in the afternoon, we saw more moose than people on the actual trail. The colors were grayscale mostly. The pack was only slightly heavy with a few extra essentials, extra layer, some gloves, shovel, and the extra just over pound of my 40d bag.
Up to the first hollow we made good time. We climbed some more, walked through the pines, sometimes stooping and snagging packs on branches that in summer are far overhead, and sometimes passing under tunnels of pine boughs laden down with snow.
Then we were at the second hollow and losing a little bit of daylight. We were not going for mileage, just a good view. The wind was a little stiffer, the snow a little heavier.
We took a left. Burning our calves with a stout climb in snow broken by only one path of shoes going up, and the same coming down. We knew the trail was up here somewhere.
Found it.
Went on a little more on untraveled snow,and the views opened up. We stepped on the feet of snow that had fallen over the past week.
We found some pines would break the wind just nicely.
The best part of winter camping is you can camp places normally difficult in summer.
We dug out and trampled down a partially protected platform as our bodies cooled.
The snow set quickly in these temps and soon we had a tent and camp setup.
Dinner was some hot and spicy Thai soup with a couple handfuls of leftover ribeye and a cup of hot cider.
Fingers exposed to the air tingled and numbed almost immediately, and feet were stomped constantly to keep some blood flowing as we ate.
After dinner, I stood for a couple of minutes in the cold air as I changed layers, shivering and mentally forcing my body to confront the cold directly, where any layer of clothing after this would be warm and cozy.
I think cold weather camping is like the cold side of the pillow. You can keep sleeping on the warm side, or you can flip it over and embrace it. I think it is funny that in summer 30d feels devilishly cold.
Once settled in I was warm... of course now I had my layered sleeping bags, down booties, and just my thermarest as we had forgotten the closed foam pads at home.
The moon lit outside up slightly, but was strongly filtered by the flurries of snow.
Around 145am the moon fully broke through.
I was not motivated to fully leave the stiffly frozen tent, but took this with my feet still in my bag.
Silver light, through fluttering snow in the stillness.
Predawn twilight continued with more light snow. Temperatures had been dropping since about 230am when a stiff wind had come through, followed by dense cold air that dropped temps in the tent and elsewhere by at least 10 to 15 degrees. Now it was seriously cold. However, comfortable in be only my nose was feeling it, so I pulled my buff up over my face. At my toes, my sleeping bag was a little stiff from frozen condensation. My trail runners were frozen solid, as I had kicked them to the side of the tent as I had slept. I put the dry bag holding them back under my knees between bag and pad, but loathed when I would have to put them on.
I opened the door and lay there listening to the sound of the snow on the rain fly and listening to the breezy silence, well besides my buddy's snoring.
Then I could see the Timp peaking slightly through the misting snow.
Now I had to put on my shoes on...
It took a little while, and when I stepped from the packed snow and went in past my knee to settle in and setup my tripod, the snow was warmer than the air outside.
Still, I smiled.
A little wandering, and some jumping jacks to warm up. However, the clouds were thickening and the temperature well... see for yourself.
I think it beat the forecast.
Back into the tent for breakfast.
French toast, cheese and ham sandwiches with maple syrup butter. Wait...
Sandwich.
DANGIT! Only brought one sandwich, the other had been left in the fridge at home.
So we shared one sandwich.
Topped it off with a Key Lime Larabar, and we sat and talked while looking out into the white.
Eventually the clouds started to break up, and my smile widened as we put on shoes and began to wander. The rest of the morning was a snow photo orgy, so I will leave the dialogue a bit sparse and stop boring you.
Phases of Timp's north peak as the clouds and snow lifted.
A few seconds of the gloves off to take cell phone shots, as my friend does here, left fingertips numb and tingling for a long time afterwards. My camera batteries were taking 5-10 shots and then saying they were out of power until I warmed them with my breath or against my chest.
The sun.
Rainbow-banded clouds with Box Elder high above in shadow.
Eventually we retreated to the tent as more clouds blew over.
My "cheap" snowshoes from Amazon passed 100 miles on this trip. Holding up nicely. Maybe I will do a review.
Finally full sun glory.
We eventually packed up camp, and took a few photos in the glorious sparkling snow and morning's deposit of hoarfrost.
sparkly...
So Nice.
Then it was back down the trail.
We started to see people. They told us of this moose. I honestly think she was a bit confused as to why so many people were on the trail on a Monday morning.
Right near the bottom of the trail, we came upon one last obstacle. Ornery trail mates.
She looked at us and grunted once. The calf had moved behind her, but she was saying to us. "Go Ahead. Make my day."
We retreated.
Making our own trail and soon were on the way home.
My fingers throbbed for a while, and typing the next day at work felt a little different, but this trip was worth it. Hoping for another slightly warmer adventure in a week or two.