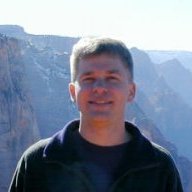 Joined

Mar 28, 2012
Messages

1,800
Yesterday my son and I needed a relatively easy exit from Death Canyon Shelf -- I got sick and didn't want to continue along the TCT. There are plenty of options for bailing from that area but we wanted to head to the Idaho side since in that case a friend in Victor could easily pick us up. Fox Creek looked relatively short and interesting. When we got to Fox Creek Pass, a sign warned that the trail is mostly gone in many places, a detail not found on any of the maps we had along. If we'd known this earlier we'd most likely have walked out S Teton Canyon instead, but since we'd already walked a few miles, we figured some bushwacking wouldn't kill us.

Fox Creek is a really spectacular drainage and we had it to ourselves -- not a single person and not a lot of signs of recent traffic. The trail is indeed not easy to follow and there's a large amount of pushing through swampy vegetated areas that pretty much scream "bears here." Decent amount of bear scat on the trail too. There are also a lot of easy but bridgeless stream crossings (this canyon is almost certainly impassable during runoff) and plenty of deadfall to climb over. It took us about 5 hours to descend from the pass to the trailhead, but this included quite a bit of route-finding since we'd not been in this canyon before, and numerous rest stops since I really wasn't feeling good. Distance might have been 8 miles (this is what the sign at the top says) or might have been 10 miles (according to the sign at the bottom).

Anyway, I'd totally recommend Fox Creek for folks who find themselves in Teton Valley and don't mind a relatively difficult route. A day hike to the pass and back would be pretty epic.