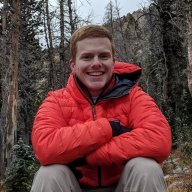 Joined

May 31, 2015
Messages

2,690
July 4-5, 2021
@Jessica
and I met up with our friend Andrew for a quick overnighter this past weekend. It was also our first backpacking trip with our 10 month old Australian shepherd, Walter. Part of the reason we wanted to go was to get the dogs away from town where they'd be startled by fireworks all night. Also because we haven't backpacked much lately and are trying to change that.
Although the heat wave has left the west coast for a while now, it has held pretty strong in the inland part of the northwest, so it was much hotter than normal. Our hike up was fairly steep, and we started at about 1 p.m., so it was the most I've sweated on a hike in long time. I felt bad for our dogs, so we gave them plenty of chances to rest, drink water, and lay in the streams. They managed just fine, fortunately.
We camped on a cliffy protrusion at our destination and went swimming to cool off. The water was not nearly as cold as I expected. Walter did some swimming too. Not pictured is our other dog, Penny, who, despite being primarily Labrador retriever, does not like to be wet.
At night, we were able to hear some distant big fireworks from down in the valley below. Not loud enough to perturb the dogs, so our mission was accomplished. We made quick work of the hike out.
Despite it being a very quick trip, it was nice to get back out backpacking after not doing much last year.
Last edited: