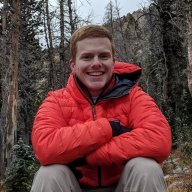 Joined

May 31, 2015
Messages

2,989
July 4-5, 2022
For the past 3 years, we've gone camping or backpacking around the 4th of July so we don't have to listen to our dog Penny barking at fireworks all night. It's really nice to get a reprieve from all the noise, and what's more American than enjoying solitude on public land?
We opted to visit a lake up a trail we had day hiked part of last year. I'm not specifically naming it here but the name is in the video below and I'll make it fairly obvious where it is.
It appeared that the area would be snow free, which was a big plus. It's a popular spot for horseback riders, especially since there's a large guest ranch along the short road to the trailhead. We figured we'd see a decent number of people, but we ended up only seeing a duo of day hikers and a small group taking a day trip on horses the first day. Pleasantly surprised.
We had gotten rain the night before, so it was very muddy on a lot of the trail. Sticky mud that sticks to your shoes. It was drier higher up, but still muddy in places. Everything had mostly dried when we hiked out the next morning.
Heading up above the creek. Horse trail stays down along the creek and crosses it a couple of times.
Looking back at where we came from.
Lots of water for hot dogs.
Getting into the larger meadows down low.
Madison Range in the distance.
Our destination is at the base of the right side of that rocky peak.
Having fun.
The last couple of miles seemed to take forever, but the meadows were really pleasant.
Looking back again. Almost there.
Even more almost there.
There.
The horseback day trippers were over on the left side of the lake, hidden in the trees in the photo above. They fished and hung out for a bit, and they headed out by mid to late afternoon.
We walked around part of the lake to find a spot to get water. You can see one of the horses grazing here.
We got water from an outlet stream. There was a big log in the stream, and there were dozens of trout gathered by it, trying to get past it to the lake. There were other smaller logs farther up. What a difficult life. Farther down the stream, there were others jumping up little riffles. It was really cool. I had never seen something like that in person.
Here's a video I took of the fish.
Camp.
Everybody hanging out at camp. Waiting for dinner.
Relaxing by the lake.
There's not a good way to get a full shot of the lake from down near the shore. Here's a pano for perspective.
As the day was ending, we had a bald eagle circle the lake a few times and alight on a tree nearby. It sat there calling out for about a half hour. Better than fireworks for the 4th of July, in my book.
Evening light on the mountain.
We had the whole place to ourselves overnight. It was not too breezy and just the right temperature. Heard a few very distant booms from fireworks shows somewhere. Maybe Big Sky. But the sound barely registered with the dogs, and it didn't last long.
Got going fairly early in the morning. It was nice and cool out, and we only came across two people who were camped with their dog in one of the meadows. Penny had to carry the backpack since Walter did on the way up.
This is a rare shot because Penny will usually do everything she can to avoid touching water. Some lab she is. Walter will lay in every stream he finds.
Another successful 4th of July trip on the books. Who knows where we'll go next year!
Last edited: