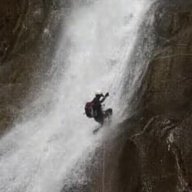 I'm not lost. I'm on an adventure.
Joined

Feb 15, 2021
Messages

48
Spring break this year took me to Salt Creek Canyon in Canyonlands NP where I enjoyed four days of solitude on trail. I wish it had been more, but a few days here and there throughout the year are about all that I can squeeze in with work and other obligations these days. I am in the camp that getting out and away often, even if not for long, is a good strategy and goal in life.
My little adventure took me from the trailhead at Squaw Flat Campground south to my vehicle waiting at Cathedral Butte.
Day One:
Squaw Flat to Peekaboo Camp by way of Peekaboo Trail
Distance Hiked: 7.5 miles
I spent the night on my day zero just outside the Canyonlands Needles District entrance station at a private campground called the Needles Outpost. As far as established campgrounds go, I have no complaints. The sites were clean, there are showers, it wasn't crowded, and the quiet hours were honored by people staying there, so it was a great place to set up base camp and get organized pre-hike.
On April 5th, I drove about 20 minutes from the Outpost to the intersection of UT-211 and Beef Basin Road where I met my shuttle driver, Theresa, at 8 a.m. We caravanned to the trailhead at Cathedral Butte where I left my truck and then Theresa drove me back around to the trailhead at Squaw Flat. She bid me farewell and I was ready to begin my hike by 10 a.m.
As a side note, I received an intensive third degree barrage of questioning from the ranger stationed at the entrance pay gate as well as from the ranger (?) / maintenance worker (?) at the Squaw Flat trailhead. Were they just concerned to see a solo hiker? Was it because I am a woman? Was I hiking the route "backwards" and that's what threw them off? Who knows. Nonetheless, they were a bit abrasive towards me even though I had my permit and all the NPS requirements in order.
Once on trail, I was happy to be in my element. The trailhead at Squaw Flat takes you across a plateau that quickly leads to a beautiful slickrock expanse with vistas of the Needles District and mountains beyond.
The route across the slickrock is easy to follow because cairns mark the way. For the next 4.7 miles or so, it's an enjoyable hike across the rock with a few minor down climbs, scrambles, and a couple of narrow, exposed ledge traverses along the way. Because of its proximity to the campground, this section of trail does see some use from day hikers, most of whom are making a loop back to the campground and who turn back within a mile or two. I counted four small groups of people that day.
As the trail continues, the slickrock vistas do not disappoint.
Along the route, the NPS has bolted two ladders to the slickrock walls to assist hikers in downclimbing. The first is a short, six foot ladder that I found to be more cumbersome than helpful, especially when trying to clamber onto it with a pack. My pack made me top heavy, and hiking from north to south means that you have to dangle over the edge of the ledge to access the ladder. I felt like I might tumble forward off of the ledge, so I lowered my pack and dropped it which made using the ladder easier. The second ladder is just before Peekaboo and is about 20 feet long. It's in a crack that would be an easy chimney downclimb without a large pack. This ladder is easier to climb onto. It does put you onto a little precipice of rock at the bottom facing backwards though, so the challenge here is to turn around within the confines of the crack with your pack on. For those hiking south to north, it is straightforward.
I arrived in Peekaboo Camp early in the day at 2 p.m. Feeling tired from my long drive to Canyonlands from the Bay Area the day before, I just took advantage of the down time to read and relax before finally exploring the little area around Peekaboo. Were I to do it again, I would hike up neighboring Horse Canyon to Tower Ruin and the petroglyph panels beyond.
There was ample water near Peekaboo in the old tire ruts on the now unused Salt Creek Road a mere ten minute walk north of camp. I don't know if this is always reliable. There is a spring in the area, but I expect that this water was leftover from a heavy storm a few days before.

A note on water: While Salt Creek Canyon is known for having a consistent water supply, the canyon was very dry on my trip. The flowing streams of water that I have read about just weren't flowing, and available water supply was the hot topic of conversation on trail the few times I encountered others between Peekaboo and Cathedral Butte.
Day Two:
Peekaboo Camp to SC4
Distance Hiked: 13 miles
(The actual distance from Peekaboo to SC4 campsite is ten miles. I did a little exploring beyond that.)
Day 2 started early, and I was on trail by 7 a.m. I took the shortcut through the arch at Peekaboo into Salt Creek Canyon which saves you about a half mile of walking around the fin. The trail started out very easy to follow but quickly gave way to little use trails where people have obviously chosen their own adventures down onto the canyon floor.
On that note, I will add that the trail is badly overgrown in some areas and because people have gone off trail so much following game trails, it is a little unclear at times which footsteps to follow. Many times, I believed that I was on course only to find that I had come to a dead end at a patch of crypto soil. Follow your instincts here and don't go crashing through the brush or over the crypto soil. If you can't imagine other people walking here easily with a pack, you're in the wrong place. Backtrack to where you were last on course and look for the obvious trail again.
I learned that the cairns are always spot on. It's just that I believe they are really positioned best for those hiking from south to north. Hiking the other direction as I did, it's easy to miss where the trail comes in because it might be obscured by bushes, etc. Coming from the north, sometimes the "obvious route" forward was not the route at all made more confusing by the footsteps of other equally confused hikers before me. The trail is consistent in its appearance, so if you can't see the trail clearly, go back to the cairn and look around again - including behind you from your direction of travel vantage point.
This part of the hike was not very interesting to me. Most of it was a monotonous walk through dense rabbit brush and tamarisk. There was a TON of mountain lion scat and cat footprints large and small along the trail. I spent most of my hike on Day 2 alert for mountain lions and cutting through the dry vegetation.
I spotted two small dwellings and a granary off trail.
When I arrived at SC4, I met two other hikers, Garret and Keith, from Colorado who had stopped there for lunch. The trail is so overgrown, it really was the only suitable place to stop. We ate lunch together and had a nice chat until they went on their way up to Angel Arch.
I elected not to hike up to Angel Arch on this trip, which adds about 3.4 miles roundtrip to your itinerary. I was running low on water, and quite frankly was a little knackered from beating through the overgrowth looking for the trail.
Other hikers told me that there is good water up Angel Arch Canyon and this was confirmed to me by Garret and Keith when I saw them again at Cathedral Butte at the end of my hike.
This was the typical view on Day 2.
Salt Creek Camp #4 - A lone open patch in an otherwise tangled expanse of dry vegetation.
I spent the rest of Day 2 reading and exploring the ledges above camp. It was cold this night with temps below freezing. I woke to ice in my water bottles.
Day 3:
SC4 camp to SC3 camp
Distance Hiked: 8 miles (It's 3.3 miles between campsites, but I spent the day checking out the area around SC3. There are hidden treasures here tucked into the fins near camp.)
Day three started with a cold morning. I took my time getting going since I only needed to travel 3.3 miles to the next camp.
The hike to SC3 was similar to the day before in terms of scenery, but the canyon begins to open up here for better views of the arches and rock formations.
The trail passes several dwellings and granaries as well as a few small panels of Fremont art.
About a half mile north of SC3, the trail passes Upper Jump where there was good, clear, running water that fed into this little pool. I filled up here before heading on to camp.
SC3 is in a little valley surrounded by box canyons. Explorations here lead to little dwellings, granaries, and more rock art panels. SC3 is, in my opinion, a much more interesting campsite than SC4 and there are treasures to be found here.
Just beyond SC3 (to the south) is the Four Faces Spring, and Four Faces archaeology site.
About one in the morning, I woke up suddenly. Did I hear something? No. Yes? Yes! What was it though?
At first it was so far off that it was almost imperceptible, but then I heard it again. Was it an owl in a far off alcove of the canyon? No! As I lay awake, it became clear what I was hearing: the yowling of a mountain lion. I listened for 45 minutes as it clearly walked down the trail from the upper canyon right towards my camp. It came to the junction of the main trail and the cutoff to SC3 where it seemed to stay for quite some time giving me a bit of a scare. I had my most metal of metal playlists queued up on my phone and the plan was to unleash Hell's musical fury on the creature along with a blast from the strobe on my headlamp if it decided to explore the tent.
An hour into the cat's serenade, another cat began calling from down canyon, and the song continued for another hour as the two cats converged on the trail and then disappeared into the night.
Day Four:
SC3 to Cathedral Butte Trailhead
Distance Hiked: 10 miles
Day four started out very cold again with a layer of ice between my tent and the rainfly and ice in my water bottles. It was hard to get moving, but I made myself move quickly packing up. I knew the cats could be around, and I didn't feel like being ambushed before breakfast.

As I began my hike out, I followed two sets of fresh mountain lion tracks through camp and up the trail to an overgrown area above the Four Faces Spring. Fortunately, fresh tracks and scat were all that I saw again my nighttime visitors.

The stretch of trail between SC3 and SC4 is really the most spectacular in terms of archaeology and points of interest.
The hike out passes the Four Faces panel, All American Man, the Squash Patch Ruins, Big Ruin, and Kirk's Cabin to name a few. Giving yourself plenty of time to explore these sites is a must. Big Ruin is not easily accessible from the main trail and requires some exploration to find an accessible path there. People have established a couple of use trails.
The last place, or first depending on your direction of travel, to fill up on water is here at the waterslide and pool just south of Kirk's Cabin. Water was flowing quickly and in abundance here. (Sorry for the orientation of the photo. I can't get this site to accept my portrait photos without turning them sideways after they've uploaded. Any tips and tricks to reorient photos here would be appreciated.)
Overall Impressions of the Hike:
Overall, I regard this as a moderate hike in terms of difficulty. Minor route finding issues, scarcity of water, temperature extremes from day to night, the ledges along Peekaboo Trail, and the short but strenuous climb out at Cathedral Butte present some challenges.
In terms of solitude, there is plenty, but you will see 1-2 groups of hikers each day as they move between the four campsites or the open zone.
Would I do it again? Yes, but I might not do this again as a through hike. The first section along Peekaboo Trail is visually impressive and fun. I would do this again and camp two nights at Peekaboo to allow for time to explore Horse Canyon thoroughly as well. Horse Canyon seems to have a lot to discover, so that, I think, would be worth checking out.
I probably would not do the section between Peekaboo and SC3 again unless I was intent on visiting Angel Arch. To me, this stretch of trail was monotonous, and coming from the Bay Area, I would rather use the day or two to explore other areas.
I would absolutely do the section from Cathedral Butte to SC3 as an out and back staying at SC3 and SC1 or SC2. There is so much to explore in this area, so staying a couple of nights and being able to wander around with a day pack would be worth it. The hike out to Cathedral Butte will make you work, but it isn't terrible at all if you are in shape. The route up through the saddle is also beautiful with stunning views down into the Salt Creek drainage.
I found David Day's book,
Canyonlands National Park: Favorite Jeep Roads and Hiking Trails,
to be useful.