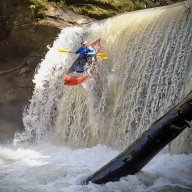 Joined

May 3, 2013
Messages

556
Located northwest of Chattanooga, TN the South Cumberland State Park system is simply spectacular...hiking, backpacking, kayaking, rock climbing...its got something for everyone. Separated into 9 areas in 4 different counties, 31,000 acres total. Foster Falls and the Fiery Gizzard Trail are two very popular areas full of waterfalls, great hiking and rock climbing around Foster Falls. A few backcountry campgrounds require hiking in, and the Foster Falls CG is fantastic during the week with no crowds. These places are best in the spring and after it rains, in the dry summer months a lot of the water disappears into sinkholes.
The Fiery Gizzard is a 13 mile world class hike. You can thru hike it with a shuttle from Tracy City to Foster Falls, or do what I did and hike a 10 mile loop to Ravens Point and back. Challenging trail but one of the southeasts best.
South Cumberland State Park - TN
A short steep hike brings you to this beauty of a scene. Foster Falls in the background.
Blue Hole Falls along the Fiery Gizzard
Sycamore Falls on the Fiery Gizzard trail
Sycamore Falls
Ravens Point overlook
Big Fiery Gizzard Creek