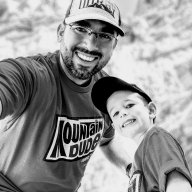 Life Elevated - Rising Higher
Joined

Feb 25, 2013
Messages

596
My goal was to backpack into Fossil Creek before I needed to get a permit, so a friend and I decided to make the trip happen the last Friday-Saturday of March. With the COVID-19 restrictions, we tried to access the lower parking lot, but like many areas, the Forest Service had closed the gate. So, we tried the back door and drove to Strawberry to see if the upper lot was still available. To our delight those gates were open and when we arrived there was only one car in the parking lot. The trip was looking promising. The only real change to our plan was that we would have to hike the 5 miles up to the top trailhead at the end of the trip instead of at the start. oh well.
The trip started off with us defending into the wilderness area and watching in awe as a snow flurry swept through the area. We just stood in wonderment as we watched nature do her thing. A little good ol' Arizona fire and ice!
I had recently converted a Costco down throw blanket into a hammock UQ and a top quilt. This trip would be the first time to use them. Either I would freeze or be ok.... when morning came, I had endured a below-freezing night and my upper body was warm, but my feet were uncomfortably cold. gotta find a way to keep the feet warm!
Once we warmed up and headed down the trail, we found that we pretty much had the whole place to ourselves. we didn't see another soul in the area the whole day! I couldn't believe it!
One of my favorite stops along the trail was the Spring. That thing pumps out a serious amount of freshwater! and it was "warm"!
The whole place was beautiful and I can't wait to come back with my family to play more in the waterfalls.