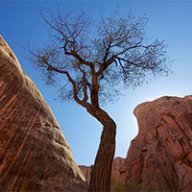 Joined

Aug 9, 2007
Messages

12,939
After the quick overnighter in
Fiftymile Creek
, Jen and I raced back up Hole-in-the-Rock to Dance Hall Rock where we met up with my old friend Nate. He couldn't get out of work for the whole trip but he was in need of some wilderness so he drove down and met us for the last half - a return to one of my favorite hikes - Fortymile into Willow Gulch. I first did this hike
back in 2011
and I've been itching to get back since. It was great to see Nate again too.
After loading up our packs and our bellies at Dance Hall Rock, we headed south again. Lucky for us, we had an extra car now so we spotted a car at the Willow Gulch Trailhead before heading back to Sooner Rocks to start the hike.
Unlike the last trip, I knew to go right at the dryfall in Sooner Gulch, but not much more than that. We ended up following a few false leads before finally finding a very steep class 4 entrance into lower Sooner Wash. A little further and we were in Fortymile and heading down to the aquatic paradise ahead.
Undercuts as the canyons starts to develop.
Since this was my second trip through, but the first for the rest of the group, I tried to hang back and let them enjoy it. I definitely had to point out the not-so-obvious alcove hiding these goodies though.
Who brought the ropes?
The grotto of Fortymile Gulch - absolutely incredible, but very hard to photograph both times I've been there. Fortunately for us, it's much better suited for swimming in, and it was much deeper than last time!
We figured out that the waterfall pouring in was nice and warm from flowing shallow in the sun just above. Made for a fantastic massage!
After a nice, long break at the grotto, it was time to continue into wonderland.
Hey, I recognize that cow!
A bit further upstream, 2 years earlier. Coincedence? Hmmm...
The usual deep chokestone pool wasn't too bad this time around. Maybe just below the ribs deep if I recall. We shuttle packs through to be safe and it was on into the really narrow stuff. The light was crazy in there. I feel like my photos are all whacked out but I literally cannot adjust them to look normal. You'd think this one might be too warm but it's actually only at like daylight white balance! It was just really neat light in there.
We were hoping again for a camp in lower Fortymile. I had looked for one on the previous trip but thought I might have missed something. Not the case though - unless some of the hard-to-reach benches have something, there is literally nowhere to camp there.
We hit the Willow confluence and decided to head upstream for camp. The deep spot in Willow was much deeper than last time! Over chest deep for the shorter members of the group.
All smiles in paradise...
Jen and sunlight.
Broken Bow Arch in the late evening light.
We setup camp on slickrock bench just up from the arch. Not the best camp but we were in late and planned to be out early, so it worked. We stayed up late into the night watching the moonrise on the canyon, telling stories, talking and singing songs with the whiskey flowing. It was a great night.
The next morning, heading out to the truck.
Late morning victory. Sure, we could do it as a day hike, but why?
Featured image for home page: