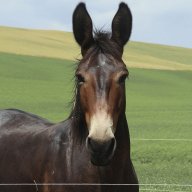 Joined

Jun 11, 2017
Messages

3,148
http://www.moabsunnews.com/news/article_89b8394e-f3f8-11e8-b520-9b0e10265218.html
http://www.moabtimes.com/view/full_...by-visitors--vandals?instance=home_news_right
I used to cross the wash and go way back and camp and loved it (followed leave no trace ethics). Nobody around. Lots of dino bone in the washes, though I've seen evidence of people digging. This is by the bone quarry where the first Utahraptor was found. You can hike up to it. I once saw a big rockfall come down below there - it was pretty impressive and made me glad I don't camp under big rubbly cliffs.
Over the past few years, the pulloff area by the highway looked like a homeless camp, so the state shut camping down, though you could still cross the wash and camp on BLM land.
Dalton Wells has a special place in my memories. I always thought I liked change, but maybe not so much - yet another place that's being destroyed by human carelessness and stupidity.
Last edited: