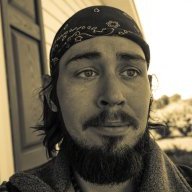 Joined

Dec 5, 2016
Messages

18
I have been cycling around the US for half a year or so, but winter is starting to effect me. I've just come out of the Sacramento Mountains and found myself unwilling to get on my bike and pedal on one occasion, and so I read a book in my tent, instead, and waited for a warmer day. I was just too cold to get out of my sleeping system.
I've (I hope) remedied the cold hands problem with a new pair of gloves and a warmer hat, and I've bought a pair of very thick wool socks for around camp, but I need to take care of the problem of my feet. Even when I finally left that camp, when I was sweating pretty heavily from having too much clothing on, my wet shoes caused my feet to hurt badly, and this didn't change until the afternoon because the breeze generated from cycling kept them very cold.
I don't really want to buy new shoes. I like being able to go to Goodwill and pick whatever pair of used shoes fits me best, and I don't personally believe in wasting a pair of shoes that still has much life left in them, but my shoes are highly ventilated summer-type trail shoes and aren't adequate for the next stretch of mountains should I face worse weather than I just did. I am also carrying enough that I don't want to tote around two pairs of shoes unless I have to, as I am already carrying about 115 lbs.
I've looked at cycling-type overshoes like those displayed
here
and also hiking-types like the Neos Brand shown
here
. I worry that the cycling-type will not last long, especially as they seem geared not towards people who go off road to set up camp, etc. The hiking-type look promising, if expensive, and I would like to hear from people who have tried out the various models (those listed in the link or otherwise). I am more worried about durability than weight, but would like to keep the weight addition reasonable. Specifically, I would like to know about durability of the sole, ease of taking on and off, how easily holes can be repaired with tear-aid or something else, and whether the heavier/more expensive models are worth the weight.
I'm also curious if anyone has another idea, such as a liner sock, waterproof sock, etc. that they think would be effective enough to keep my feet warm, or from anyone with a suggestion that I haven't thought of. If there is a very lightweight second-shoe option, I am open to it as well. If anyone has any good advice for not getting my shoes wet in the first place or how to effectively dry them out, that would be helpful as well. My shoes got wet just from walking in the snow while setting up camp and while cooking.