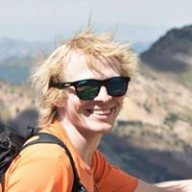 Joined

May 16, 2017
Messages

43
Hey,
it's been a while that I've been active here, mostly because I have moved back to the other side of the big pond. Not unsurprisingly, the desert is drawing me and my better half back and we are planning to spend a week in the Escalante region on an upcoming trip to the States. Initially we had planned on doing either Steve Allen's hike #21 or #22, but due to the exceptional snowpack this year, we fear that the runoff in the lower Escalante might be too high to safely cross it (we will be there end of March - Mid April).
So instead of coming from the SW, we are now considering doing a loop from Halls Creek, up the Baker Route into upper Stevens and into Fold Canyon. From there we would.d need to cross into Georges Camp Canyon before heading back up towards cliff, hike NW, drop into Moody canyon and get back to the car via Red Slide. Most of the route is solid, but there is one particular spot (the exit out of Fold Canyon) where the beta is relatively sparse. The goal is to hike up to what I've marked with a flag in the map below. From what I was able to gather, there are two possible routes out of Fold Canyon. One uses Moqui steps described by Amy and James in their Waterpoeckt Fold hike (
https://doingmiles.com/2019-04-waterpocket-fold/
) and the other is described in SAs Overland route (Descending into Fold Canyon via a Hole). Has anyone here used either exit route and would be able give some pointers/beta (especially on exposure) and in case of the "hole exit" on the location as this one might be tricky to find from below.
Thanks you!
Last edited: