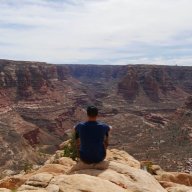 Joined

Apr 22, 2018
Messages

77
This is the short video (with music) of a 3 day, 2 night backpacking trip in Lower Death Hollow, mid May, 2019.
Day 1 we parked at the Boulder Mail Trail Trailhead past the Boulder airstrip, where we hiked on top of the rock over to Death Hollow. We dropped down into Death Hollow where we found a camp spot for the first night. The weather was cloudy and rainy all night, and we woke to find snow/rain falling and waterfalls spilling over the canyons edge while we were sleeping.
Day 2 we woke up to find the creek flowing nearly 5x the output as the day before. Temperatures were in the high 40's/low 50's during the morning as we packed up camp to head down Death Hollow. It rained throughout the morning delaying our start to the day. We finally got to hitting the trail only to be turned around due to deep waters. This route is normally through the creek bed the entire time, and barely 200 yards from camp we encountered water chest deep or higher. This was disheartening, and ultimately we had to turn around. We had plans to find a camp spot near the exit to Death Hollow, but due to cold temperatures and a few members of the group getting wet, we stayed in the same overhang once more.
Day 3 we woke to less cloudy skies and a chance to hike out avoiding the weather. We made it up and out of Death Hollow only to find dark rain/snow clouds making their way towards us. We made it nearly to the cars before it started raining on us.
This trip was an excellent adventure, and despite being turned around it was still a fantastic time. We will return some time in the future to finish the task and hike through the crux of Death Hollow.
It was an amazing place with a huge diversity of vegetation and scenery.
I hope to return and complete our story.