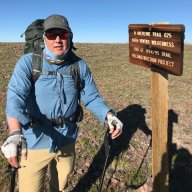 The mountains are calling and I must go
.
Joined

Mar 31, 2013
Messages

1,018
Like many of you, I like to do A LOT of research prior to my adventures. Without reservation, I can say this trip is the one I have put the most research into. Mostly because my parameters were so tight.
Here's the scoop:
Our scout group decided that we wanted to build our own skin on frame kayaks. We wanted a river that we could float for 4-6 days, in the mountains and because of the boats we were building and the lack of experience, we needed a mostly flat water river.
I think I looked at every river from the Canadian border to Arizona and from Colorado to the west coast.
Many here gave great recommendations.
I would have never guessed, previously to all this research, that 60+ mile flat water river not in the desert would be so hard to find.
It was.
The 3 finalist were:
1. Smith River in Montana. - It's a lottery, and sadly, I was not chosen.
2. Upper Missouri in Montana- the perfect river for what we were looking for, but 10+ hours of driving from my Utah Valley home put a real pinch on the available time.
3. North Platte in Wyoming.
By default, we went with the North Platte.
We started building our kayaks beginning of March.
They float!
The last week of June we were off to Wyoming.
Those who do whitewater are probably familiar with the North Platte
through Northgate Canyon at the Colorado/Wyoming border. This is a
beautiful, technical, stretch of whitewater.
We jumped on the river at the bottom of Northgate canyon and after all the whitewater.
We jumped on after carrying all our gear the 1/4 mile from the parking lot to the river.
We would be taking 2 16-foot rafts and 8 kayaks.
Here's where I have to give some more context.
I started calling the Rangers and guides in February to get first-hand info about the
river and get updates on conditions. Through February and March, I was told to not
consider floating until July because they had so much snowpack and floating before
could be dangerous.
By May the river was dropping. Instead of being at flood conditions it was going down.
Apparently, while much of the mountain west had record snow packs, southeast Wyoming
just didn't get much at the end of the season. Because of where the river is located
a lot of water is taken for irrigation farming and ranching.
So instead of a full river, we'd be floating a shallow river with a lot of rock exposure.
Thus, instead of an easy flat water river float, we'd be doing a shallow water technical float,
at least the first two days.
Our plan was to do 16 river miles on day one. Unfortunately, due to the above-mentioned
conditions, our plans were not to be. Within the first 4 miles, we'd lost one kayak and
damaged most of the others. We spent way too much time in the river. For these reasons
I don't have any pictures of the first day on the river.
Our original intent was float from Six Mile Gap to 1-80 which would have been
100+ river miles. After two days we'd covered around 20. 16 miles behind schedule.
Thus we began discussing our alternatives for ending points.
We decided the best place to pull off would be in Saratoga, WY.
The rest of the trip was comparatively uneventful.
One of the challenges of floating the North Platte is that after the first 20 miles
there is a lot of private land surrounding the river. Which means we can float on the
water, but according to Wyoming state law if we touch the land, even the river bottom
we are trespassing. Not only that, one will see many homes and structures built along the
river, which can dampen the backcountry feel of a river trip.
Because of all the private land, floating the North Platte does require some campsite
planning, but there are plenty of resources.
If you're looking for a new place to float, the North Platte is worth your consideration.
I would suggest the best way to float the North Platte would be in inflatable kayaks.
That way, regardless of water conditions you'll have a great float.
Last edited: